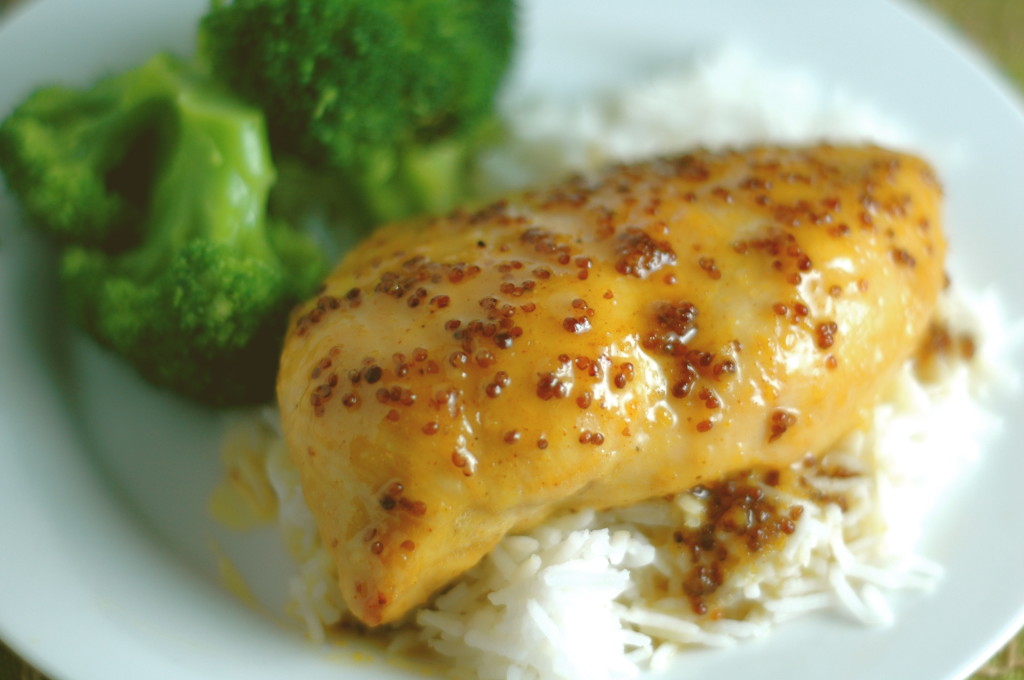 A funny thing starts to happen when you've been writing a food blog for a while.  You're always wanting to share the new interesting thing that you tried- something other people will find exciting, too.  But in doing that, I realize that I start forgetting that the recipes I use over and over again, my go-to weeknight meals and family favorites, get largely neglected.  I take them for granted, and it doesn't often occur to me that there are people out there that don't make them.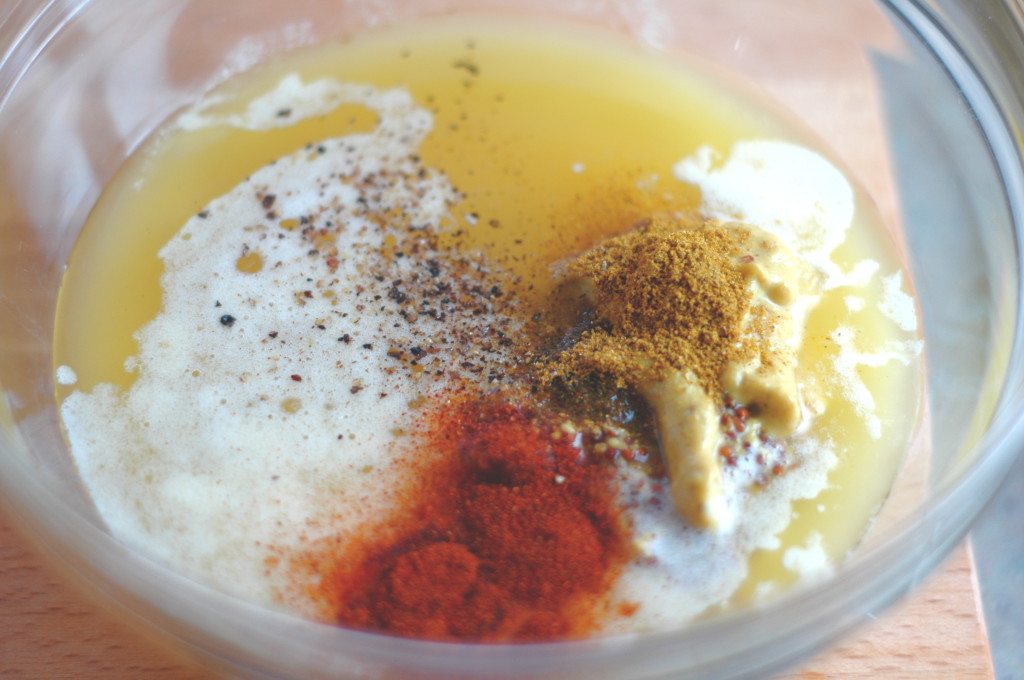 This recipe, for one.  It's something that my mom has been making as long as I can remember, and it's been passed on to so many friends, neighbors, etc. that I'm sure this recipe's made it halfway across the world.  We always called it Chicken Diablo, but in researching what Chicken Diablo actually is, I'm pretty sure it's not even close to being that.  It's basically chicken breasts baked in a buttery honey-mustard sauce. See, doesn't that sound so unexciting?  Not exactly blog-worthy.  Except that it is.  I've made some minor tweaks to make this recipe my own over the years.  For example, I've lessened the amount of butter a bit, and instead of using yellow mustard, I like to use half yellow and half stone ground Dijon.  I've also used a regular Dijon and that was delicious as well.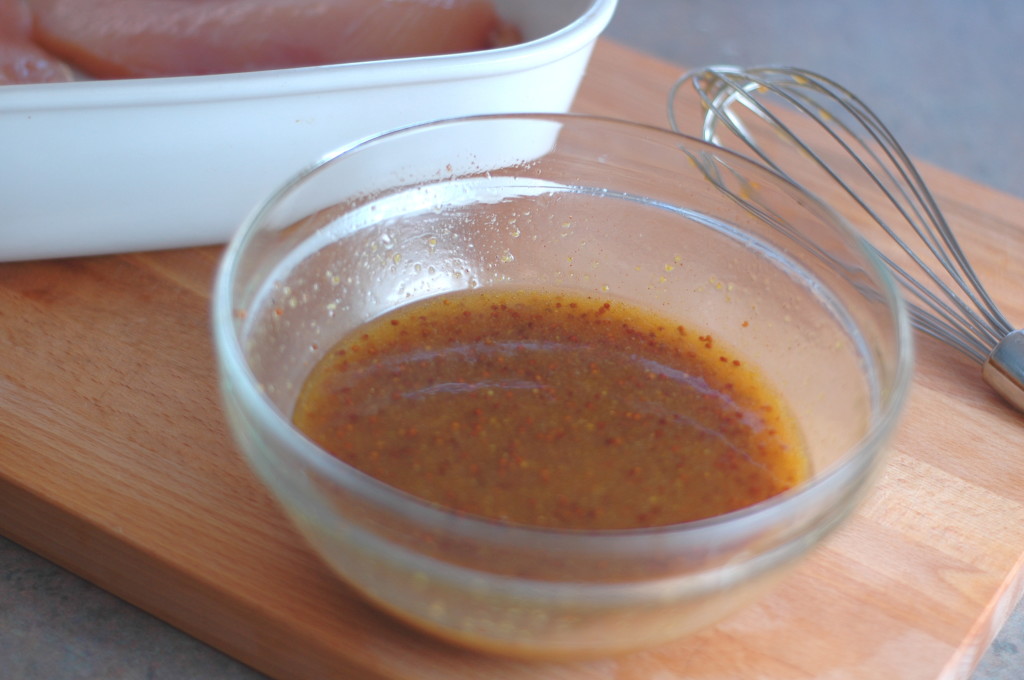 It continues to be one of my husband's and kiddo's favorite dinners.  It takes all of two minutes to prepare before popping it in the oven, and only uses things that you almost certainly always have on hand in your own kitchen.  The honey and mustard bubbles away and reduces to a beautiful glaze for the chicken, as well as an awesome sauce to spoon over hot rice.  Seriously, guys, the sauce.  If we eat up all the chicken, I still save the sauce to gobble up with the leftover rice.  The sauce is what it's all about.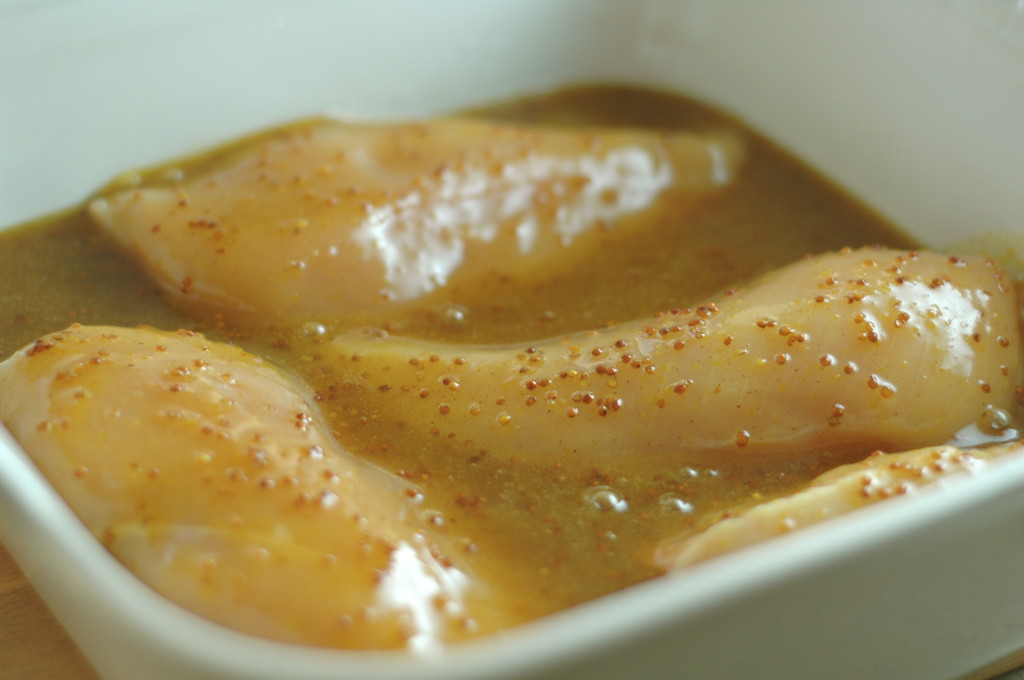 So here it is, without further ado.  Hope it becomes one of your family favorites, too.
Honey-Mustard Glazed Chicken
As I said, I used half yellow mustard, and half stone-ground dijon this time, but feel free to experiment with other kinds of mustard. I have yet to find a version we don't like.
6 tablespoons butter, melted
½ cup honey
¼ cup mustard (yellow, Dijon, or whatever combo you like)
¼ teaspoon curry powder
¼ teaspoon paprika
4 boneless, skinless chicken breasts
Preheat oven to 350 F.
Combine all ingredients except chicken in a small bowl and mix well. Place chicken in a baking dish and season sparingly with salt and black pepper. Pour the honey-mustard mixture over the chicken, making sure all chicken pieces are coated.
Bake for 30-40 minutes, depending on the size of the chicken breasts. (Sometimes, partway through cooking, I'll open the oven and spoon some of the sauce over the chicken, so it's extra-glazey. But a lot of times I don't, and it's just fine, too.) Chicken is done when firm to the touch or when the juices run clear if you cut into it. Serve over rice, noodles, or pasta, making sure to scoop up lots of yummy sauce, too.
http://butimhungry.com/2014/02/24/honey-mustard-glazed-chicken/