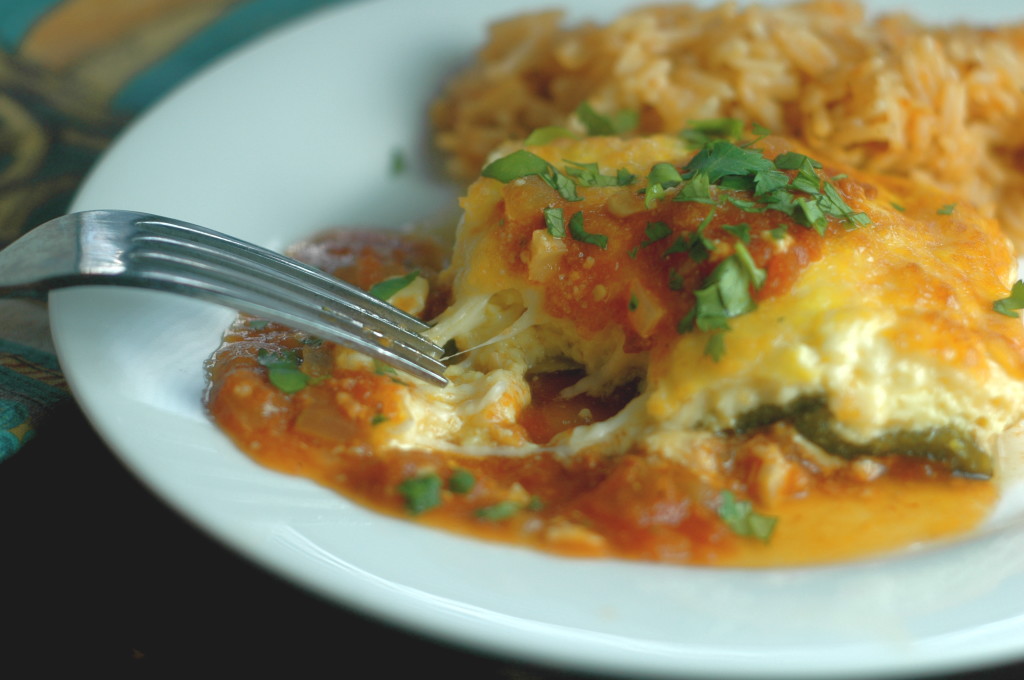 Sometimes it's ok to be lazy.  Sometimes being lazy winds up being a huge mark in the "win" column.  Because sometimes it means getting chiles rellenos where there otherwise would have been no chile rellenos.
Anyway.  Chiles rellenos are one of my all time favorite Mexican foods.  I love ordering them at restaurants and seeing how they stack up to other versions I've had.  At their best, they are packed with bright, fresh flavor, oozing with gooey cheese, and topped off with just the right amount of sauce.  At their worst, they're greasy, filled with blobby flavorless cheese, and barely spicy enough to be recognized as a chile. (Ok, and even then… I really like them.)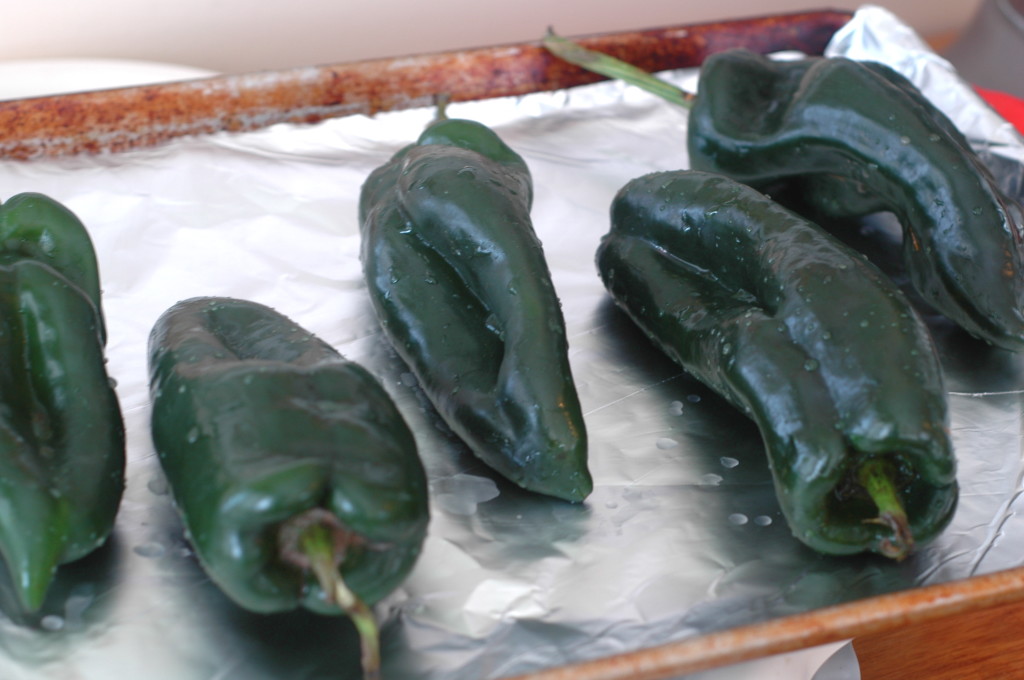 So last summer, when we had more chiles than we knew what to do with, the obvious choice was Chiles Rellenos.  Well, the problem with making them at home is the whole deep-frying thing, which in the middle of the summer did not appeal to me one lick.  And as much as I love deep-fried food and you will never hear me acting too healthy to eat fried food, it's kind of a pain.  It makes a mess, uses up so much oil, you have to get the temperature just right, you burn yourself, etc. etc. etc. So I began searching for the perfect oven-baked casserole version so that my lazy self could have the wonderful taste of chiles rellenos when I didn't have the gumption to do any frying.
Now I know it's kind of a cop-out and it's not exactly the same.  I know it's terribly inauthentic.  But it's just so good. This casserole has all the flavors in traditional chiles rellenos, but with none of the fuss.  You taste every ingredient, from the smoky, roasted poblanos to the melting, gooey chihuahua, to the homemade simple tomato sauce.  The eggs may seem weird to you, but the traditional recipe calls for the peppers to be dipped into egg batter before being fried, so it just kind of works.  And of course, lots of cilantro.  Lots and lots of cilantro.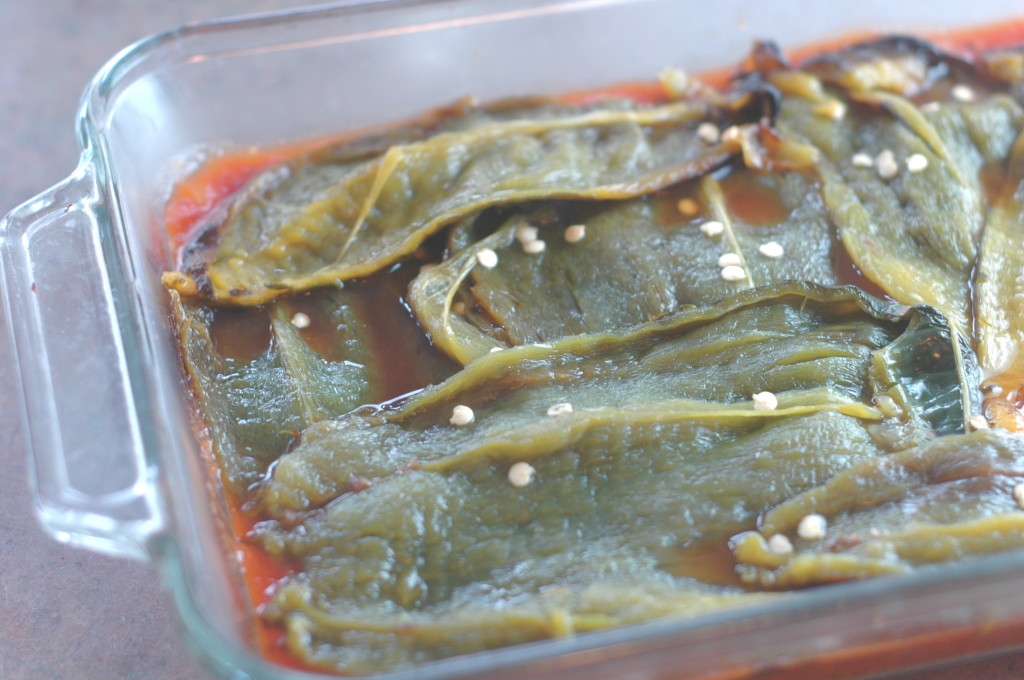 Because of the eggs, I think this would even make a fantastic brunch dish for a Mexican themed feast.  We eat them mostly for dinner, on weeknights, because it's pretty straightforward to make.  As long as I've got some peppers and cheese, everything else is a staple in our house.  Ok, I admit it: chihuahua cheese is a staple in our house.  But if you don't usually buy it in bulk like we do, you could also use something like Monterrey Jack.
While I'll never stop ordering chiles rellenos at Mexican restaurants, I think I've found a new bar for those versions to live up to.  Which is crazy, I know, seeing as how this is a baked, casserole version, of all things.  But it's seriously just that good.  Now get into the kitchen and give it a shot.  Andale!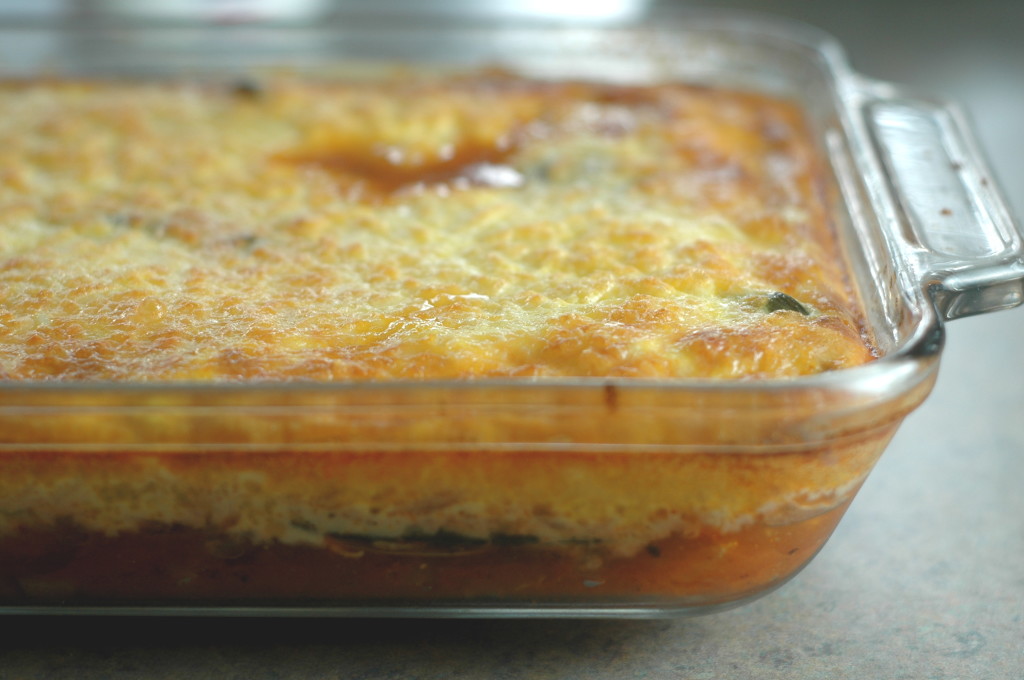 6 poblano (or similar variety) chiles,
3 cups shredded Chihuahua cheese
1 28 oz can tomatoes
1 medium onion, chopped
2 large garlic cloves, minced
2 tablespoons olive oil
½ cup water
6 large eggs
1 teaspoon salt
cilantro, to garnish
Preheat your broiler to high. Arrange peppers on a baking sheet lined with foil and place under broiler until dark and charred on the top. Flip peppers over on the other side and repeat. This may take about 4-5 minutes on each side, but the amount of time depends a lot on your broiler and/or the size of your peppers and/or how high up your oven rack is. So best just to keep a close eye on them. When they are done, remove the pan from the oven and turn up the ends of the foil to cover the peppers and seal them up- kind of like creating a steam packet. Let them set for at least 5-10 minutes, or until they are cool enough to handle. Then, open the packet and gently peel/rub the skin off the peppers. Open them up along one side so that they can lay flat in one layer.
Meanwhile, in a medium sauce pan, heat the olive oil. Add the onion and garlic and cook over medium heat until the onions are translucent. Then add in the tomatoes and bring to a simmer. Let simmer, uncovered, for about 20-30 minutes, or until tomatoes will break up easily. Stir every once in a while, using the back of the spoon to crush the tomatoes. Add salt and pepper to taste.
In a medium-sized bowl, beat together eggs, water, salt, and a few grinds of black pepper with a whisk until light and frothy.
Preheat oven to 375 degrees F.
Reserve about a cup of sauce and set aside. Pour the rest into the bottom of a 9x13" casserole dish. Lay the strips of roasted poblano on top of the sauce. Then, top the peppers with the shredded cheese, followed by the egg mixture.
Bake the casserole for 30-35 minutes, until the egg is set and the top is golden. Remove from oven and sprinkle chopped cilantro over the top. Serve along with the reserved tomato sauce spooned on top, if desired.
http://butimhungry.com/2014/04/22/chiles-rellenos-casserole/