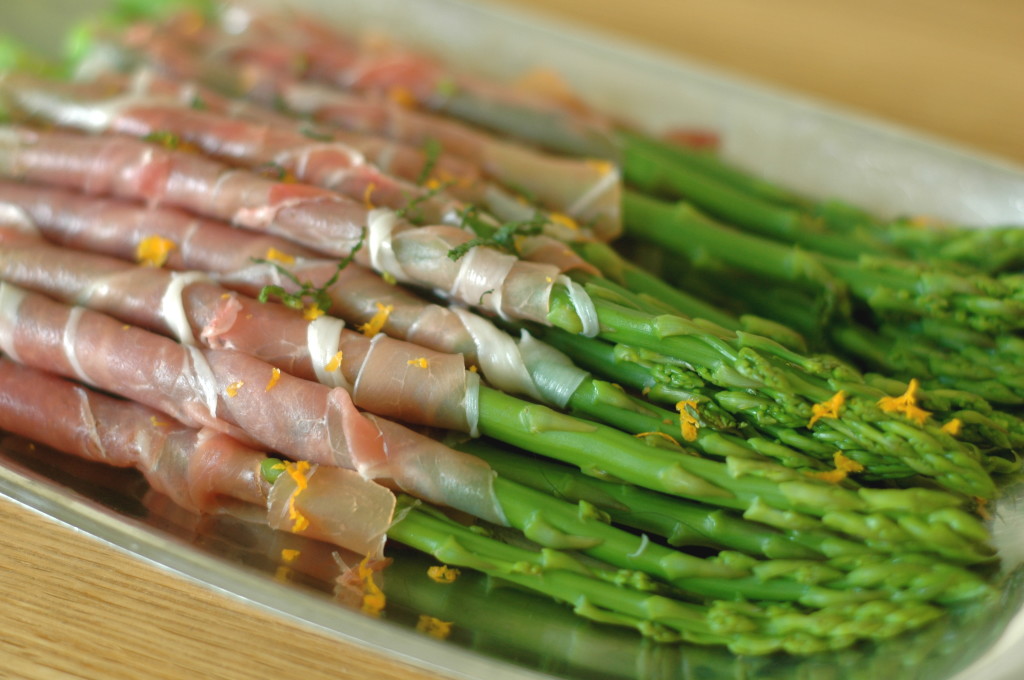 Part of me regrets adding to the cacophony of asparagus-centric recipes on the internet right now.  But it's a very, very small part of me.  Like a toenail's worth.  And I don't pay much attention to toenails these days, (Pedicure? What's a pedicure?) so who cares anyway.  There is a lot of asparagus to be had out there, so you need lots of asparagus inspiration, right?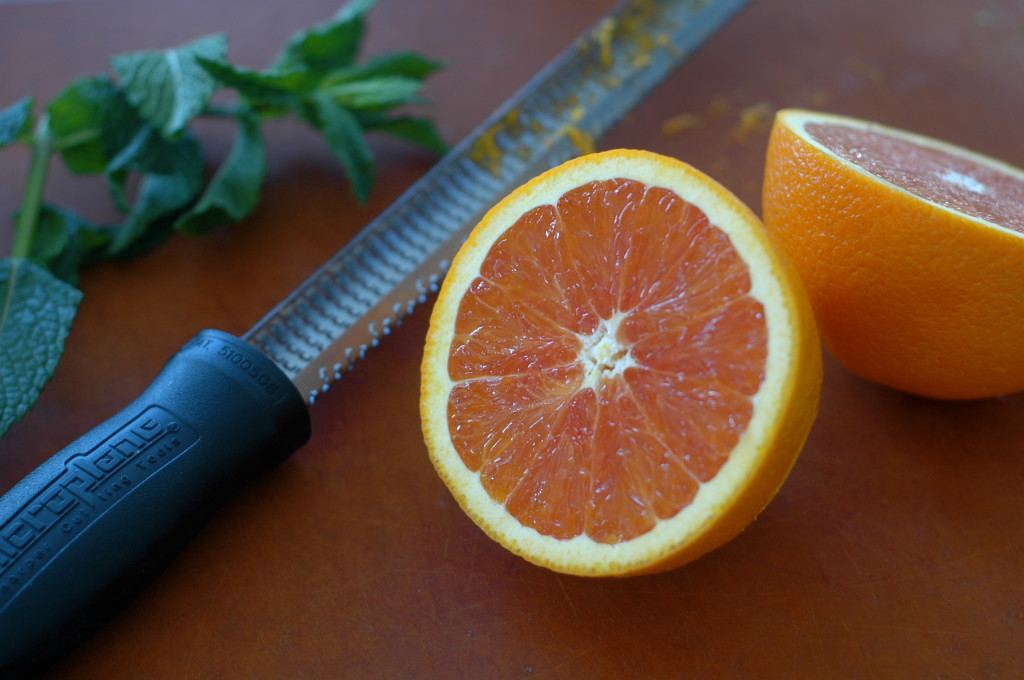 This is one of my favorite things to do with asparagus.  I think it originally hailed from one of those quick appetizer books that my mom had.  It became such a go-to that the recipe was memorized, changed a little, changed a little more, the book was lost (to me, at least, maybe she still has it) and now it lives in my mind.  Well, I mean, until now, when I wrote it down for you guys.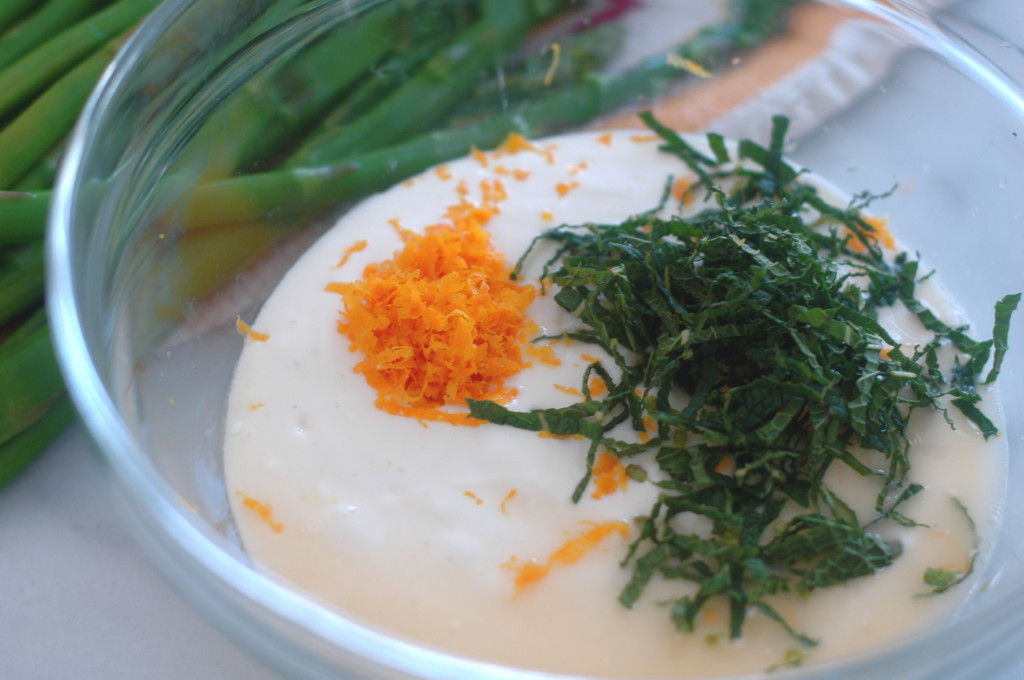 These are great as appetizers, but they'd also be nice as a first course, or a side dish.  They're also awesome because everything can be made ahead of time and are served cold, so they're great for a party or an event where you don't want to mess around with your host's oven.  They manage to taste decadent even though they're relatively light and healthy.  And when asparagus is in season, it really lets it shine.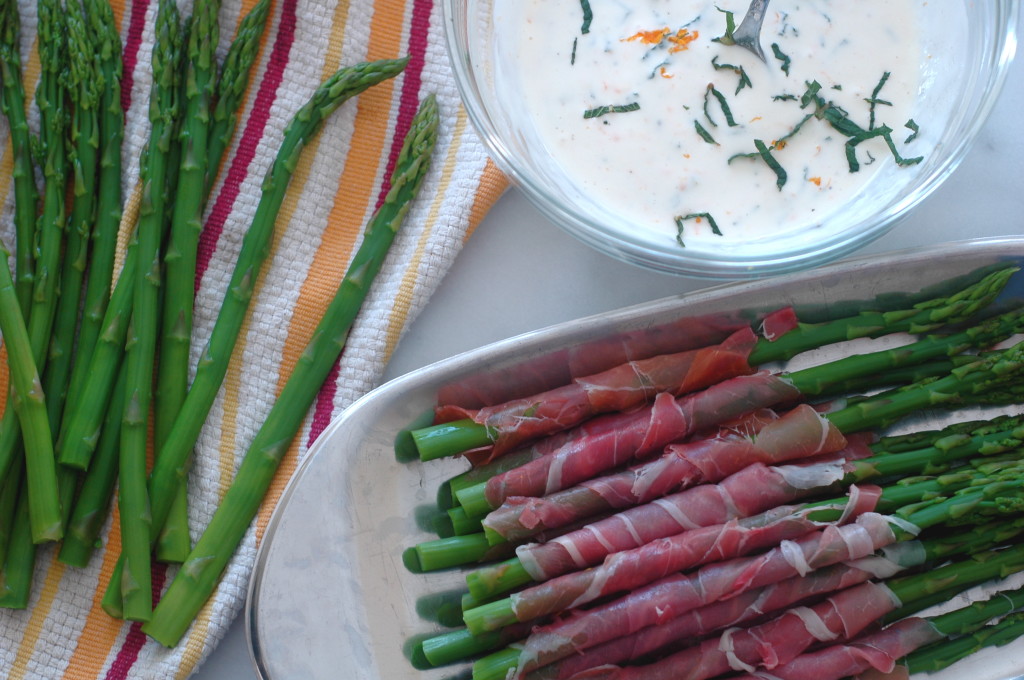 Wrapping asparagus with a thin ribbon of prosciutto isn't exactly rocket science, but it's the sauce that puts this one over the top.  Tangy, sweet, and fragrant with fresh mint, it's the perfect thing to set off the salty prosciutto and fresh asparagus.  Over the years, my husband has come to love the sauce on roasted or grilled pork, which is random, but admittedly, really good.  So good that sometimes I just make the sauce to go with pork instead of the asparagus.  Yeah, the sauce is good. And I don't have to tell you that asparagus wrapped in prosciutto is good, right?  It's ALL good.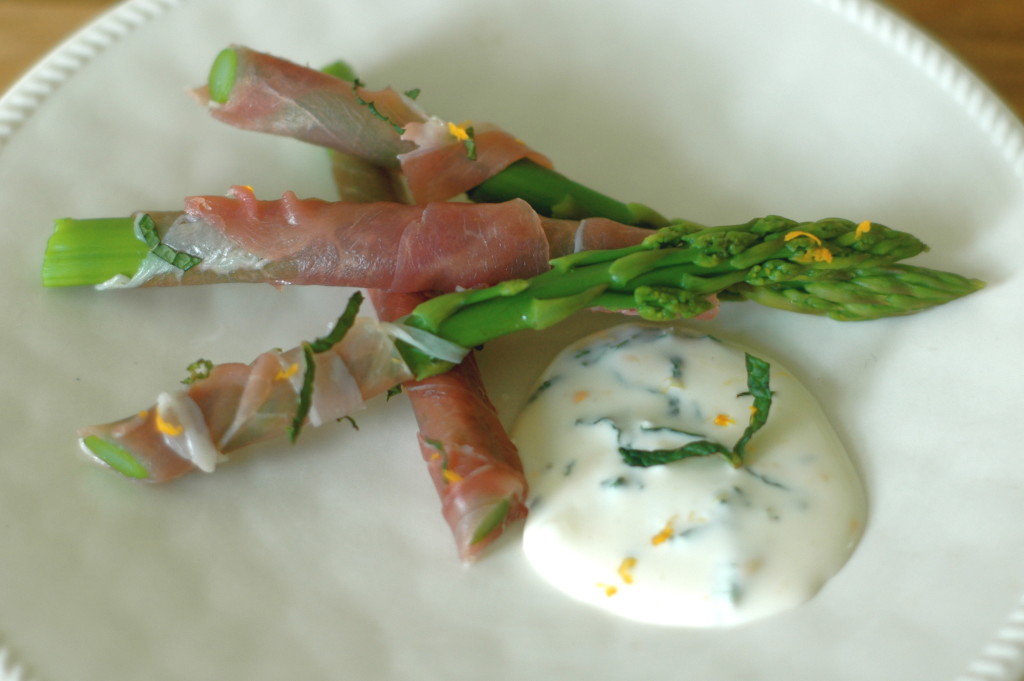 Prosciutto-Wrapped Asparagus with Orange-Mint Dipping Sauce
You can either leave the asparagus spears whole, or cut them in half or thirds for a more bite-size appetizer. Just make sure they are big enough so people can dip them without getting sauce on their fingers!
1/2 lb asparagus (or about 20 spears), ends trimmed
4 oz very thinly sliced prosciutto
1/2 cup whole milk yogurt
1/2 cup mayonnaise
2 tablespoons freshly squeezed orange juice
1 teaspoon orange zest
1 tablespoon thinly sliced mint leaves
salt and pepper
In a small bowl, combine, yogurt, mayonnaise, orange juice and zest, mint leaves, and salt and pepper to taste. Let sit, covered in the refrigerator, preferably for a few hours so the flavors have a chance to meld.
Prepare a large bowl filled halfway with ice water. In a large skillet or shallow pot, bring a few inches of water to a low boil. Place asparagus in boiling water and simmer for approximately 2 minutes, or until it is bright green and just tender (but still crisp). Immediate remove asparagus from the pot and place it in the bowl of ice water. Once they are completely chilled, remove them from the water and let them dry on a clean dish towel or a paper towel.
Using a very sharp knife, slice each piece of prosciutto roughly in half length-wise.Wrap each piece of prosciutto snugly around an asparagus spear. Repeat with remaining asparagus and prosciutto. If you'd like, garnish the top with a bit more orange zest and mint. Arrange on a serving platter and serve with the orange-mint dipping sauce.
http://butimhungry.com/2014/04/24/prosciutto-wrapped-asparagus-with-orange-mint-dipping-sauce/