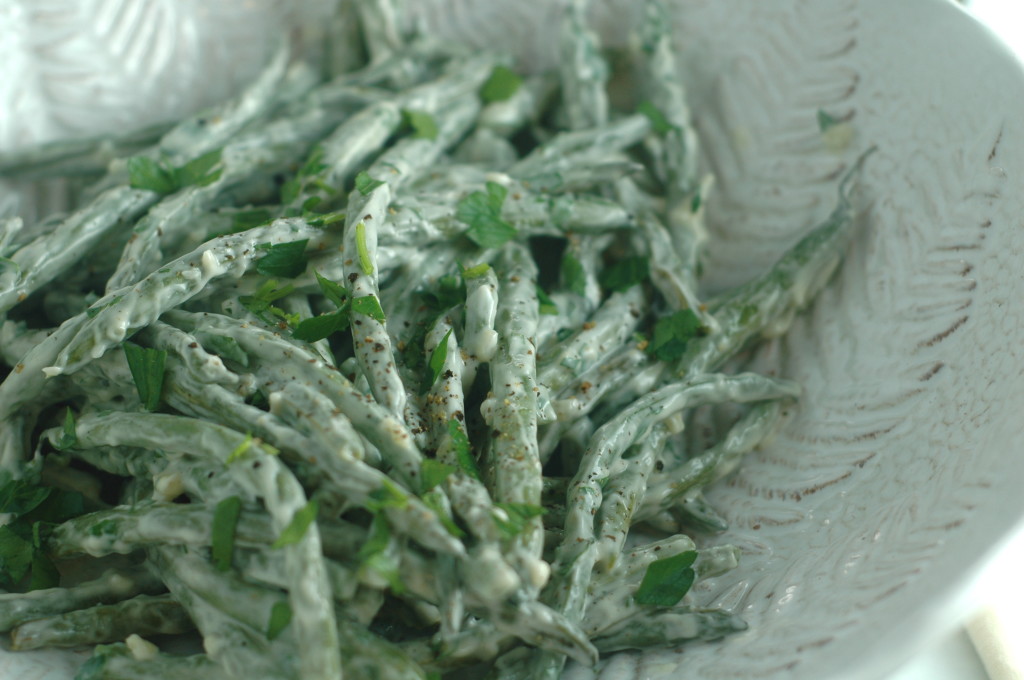 If you don't mind, I'm not going to spend a ton of time telling you about these fantastic green beans.  There really isn't much to the recipe, so it seems silly to go on and on.  They're genius in their simplicity, and surprising in just how delicious they are.  And if you're a garlic-lover like me, I hope I won't have to do much convincing.  Beautiful, fresh garlic aioli melted and sauce-like, covering each tender-crisp, piping hot green bean, full of their own bright, promising flavor.  Even the parsley takes on a life of its own in this recipe, the perfect foil for the spicy raw garlic.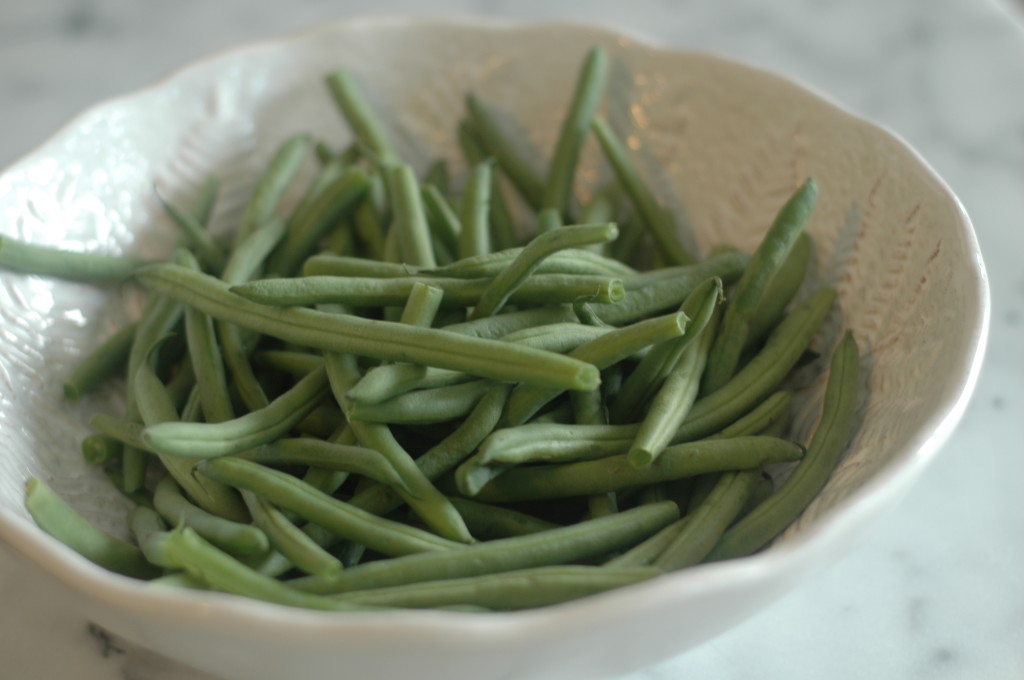 We had these with steaks and a light salad for dinner last night, and while the steaks were amazing, the green beans stole the show.  I get that the sauce is basically homemade mayo with some garlic in it, but it tastes like it came straight from heaven when paired with the green beans.  We were sopping up the leftover sauce on our plate using bits of steak.  Like I said.  Heaven. 
Roasted Green Beans with Garlic Aioli
inspired by Vegetarian Cooking for Everyone
These would be fantastic, too, if you grilled the beans in a vegetable basket on your grill instead of roasting them in the oven.
1 lb green (or yellow or purple) beans, cleaned and trimmed
2 Tbsp olive oil
1/2 cup home-made mayo
2 garlic cloves
1 tsp salt
1-2 Tbsp chopped fresh parsley
Preheat oven to 375 degrees F.
On a sheet pan, toss the beans with the olive oil and season well with salt and pepper. Roast in the oven for 16-18 minutes, or until desired doneness.
Meanwhile, prepare the garlic aioli. Finely mince the garlic cloves, then sprinkle the salt over them. Using the flat side of a large kitchen knife, rub and push the salt and garlic together against the cutting board over and over, creating a paste. (Alternatively, use a mortar and pestle.) Add this paste into the homemade mayo and stir to combine completely. (This can be made a day or so ahead of time.)
Immediately upon taking the beans out of the oven, toss them in a medium-sized bowl with the aioli, tossing and mixing them until well-coated. Add the chopped parsley and season with more salt and pepper, if needed, and give it another few good tosses. Serve immediately.
http://butimhungry.com/2014/04/26/roasted-green-beans-with-garlic-aioli/