It may seem strange to you that I'm making chili at the beginning of May.  Chili is one of those quintessential fall and winter type things that seem to go perfectly with football, beer, and cold toes.  But I just really like chili.  Especially this chili.  And as lovely as the idea of spring is, the past week of rain, clouds, and damp has me craving a big bowl of the stuff.  And this version of chili isn't heavy and dense- it's filled with beans, veggies, and plenty of tomatoes.
And before one or another of you starts in on the "If it has beans, it's not chili!" or "Blah blah blah, CORN?!, blah blah blah…", can you just cool it?  I know many, many people have pretty serious feelings about what chili should and should not be.  That's ok with me.  It's good to have a stance.  But your stance on what chili should be doesn't make this one any less delicious.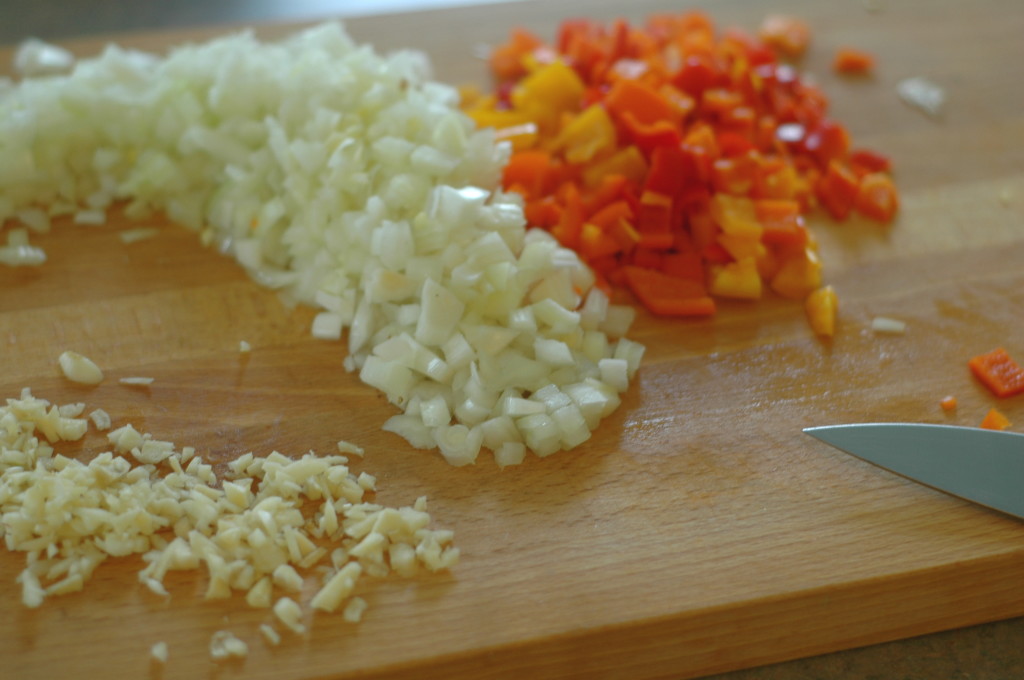 I can honestly say that I've never had a recipe more requested than this one.  I like to make huge pots of it for parties a lot, and no matter what everyone's chili stance, people love it.  It's the people-pleaser of chili.  It's loaded with flavor, but no one note is too overwhelming.  It's hearty, but it doesn't weigh you down after just one bowl (yes, two bowls, at least, are always necessary, it seems).  It takes well to a variety of toppings and sides.  My favorite is the classic onion, cheddar, and dollop of sour cream, but we've also really enjoyed queso fresco and cilantro on top.  Scallions and cumin yogurt is another good way to go. I've even heaped a big hunk of corn and cheese-filled spoon bread right on top.  You know how I love possibilities.  I've really liked lots of other chili recipes over the years.  Whole bunches.  But this is the one I keep coming back to as our base recipe and stand-by.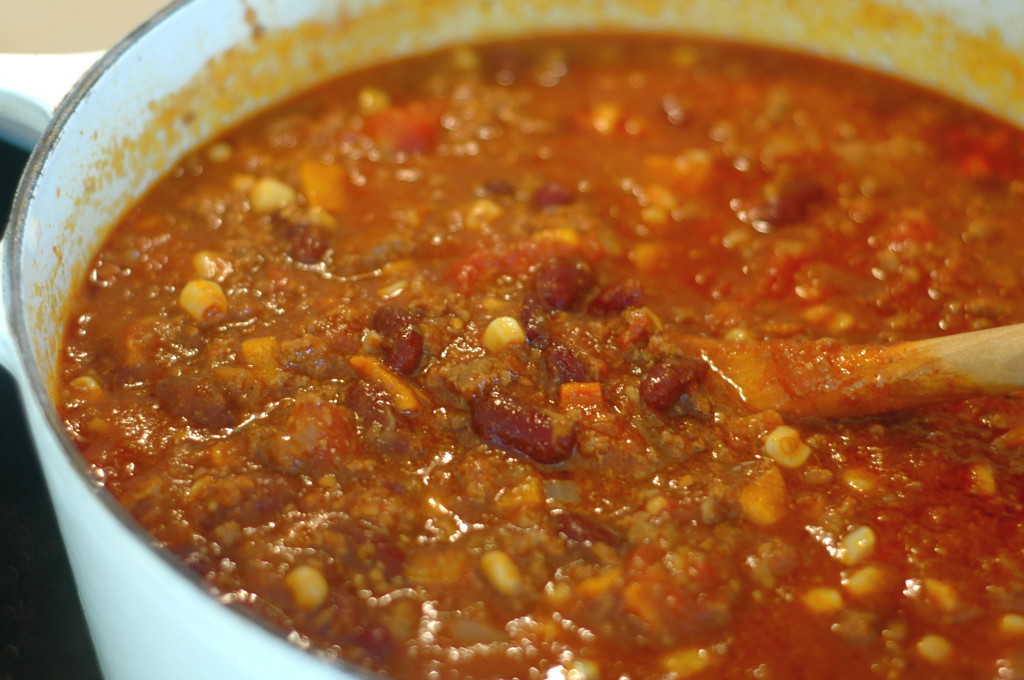 So bottom line is this: if you don't like beans, don't put in the beans.  Corn offend you?  Bye, bye, corn!  Not a big red-meat eater?  Ground turkey would be yummy.  I'm not the chili police.  But try this chili, at least once.  You'll be hooked.  I mean, it has to be pretty good, if this is what I'm making at the beginning of May, when all roads are leading AWAY from chili, right?!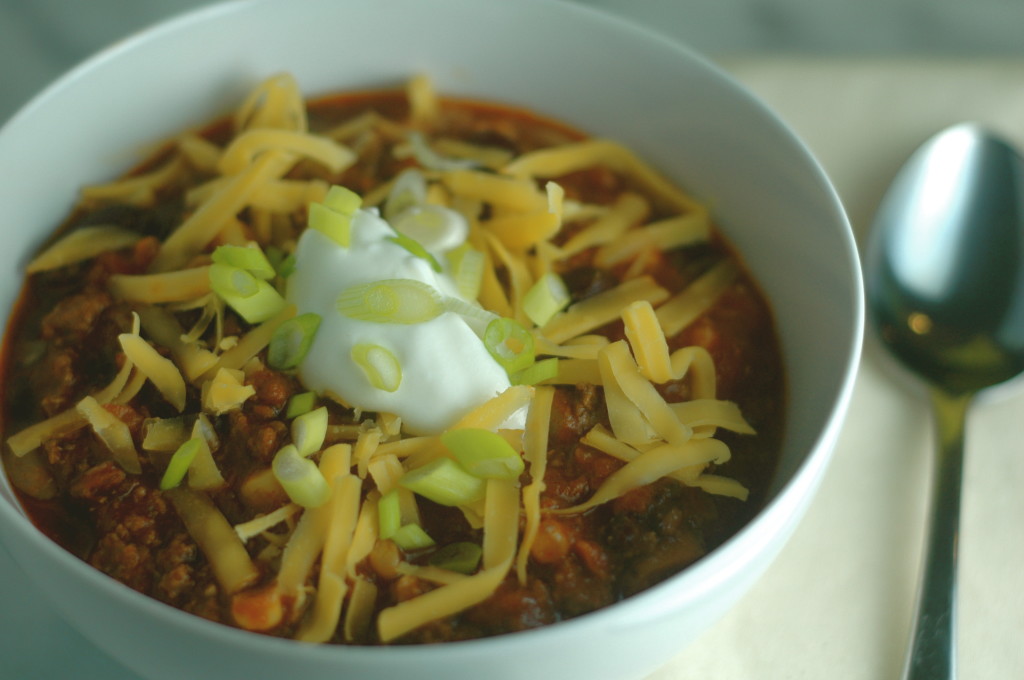 I like to use fresh or frozen corn, and beans that I've cooked from dried, but you can also used cans of both. Just be sure to drain and rinse them well, and be careful about tasting for salt, as canned stuff is obviously saltier.
This chili freezes and reheats beautifully, and is even better made a day or two ahead of time.
2 lb lean ground beef
1 large onion, chopped
1 large bell pepper, chopped
3 cloves garlic, minced
1 teaspoon crushed red pepper
3 teaspoons chili powder
2 teaspoons ground cumin
1/2 teaspoon oregano
3 teaspoons salt
3 cups (or 2 cans, drained and rinsed) kidney beans
2 28 oz cans whole tomatoes
1 can tomato sauce
1 1/2 cups corn
In a large pot, brown the ground beef. Once cooked through and browned, add in the onion, bell pepper, garlic, spices, and salt and continue to cook over medium heat until the vegetables soften. Then, add in the beans, tomatoes, tomato sauce, and corn.
Simmer for at least 2 hours, but the longer the better, up to several hours.
http://butimhungry.com/2014/05/05/southfork-chili/