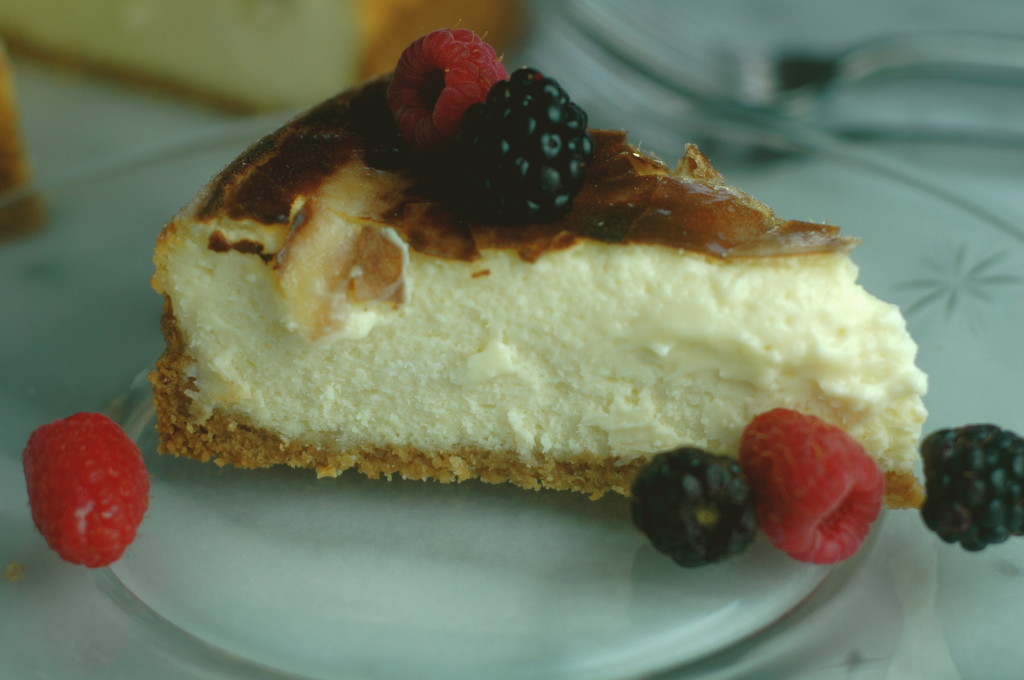 This recipe for Crème Brûlée Cheesecake is brought to you by the evil genius of my baby brother's mind.  This past year, for this birthday, when I asked him what kind of cake or dessert he'd like to celebrate with, I expected his usual answer.  Carrot cake.  His favorite.  So imagine my surprise when he comes out with, "What about a crème brûlée cheesecake?"  Followed by my question, "Is that even a thing?!"  And of course, being an evil genius, his response was, "I don't know… but it should be." Can't argue with that logic, folks. Or maybe you can, but I don't really care to.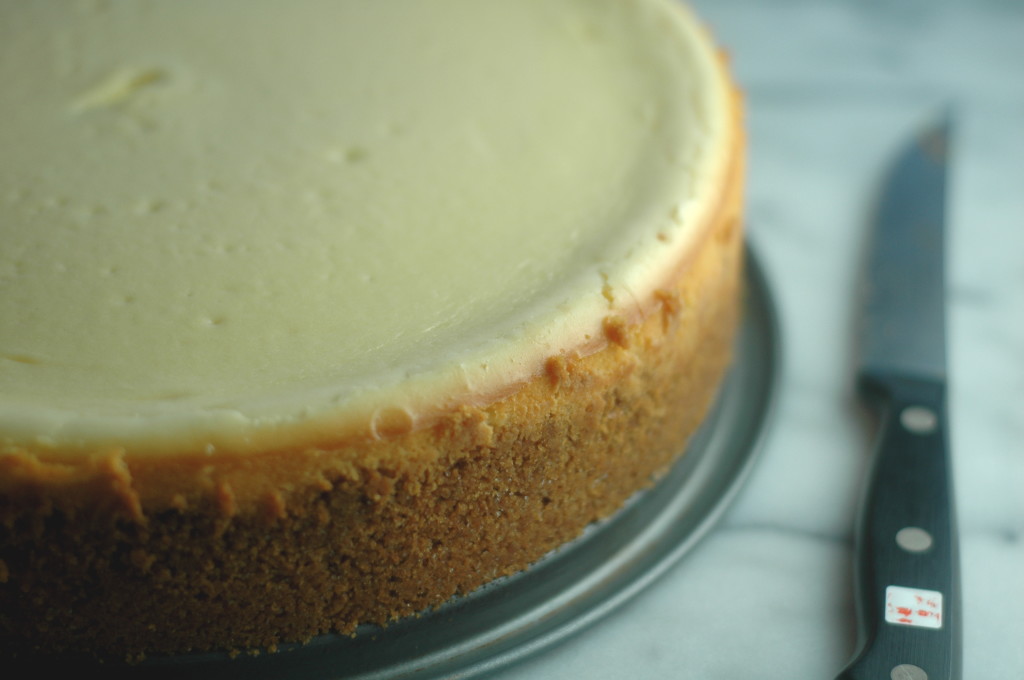 Needless to say, the cheesecake was a roaring success, even luring in the usual non-dessert eaters with its promise of creamy goodness and crackly, flavorful topping.  I'm not sure if it's the best cheesecake I've ever eaten, but let's just say that I can't remember eating a better one.  I might be biased, as crème brûlée and cheesecake are probably my two favorite desserts of all time.  But that doesn't mean that this combo doesn't just work, does it?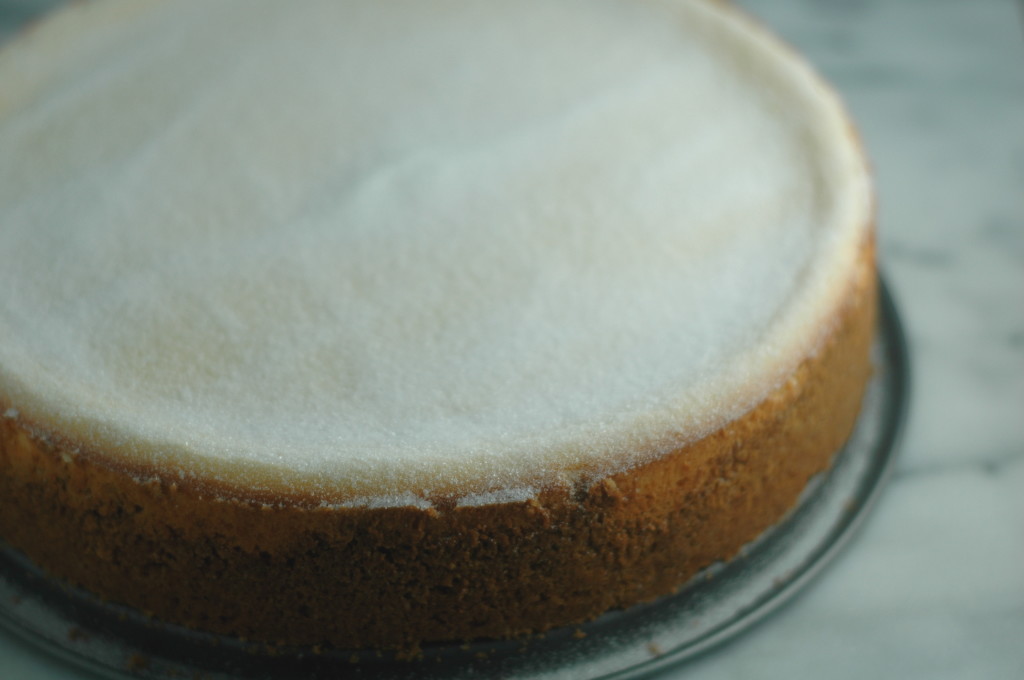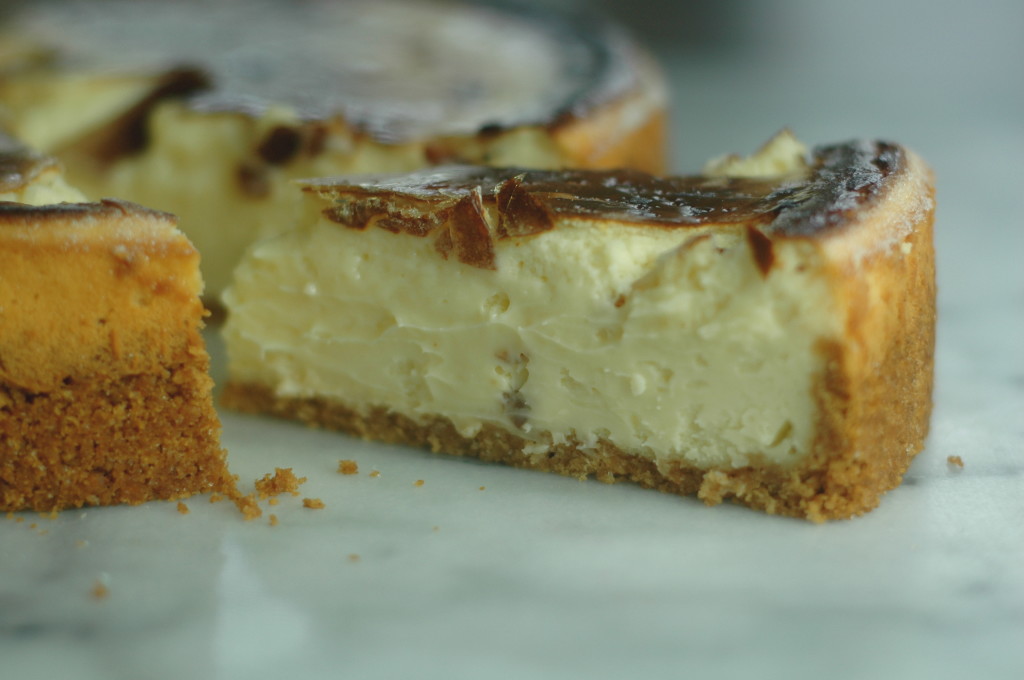 Another awesome thing about this cheesecake is that despite cheesecake's reputation for being fiddly to make, this one is a breeze.  A press-in crust, a short ingredients list, and get this- no water bath required!  And the result is still so perfect- creamy, dense, not overly sweet, but with plenty of vanilla for flavor; this is my idea of perfect cheesecake.  And while you can use a torch to melt your sugar crust on top, a broiler works just as well.  Did I mention this is one of those awesome recipes that you can make ahead of time?  Like DAYS ahead of time?  Or if you freeze it, a MONTH ahead of time?  How convenient is that?!  It's cheesecake and crème brûlée without the diva attitude.  And yet it seems to somehow be even more impressive than either original, which makes it perfect for special occasions.  So, thanks, little bro.  It's things like this that make me feel bad about all those evil things I did to him as a kid.  Good thing nothing says Sorry! like cheesecake!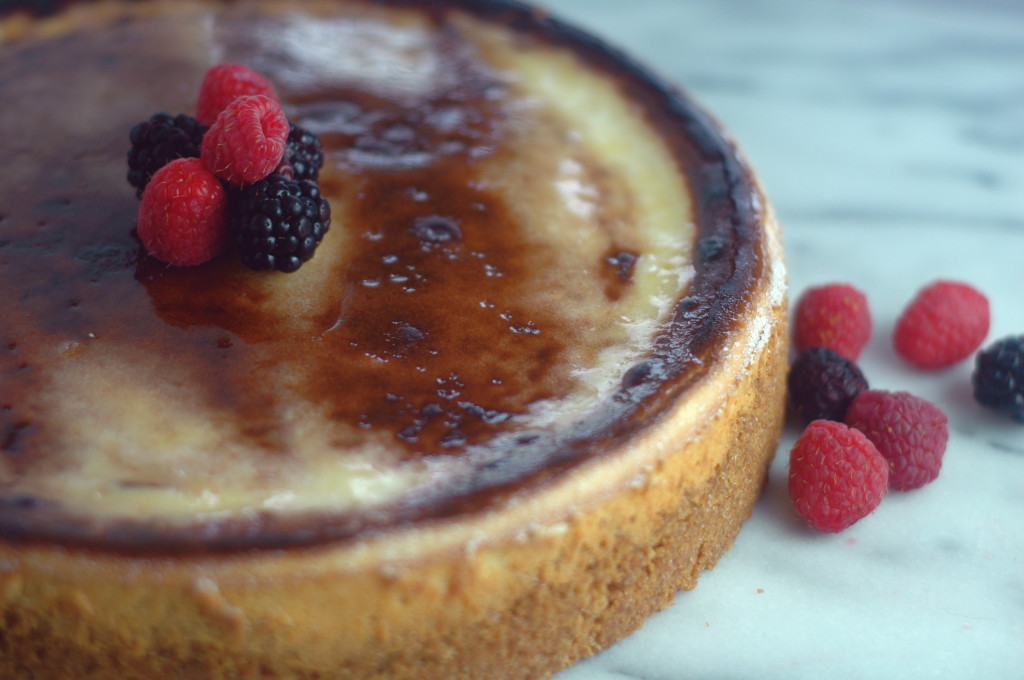 8 oz vanilla wafers, graham crackers, or tea biscuits, finely crushed (2 cups of crumbs)
3 tablespoons granulated sugar
7 tablespoons unsalted butter, melted
4 8-oz. packages cream cheese, at room temperature
2 tablespoons all-purpose flour
pinch of salt
1 cup granulated sugar
1 tablespoon pure vanilla extract
4 large eggs, at room temperature
3 Tbs. granulated sugar
Position a rack in the center of the oven and heat the oven to 375°F.
In a medium bowl, stir together the cookie crumbs and 3 tablespoons granulated sugar. Mix in the melted butter until the crumbs are moist and clump together slightly. Pour the mixture to a 10-inch springform pan and press evenly onto the bottom and about 2 inches up the sides of the pan, using your hand, wrapped in plastic wrap (it sounds weird, but it works!) Bake until the crust golden on the edges, 8-10 minutes . Let the pan cool on a rack. Lower the oven temperature to 300°F.
In a stand mixer fitted with the paddle attachment, beat the cream cheese, flour, and a pinch of table salt on medium speed, scraping down the sides of the bowl and the paddle frequently, until very smooth and fluffy, about 5 minutes. There shouldn't be any lumps. Add the 1cup granulated sugar and continue beating until well blended and smooth.
Add the vanilla and beat until blended, about 30 seconds. Add the eggs one at a time, beating just until blended. (Don't overbeat once the eggs have been added or the cheesecake will puff too much and crack as it cools.) Pour the filling into the cooled crust and smooth the top.
Bake at 300°F until the center jiggles like jello when nudged, 55 to 65 minutes. The cake will be slightly puffed around the edges, and the center will still look moist. Set on a rack and cool completely. Cover and refrigerate until well chilled, at least 8 hours and up to 3 days. The cake can also be frozen at this point for up to 1 month.
When ready to serve, preheat your broiler on its high setting and put the top oven rack as close to the top as space allows. Unclasp and remove the side of the springform pan and run a long, thin metal spatula under the bottom crust of the cheesecake. Sprinkle the 3 tablespoons of granulated sugar evenly over the top of the cheesecake. Place the cheesecake under the broiler and WATCH IT. Don't walk away, because the sugar will caramelize quickly. As soon as you get the desired caramel color (aim for a deep amber color), remove the cake from the oven.
Carefully slide the cake onto a flat serving plate.
To cut, run a thin knife under hot water, wipe it dry, and cut the cake into slices, heating and wiping the knife after every slice.
http://butimhungry.com/2014/05/07/creme-brulee-cheesecake/