Hi All, 
Today, I'm super excited to introduce you to Erica from Amateur Omnivore.  I really love her blog, and I think you guys will love what she came up with to share with you!  And while you're at it, check out her blog for lots of other awesome posts!
Love, 
Christina
Hi everyone!  I'm Erica over at Amateur Omnivore and while Christina is spending time with her baby girl, I'm popping over to provide a little entertainment for her readers until she comes back and tells us all about life and food forays with her new munchkin!
Inspired by the first ears of the season and by Christina's fresh Corn and Radish Salad, I made a warm corn and red bell pepper salad with asparagus as a side dish for a barbecue a couple of weeks ago.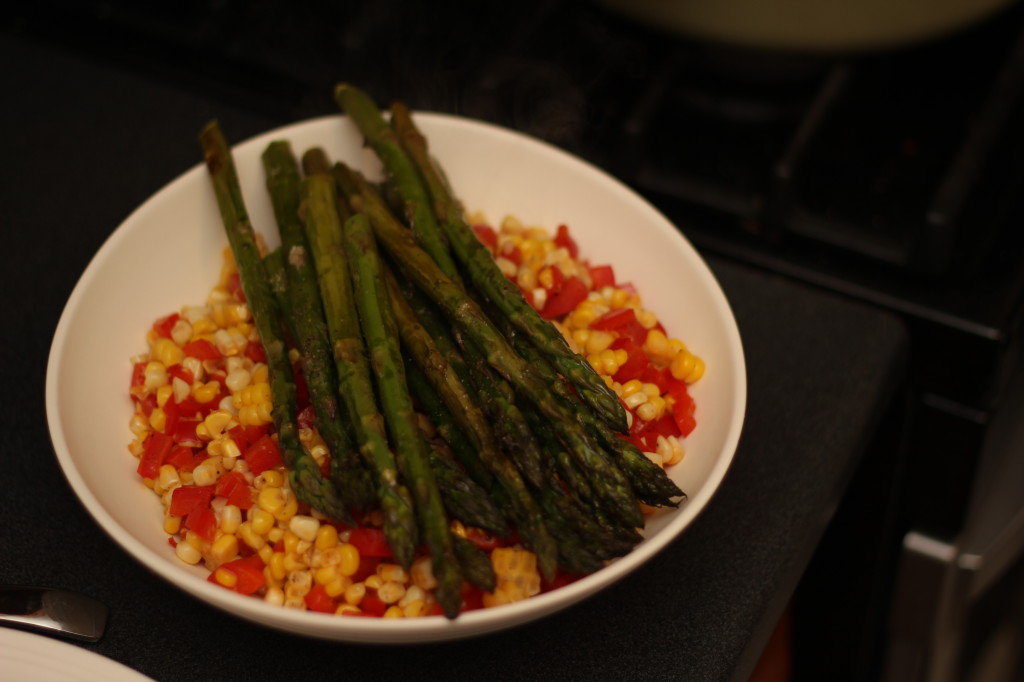 My favorite way to cook corn on the cob is by soaking the ears, husks still on, in water before tossing them on the grill.  I'll usually soak them in the sink for 30 minutes to an hour but have soaked them as long as overnight when I have a party with a lot of prep work the next day.  All that soaking makes the kernels steam inside the husks as they're being cooked.
Starting with the burners at medium heat, I try to keep the grill hovering around 400 degrees and think of each ear of corn as having four sides.  I rotate the corn so that the four sides spend about ten minutes each facing the burners.  That puts me at about 40 minutes total, give or take, and the husk will become very dry, flaky and possibly charred in places.
Now, you've got some seriously hot husks to peel when they come off the grill.  I always end up burning myself a little because I get so eager to eat it.  Lesson not learned!
The thing about cutting the corn off of the cob is that I will inevitably find various stray kernels all over the place.  On my shirt, under the counter, on the cat…
My advice is to use a very sharp knife.  This will decrease the number of orphan flyers.  (Also, though I haven't tried this myself, I've seen a hack where the corn is stood on end in the hole of a bundt pan and the high sides catch the kernels.)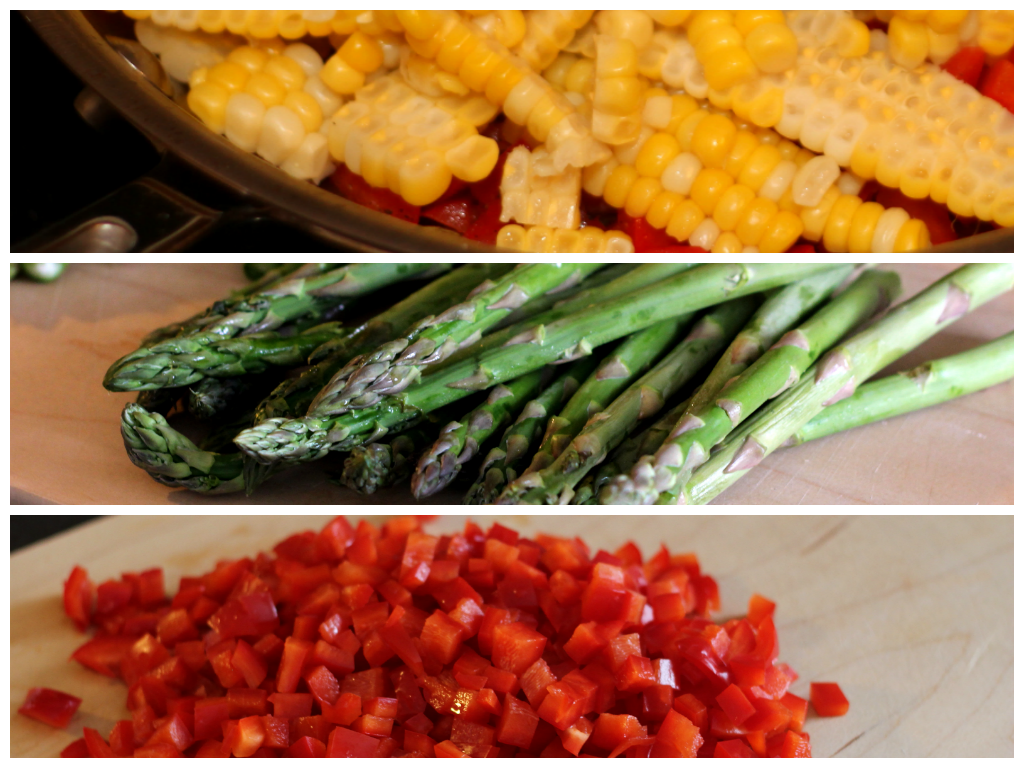 I love how corn brings a natural sweetness to a dish and with the tang of the bell pepper, the earthiness of the asparagus and the richness of the butter, you get a nice complexity of flavors with this dish.  I also finished it with some cayenne pepper which added some heat, but next time I want to try smoked paprika which I think might taste great too.  I'm also wondering what some avocado and fresh lime might bring to this dish in place of the asparagus.
So much food, so little time!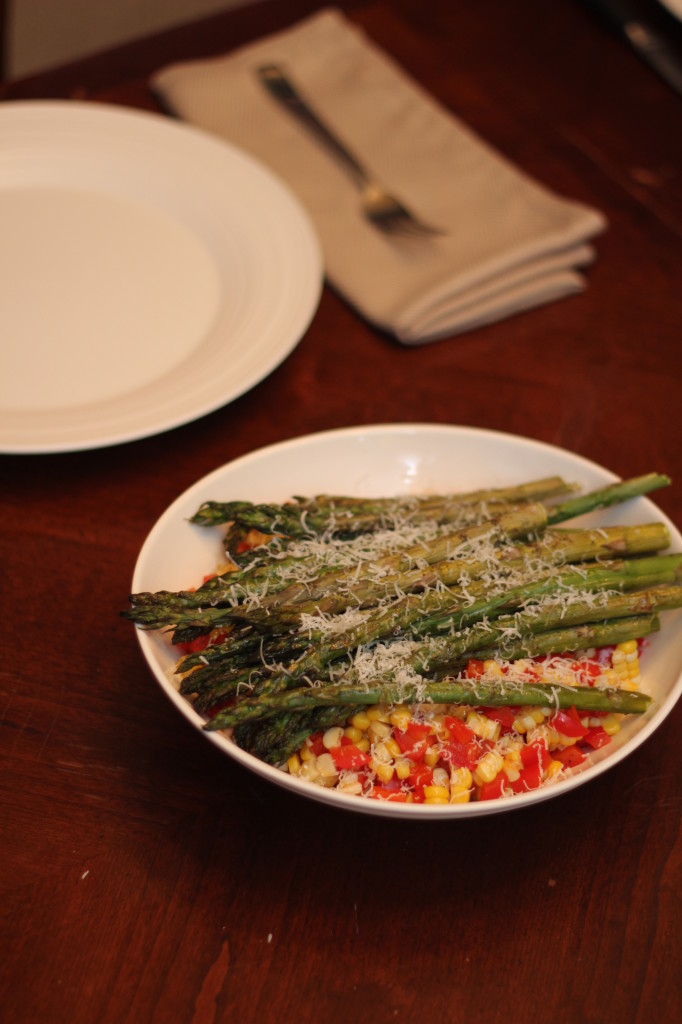 Warm Corn and Bell Pepper Salad with Asparagus
1 bunch of asparagus
1 tablespoon olive oil
2 red bell peppers, diced
5 ears of corn, cooked and cut off the cob
3 tablespoons butter
1 teaspoon cayenne
salt and pepper
grated parmesan
Preheat the oven to 350F. Line the asparagus on a baking sheet and drizzle with olive oil, salt and pepper. Bake for 20 minutes or to desired tenderness.
Meanwhile, in a large pan over medium-high heat, add the butter and diced peppers. Cook for 5 minutes, add the corn and season with salt and pepper to taste. Cook 5 more minutes.
I served this dish in a bowl finished with a sprinkle of cayenne and grated parmesan cheese.
http://butimhungry.com/2014/05/27/warm-corn-and-bell-pepper-salad-with-asparagus-from-amateur-omnivore/