A month ago, I gave birth to a baby girl.  A month ago.  This past month has gone by so fast that I'm feel like I blinked in May and woke up in June.  And yesterday, I teared up just a little when I realized my little one's newborn-sized onesie is getting a bit snug.  How did that happen?  When did that happen?  But I've done this before; I know how fast it goes.  I think that's the best thing about having a child the second time around: I've given myself permission to just soak it all in an enjoy it.  My house is kind of a mess (ok, it's a total mess) and I'm always behind on laundry, but I sure am enjoying my babies.  Because I've done this before, I know that I'll blink again and my snuggly newborn will be a rambunctious toddler.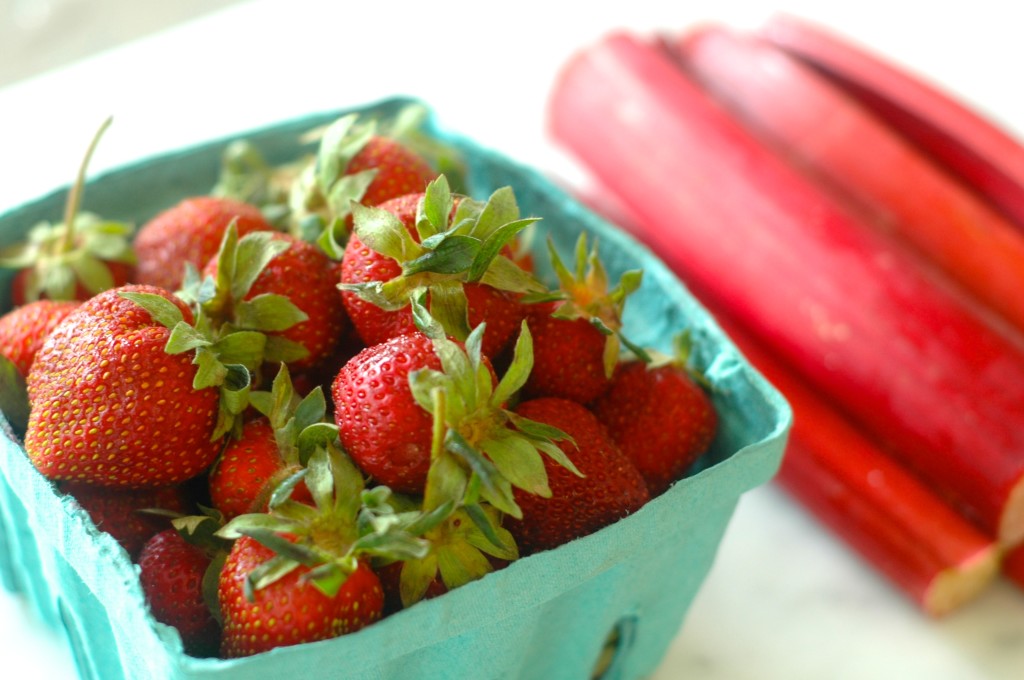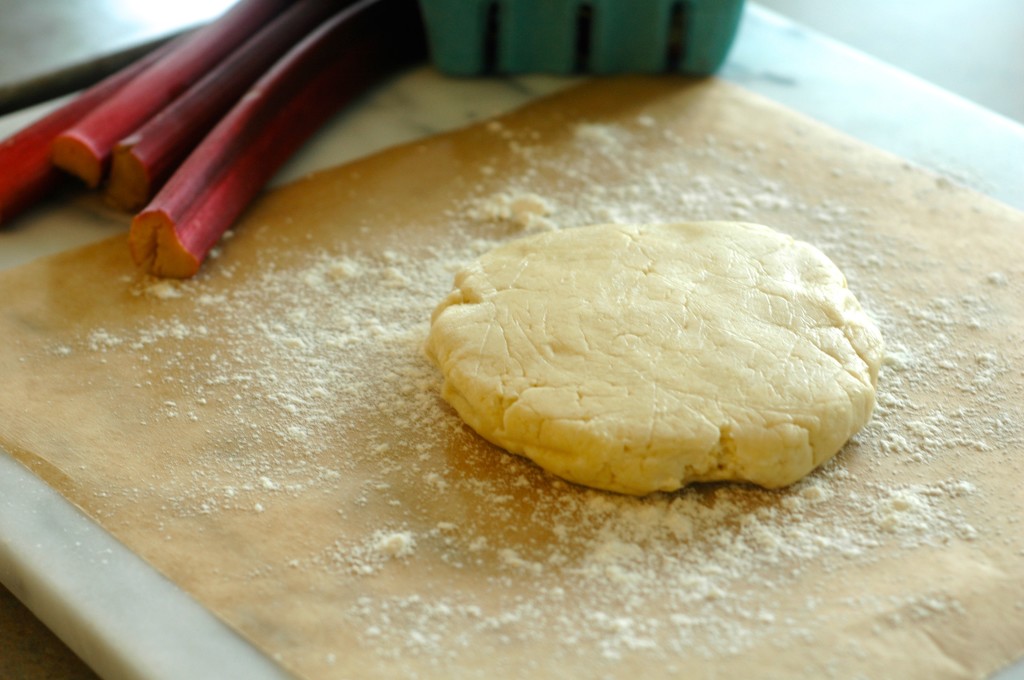 And so it goes with rhubarb.  And strawberries.  And asparagus.  Sometimes you stop and think, "Well this is silly. Should I really be buying 3 quarts of strawberries?" But the answer is yes.  Yes, you should.  Because in a  few weeks, they'll be gone. Sure, there will be other things to keep our attention, but those things won't be rhubarb.  So excuse me while I go rhubarb crazy.  Nutty for strawberries.  Agape over asparagus.  It'll be a whole YEAR before these things are anywhere near as good again.  So excuse me while I revel in them, ok?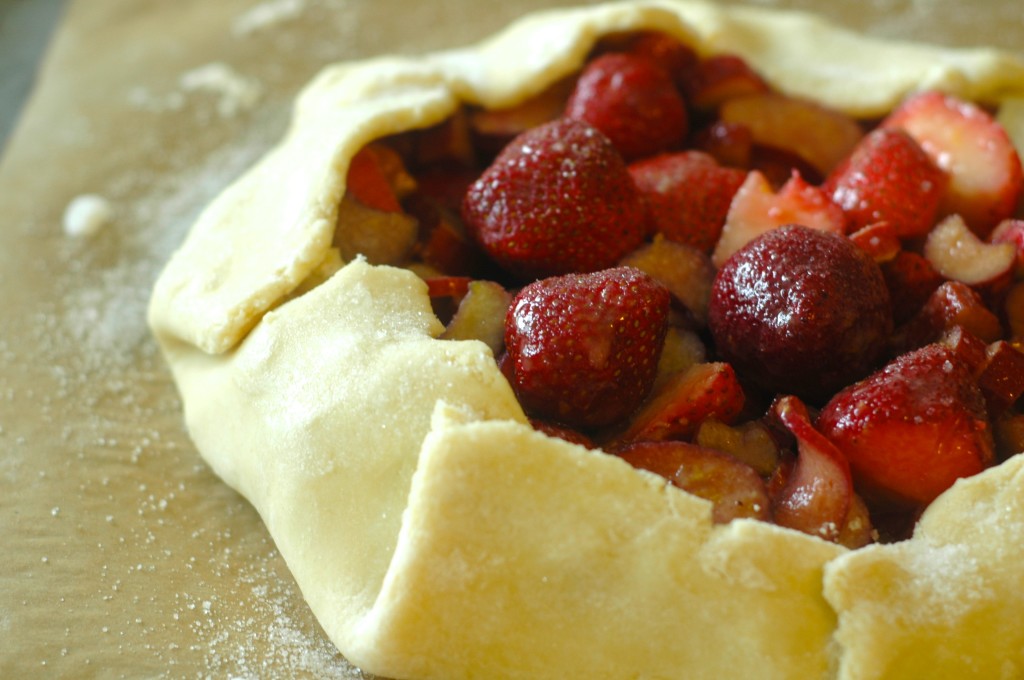 And yes, this is my not-so-subtle way of warning you that I'm on my way to embarking on a strawberry and rhubarb binge here on the blog.  I have a few more rhubarb and strawberry goodies on the way.  Which, consequently, means even more sweet treats and desserts.  Please, be kind enough to retain from reminding me that all these treats may or may not be the best idea for a woman trying to lose a couple of pounds after having that aforementioned sweet, snuggly infant.  I don't care.  My hips will always be… well, hippy.  Snuggly babies and strawberries don't last.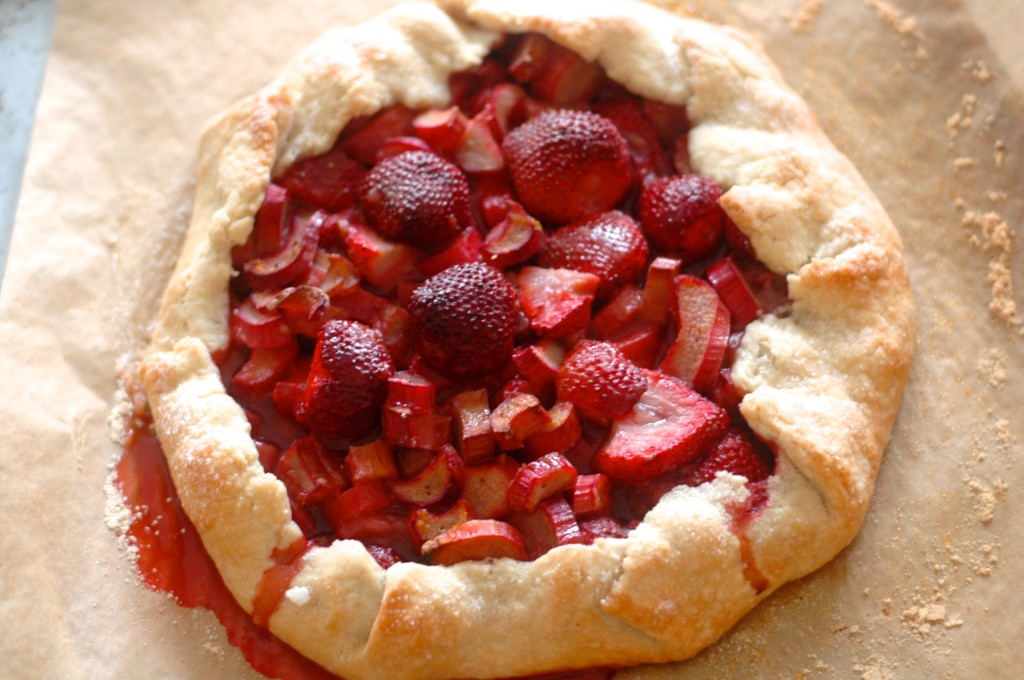 Vanilla-Scented Rhubarb and Strawberry Crostata
Crust:
1 1/4 cup all-purpose flour
1/4 teaspoon salt
1 tablespoon sugar
1/2 cup chilled butter, cut into 1/2 inch piece
1/4 cup ice water
Filling:
1/4 cup sugar, plus 2 tablespoons (use vanilla sugar for sprinkling, if you have it)
3 tablespoons all-purpose flour
1/2 lb rhubarb, cut into 1/4" pieces
1 pint strawberries, hulled and halved (quartered, if large)
1 teaspoon lemon zest
1 tablespoon vanilla (or the seeds from 1/2 a vanilla bean)
To make the crust, combine flour, salt, and sugar in a medium bowl. Add the butter and rub between your thumbs and the tips of your fingers to cut the butter into the dough. Once the biggest lumps are about the size of peas, stir in the ice water, one tablespoon at a time, with a wooden spoon until the dough comes together. Shape the dough into a disk, wrap in plastic wrap, and refrigerate for half an hour.
Meanwhile, make the filling. In a medium-sized bowl, combine the 1/4 cup sugar, 3 tablespoons flour, fruit, lemon zest, and vanilla. Mix until all the fruit is evenly coated.
Preheat the oven to 400 degrees F.
Line a baking sheet with parchment paper or silicone baking mat. Remove the dough from the fridge. On a floured surface, roll out the dough to a roughly 13" circle. Transfer the dough to the baking sheet, and pile the fruit mixture in the middle of the circle, leaving about 1 1/2" border of dough. Fold the edges up over the fruit.
Brush the pastry with a bit of cold water, then sprinkle the remaining 2 tablespoons of sugar over both the crust and the fruit.
Bake the tart until the fruit is bubbly and the crust is golden, about 40-45 minutes. Let cool for at least 20-30 minutes before serving.
http://butimhungry.com/2014/06/16/vanilla-scented-rhubarb-and-strawberry-crostata/