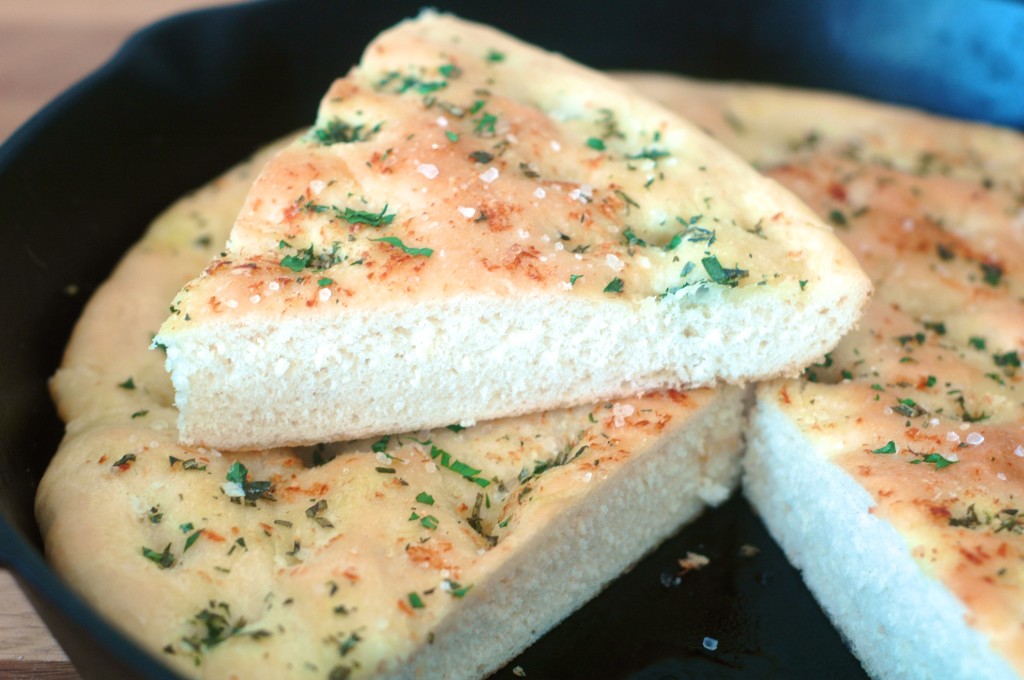 I'm not what you would call a "camper".
And that sentence, right there, is what anyone who knows me would call an "understatement of the century." This wouldn't be noteworthy except for the fact that my husband loves camping.  He dreams of taking family camping trips to places where there's no electricity or bathrooms (!!!) and thinks that I will, eventually, come around and see reason where camping is concerned.  What he has overlooked is that my dread of camping is completely reasonable.  There are lots of bugs.  The ground is hard.  And no matter what he says, jumping in the lake does NOT equal a shower.  Don't get me wrong, I like being outdoors.  I love campfires, light (emphasis on light) hiking, and hanging out on a beach.  But I also really enjoy sleeping in a bed and going to the bathroom, you know, in a bathroom.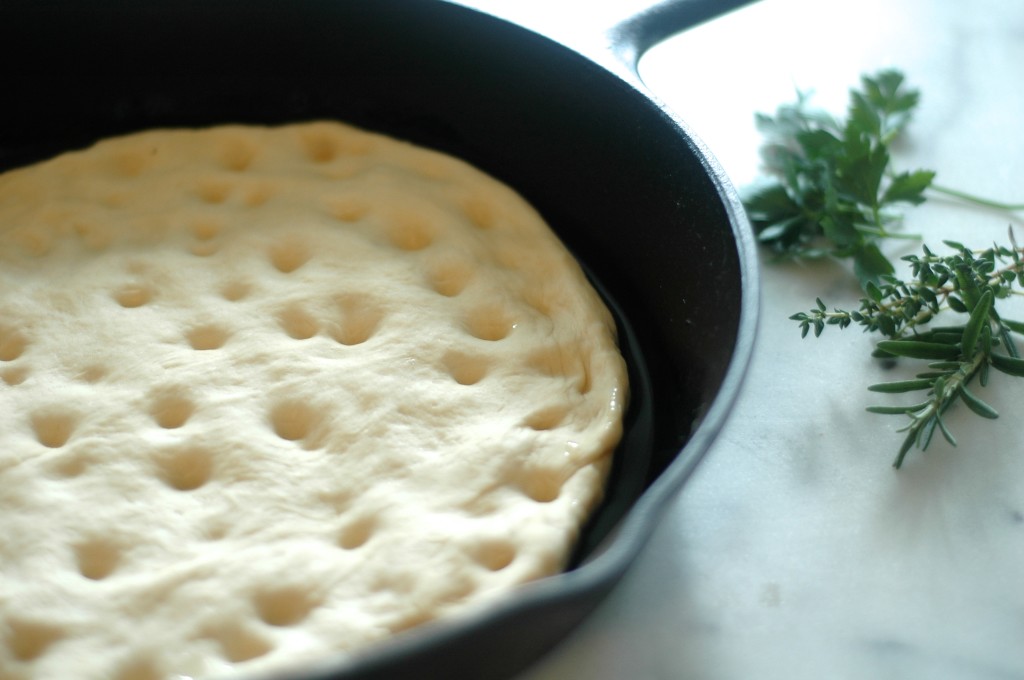 But I love my husband.  So I compromise.  By making things in a cast iron skillet. (Isn't that what you use when you're camping? I think it is.)  I know that you're thinking that's not much of a compromise.  And you're right.  But it's better than nothing, because I really do not want to go camping.  And he really loves this focaccia, so that's about as far as we're going to come with the whole camping standoff for right now.  Because I don't think my skillet's going to see any campfire action any time soon.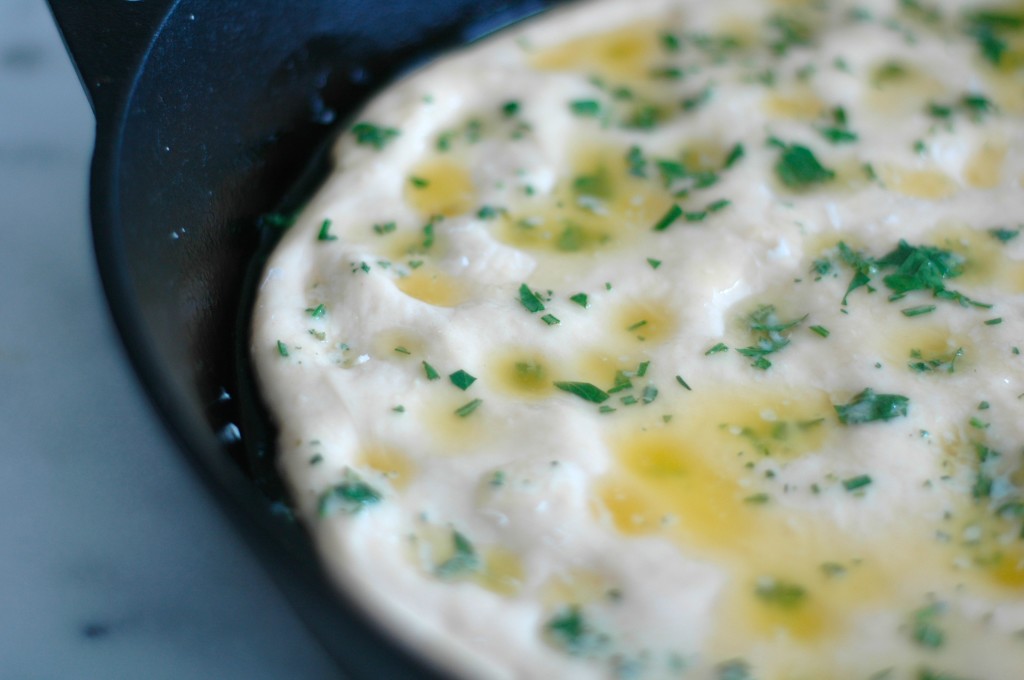 Ok, about this bread:   This isn't a super authentic focaccia recipe, and it doesn't seem super exciting like other focaccias I've made before.  But everyone LOVES this stuff.  It's just really good, really quick to throw together (under an hour from start to finish), and it's the perfect thing to round out a meal.  The bread itself is light and fluffy on the inside, with a buttery crisp, lightly golden crust.  Cooking it in a cast iron skillet gives it a perfectly crispy bottom without the danger of burning it.  Fresh herbs and parmesan cheese coat the top to finish it off.  For something ostensibly so unexciting, this gets rave reviews every time I make it.  It's popularity has now surpassed garlic bread in our house- and that's saying something.
So in case anyone was thinking of asking if you can actually make this over a campfire, my answer is: I have no idea.  I have no intention of finding out.  But if anyone wants to experiment on their camping trip, send me a postcard!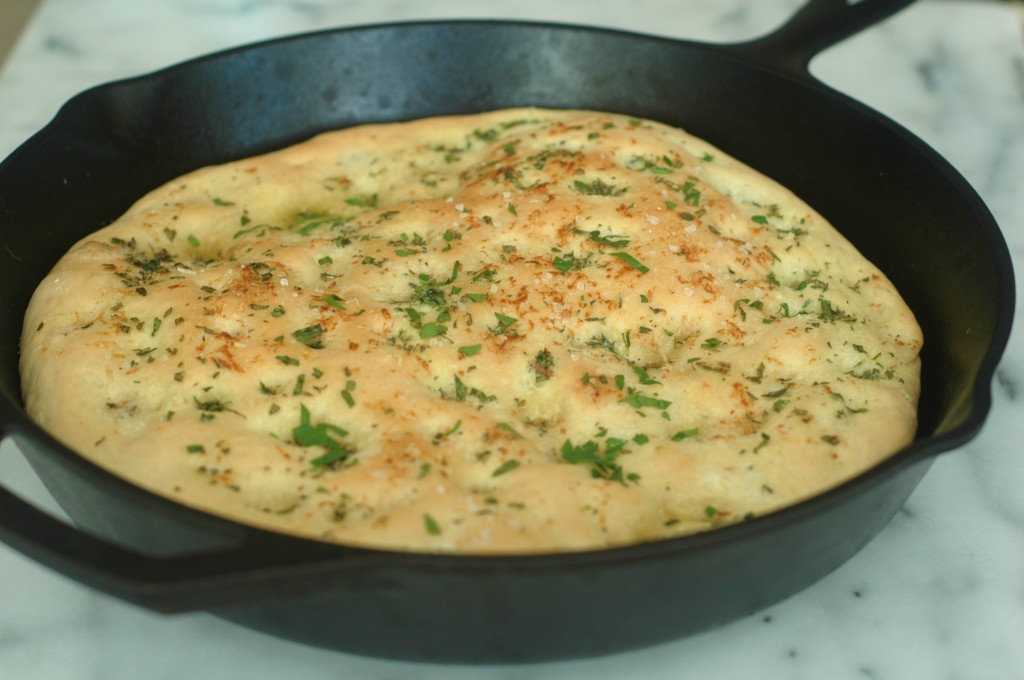 Fresh Herb and Parmesan Foccacia
3/4 c warm water
1/2 teaspoon granulated sugar
1 1/2 teaspoons yeast
2 tablespoons olive oil
2 cups all-purpose flour ( divided )
1/2 teaspoon salt
2 Tbsp unsalted or salted butter, melted
1 Tbsp grated parmesan
1 tablespoon finely chopped fresh herbs (I used thyme, rosemary, and parsley)
Grease a 10" or 12" cast iron skillet with a generous amount of olive oil.
In the bowl of your stand mixer, combine water, sugar, and yeast. Let sit until bubbly and foamy, just a few minutes.
Turn the mixer on low speed and add 1 cup of flour and salt. Mix until combined. Add the oil and continue mixing. Once the oil is incorporated, gradually add in the rest of the flour. (The dough should then be pulling away from the sides of the bowl and not too sticky.)
Using your hands, shape the dough into a disk, then continue gently flattening and stretching it until it's about the size of your skillet. Place the dough in the skillet and make indentations in the dough with your fingers, pushing the dough all the way to the edges. Let rise for about 20-30 minutes in a warm spot.
Meanwhile, preheat oven to 400 degrees F.
Mix melted butter, herbs, and parm in a small bowl. Brush or drizzle the butter over the dough.
Place skillet with dough in the preheated oven and bake 20 minutes, or until golden brown. Let cool until just warm, cut into wedges or squares, and serve.
http://butimhungry.com/2014/06/18/herb-and-parmesan-foccacia/