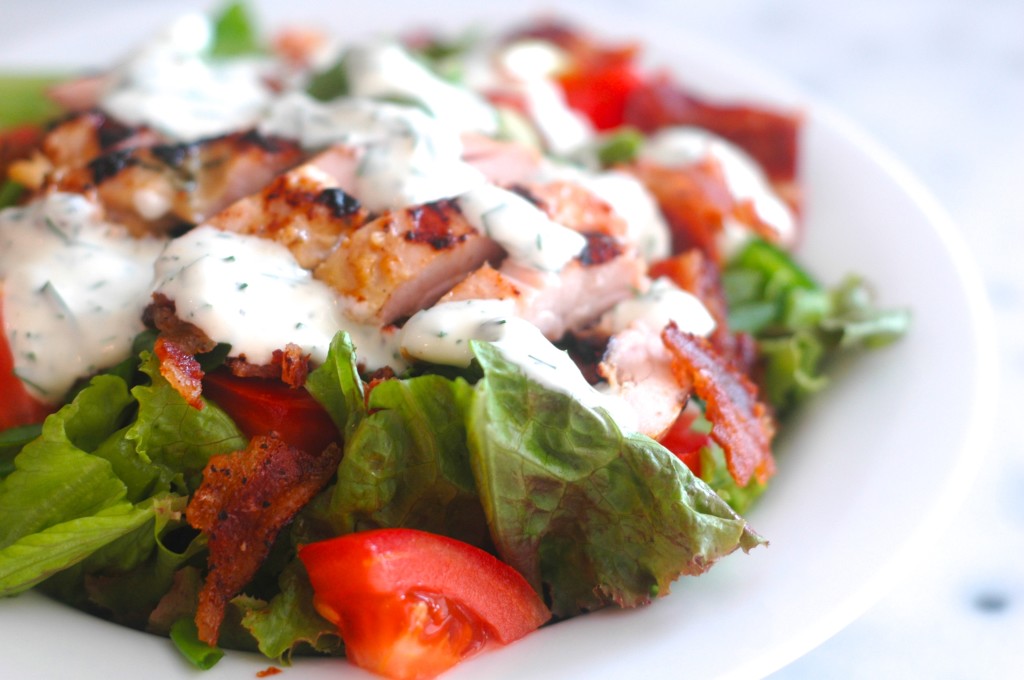 I know this sounds like something you'd buy at McDonalds.  But I swear, it's nowhere near that.  How many of us have been duped into buying something that sounded as good as this and wound up with a head of lettuce, a piece of anemic tomato, like four fake bacon bits, and a packet of ranch-flavored corn syrup? And if you pay another dollar, they'll throw some chopped and formed chicken on top!  Do I sound as bitter about this as I am?  It's downright mean to promise someone BLT and deliver absolutely nothing of the sort.  I take BLTs very seriously.
Friends.  I wouldn't do that do you.  I know you probably have gotten tired of hearing about it, but I LOVE salads that have the hot/cold thing going on.  You know… hot, juicy, flavorful grilled chicken and big pieces of warm bacon nestled between crispy cool lettuce and sweet hunks of tomato.  Uh huh.  Sexy salad.  Barry White salad.
The chicken is key here.  This recipe come from Dinner: A Love Story, and it's almost completely unchanged from the original, except that I used thighs instead of breasts because I just like them more and they're cheaper and they don't dry out.  Anyway, this chicken is really good.  Worthy of a BLT salad.  The other important part of this salad is the dressing.  I hate a gloppy dressing, don't you?  Creamy, yes.  Gooey, no.  And I don't know about you, but I'm not a big fan of sweetness in my ranch.  This is one is creamy, but also bright with herbs… which is kind of the point of ranch dressing, right?
I won't say anything else, because this whole salad should be pretty self-explanatory, but in a good kind of way. In a hopes-fulfilled kind of way, not in a downer kind of way.  Got that?  Now that you're sufficiently confused, go forth and make salad!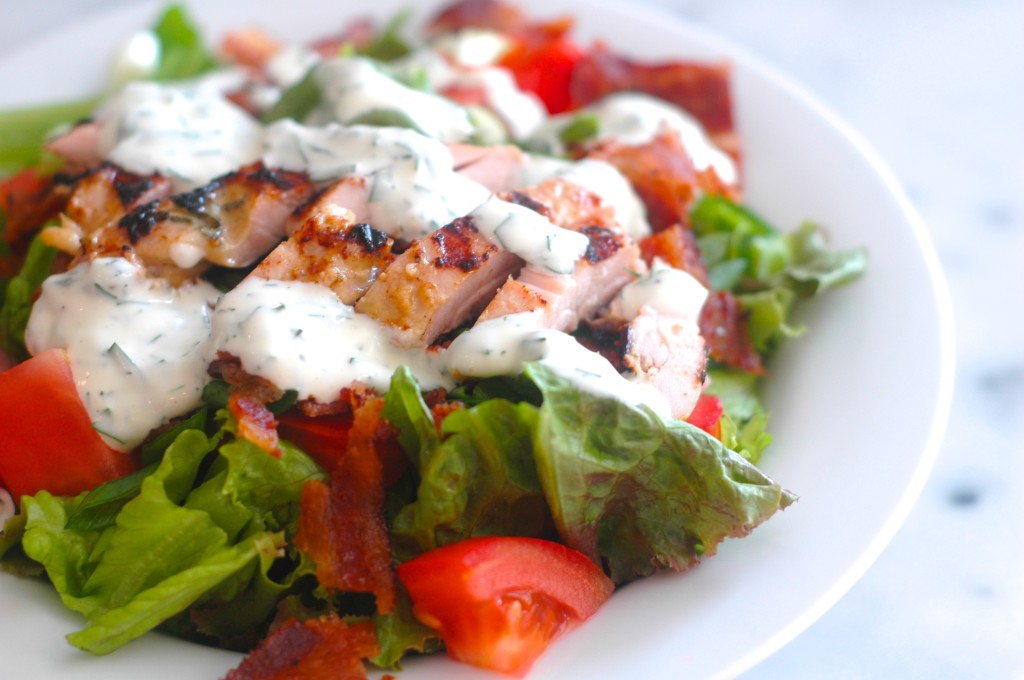 This grilled chicken is based on this recipe. It rocks.
For the Chicken:
2 tablespoons mayo
1/4 cup olive oil
squeeze of agave (or honey)
2 teaspoons Dijon mustard
salt & pepper
2 cloves garlic, peeled and halved
squeeze of lemon
fresh rosemary, thyme or torn basil leaves
1 lb boneless, skinless chicken, breasts or thighs (If using breasts, either pound them thin or butterfly them.)
For Dressing:
1/2 cup whole milk plain yogurt
1/2 cup good quality mayo
2 tablespoons finely chopped parsley
2 tablespoons finely chopped dill
2 tablespoons chopped chives
1 tsp garlic salt
salt and pepper to taste
For Salad:
8 cups fresh green lettuce
1 very large tomato, chopped into big chunks
1 lb bacon, cooked and crumbled
2 green onions, sliced, including the green parts
For the Chicken:
In a large bowl, whisk together all ingredients. Add in the chicken and stir to coat. Cover with plastic wrap and marinate eight hours or overnight. When you are ready to cook, heat a stovetop grill to medium-high, and brush with a tiny bit of olive oil. Grill chicken pieces about four minutes a side (let excess marinade drip off before you place on grill) or until chicken is firm.
For the Dressing:
Stir all ingredients together in a medium bowl. Season with salt and pepper to taste. If you like your dressing a bit thinner, you can add a bit of water or milk until it's the right consistency. You can use it immediately, or put in an airtight container and store in the fridge until you're ready to use it.
For the Salad:
Distribute the lettuce, tomato, bacon, and green onion among 4 large plates or shallow bowls. Slice the cooked chicken and place it on top of the lettuce and veggies.Serve with the ranch dressing.
http://butimhungry.com/2014/07/01/chicken-blt-salad-with-fresh-ranch-dressing/