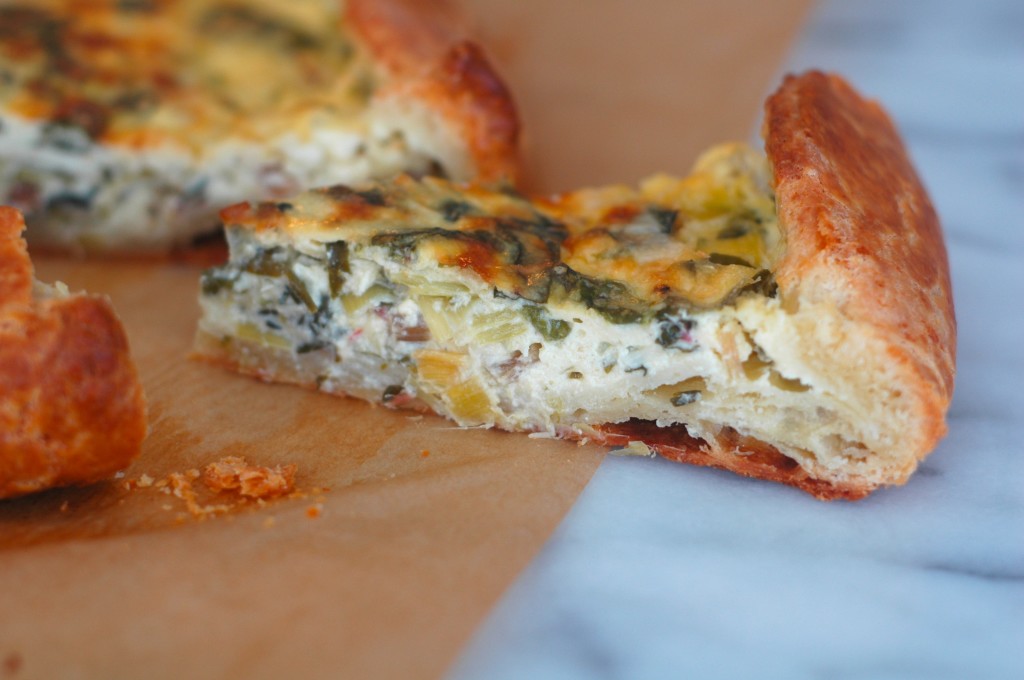 With this glorious time of mid-summer comes a serious case of chard fatigue.  And kale fatigue.  And leafy green fatigue.  I have chard and kale in my garden and they grow so rapidly and so abundantly that I often can't keep up.  And there are only so many meals that I can eat with a side of garlicky sautéed greens.  So, at least in our house, a new recipe for greens is always more than welcome.  But to have a swiss chard recipe that I'm actually excited about?  That's really something. 
To be fair, this crostata is as much about the cheese as it is about the greens.  There is no arguing that this isn't a cheesy, creamy masterpiece.  But the chard and leeks aren't just there for decoration; they are absolutely perfect with all that ricotta.  I know this sounds really strange… but as I was eating this, I kept thinking I tasted bacon.  And no, it wasn't just wishful thinking.  Something about the creaminess of the cheese and the almost smoky bitterness of the chard made this vegetarian dish surprisingly "meaty".  I'm pretty sure this is the gastronomical equivalent to turning lead into gold.  Not to disparage leafy greens, but… BACON.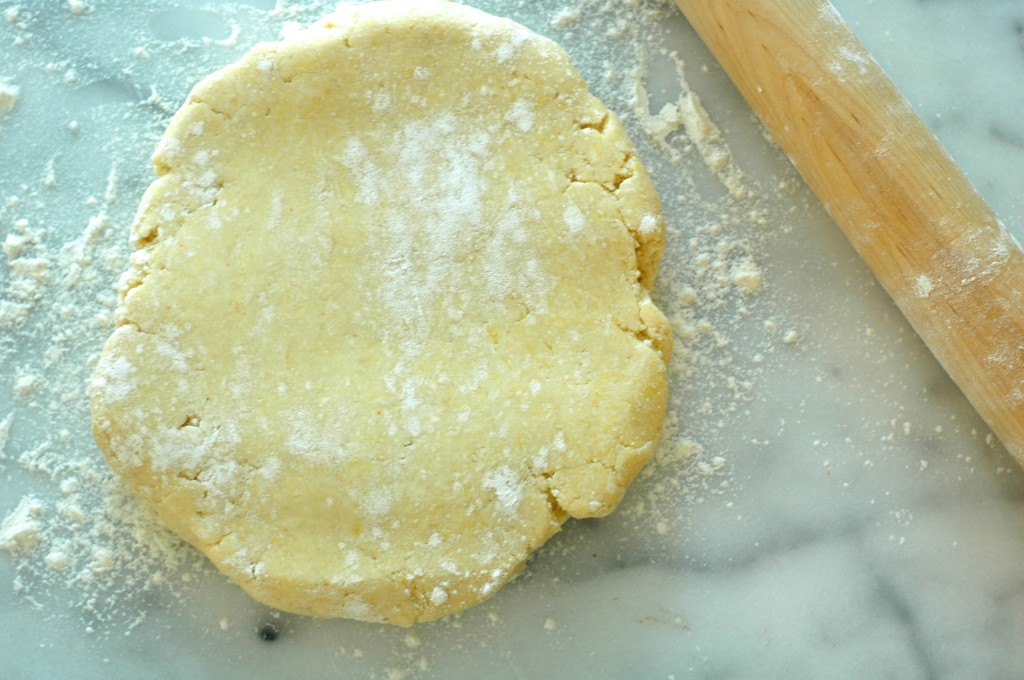 This would make a great alternative to a quiche or other breakfast dish.  Sure, there are a few eggs in there, but the texture and flavor is all ricotta.  A salty, parmesan-packed crust holds all that gooey goodness, with the chard and leeks kind of melting in, but still providing a bit of bite.  If all brunch food was like this, well… I would eat brunch!  But we also had this for an early dinner along with a side salad and it was completely satisfying.  (And not just in a "light dinner" kind of way.  Like in a belly-rubbing, stretch out on the couch kind of way.)  I love something like this that can be perfect for any  meal of the day, don't you?  Because you can make it for breakfast, then eat it for every meal until it's gone.  I may or may not have done that. (Hint: I did.)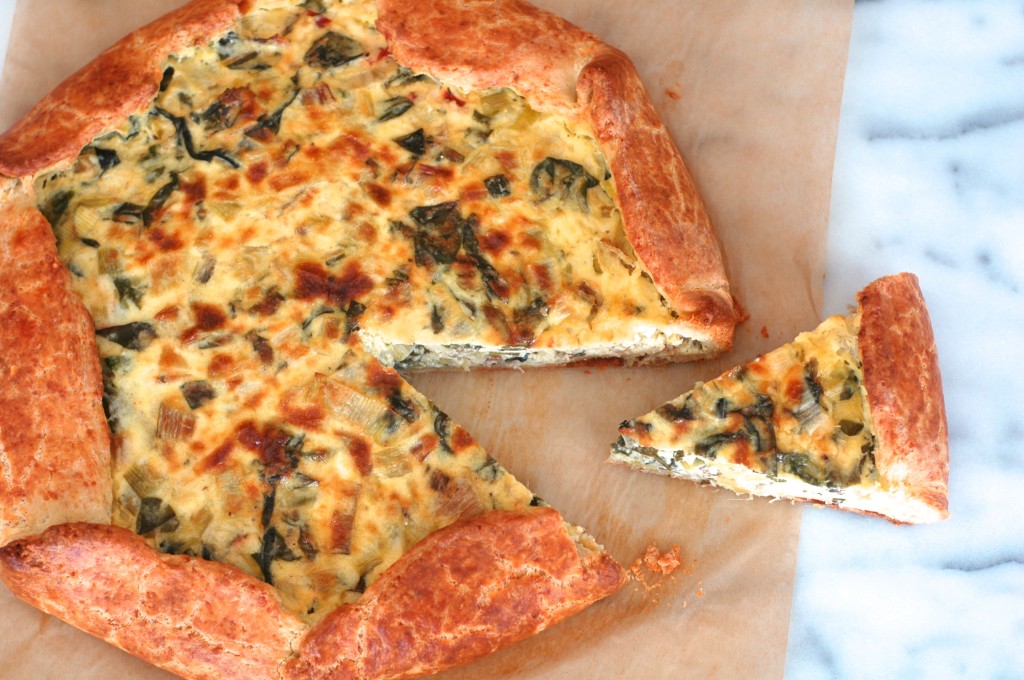 Swiss Chard, Leek, and Ricotta Crostata
Crust:
2 cups all-purpose flour
1 cup grated Parmesan
1/2 cup mascarpone
Pinch kosher salt
Pinch cayenne pepper
1 stick cold butter, cut into pea-sized pieces
2 eggs
Filling:
Extra-virgin olive oil
1 large garlic clove, minced
Pinch crushed red pepper flakes
1 bunch white Swiss Chard, stems removed cut into 1/4-inch lengths, leaves cut into 1-inch lengths
2 leeks, tough green tops removed, cut in 1/2 lengthwise and then cut crosswise into 1/4-inch lengths
2 to 3 tablespoons water
Kosher salt
1 1/2 cups fresh ricotta
1 cup grated Parmesan
2 eggs
Pinch cayenne pepper
Egg wash:
1 egg beaten with 2 tablespoons water
Crust:
Combine the flour, Parmesan, mascarpone, salt, cayenne and butter in the bowl of a food processor and pulse, pulse, pulse, until it looks very dry and crumbly--what I like to call the Parmesan stage. Add the eggs and pulse until the mixture forms a ball. Remove the dough from the food processor, and refrigerate for at least 30 minutes.
Filling:
Coat a large saute pan generously with olive oil. Add the garlic and crushed red pepper and bring the pan to a medium heat. When the garlic has become golden brown and is very aromatic remove it and discard, it has fulfilled its garlic destiny. Add the Swiss chard stems, leeks and 2 to 3 tablespoons of water and season with salt. When the water has evaporated and the stems and leeks are soft, add the leaves. Season the leaves with salt and saute until they are very soft and wilted. Remove from the heat and allow the Swiss chard to cool.
In a large bowl combine the ricotta, Parmesan, eggs, cayenne and the Swiss chard mixture. Mix to thoroughly combine. Taste and adjust the seasoning if needed (it will). Set aside.
Preheat the oven to 375 degrees F.
To assemble:
Remove the dough from the refrigerator and let warm up for about 10 to 15 minutes, this will make it really much easier to roll out.
Dust a large clean work surface with flour and roll the dough into a large circle about 1/4 to 1/8-inch thick. Transfer the dough to a large sheet try lined with parchment paper. Lay the dough out flat, don't worry about the overhang on the sides. Put the filling in a large circle in the center of the rolled out dough leaving a 3 to 4-inch border of dough along the outside edge. Fold the dough up around the filling to make a "free-form pie". Brush the top of the dough with egg wash and bake in the preheated oven until the crust is firm, golden brown and shiny, about 45 to 50 minutes. Remove from the oven and let cool for 10 to 15 minutes before slicing, this will allow it to up for easier slicing.
Serve hot or at room temperature.
Read more at: http://www.foodnetwork.com/recipes/anne-burrell/swiss-chard-and-ricotta-crostata-recipe.html?oc=linkback
http://butimhungry.com/2014/07/24/swiss-chard-leek-and-ricotta-crostata/