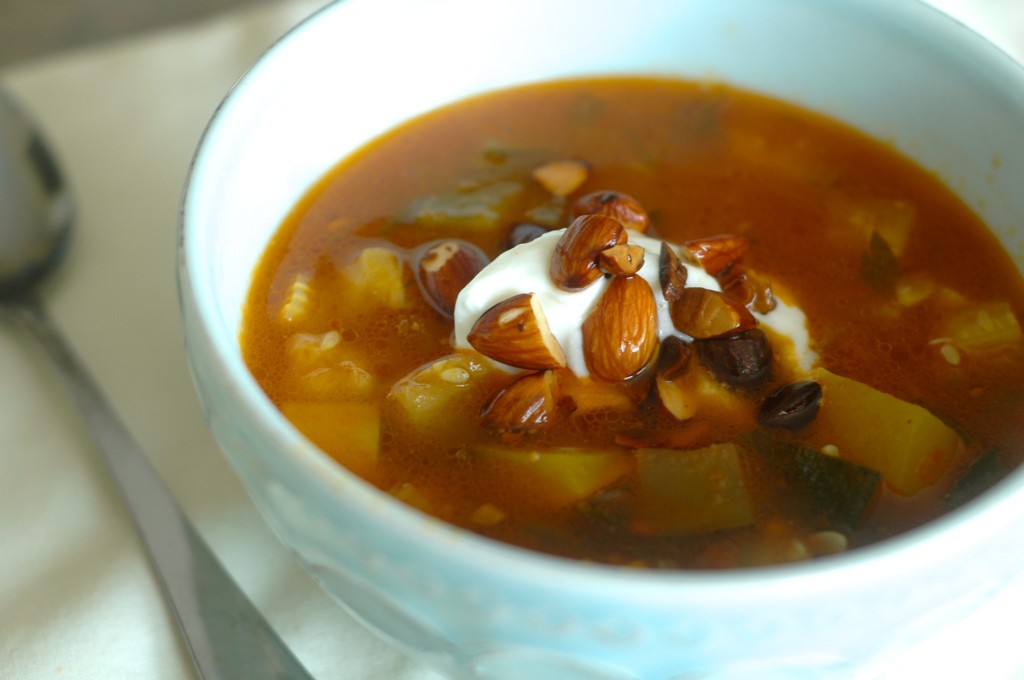 Sometimes, you don't know what you've got until you've not longer got it.  Terrible grammar aside, this is a fact of life.  Especially in the case of zucchinis.  Mid-July, we are all bemoaning the pounds and pounds of zucchinis being hauled in from our gardens, searching for something to do with all the bounty.  Let's be blunt: we all get very, very sick of zucchini.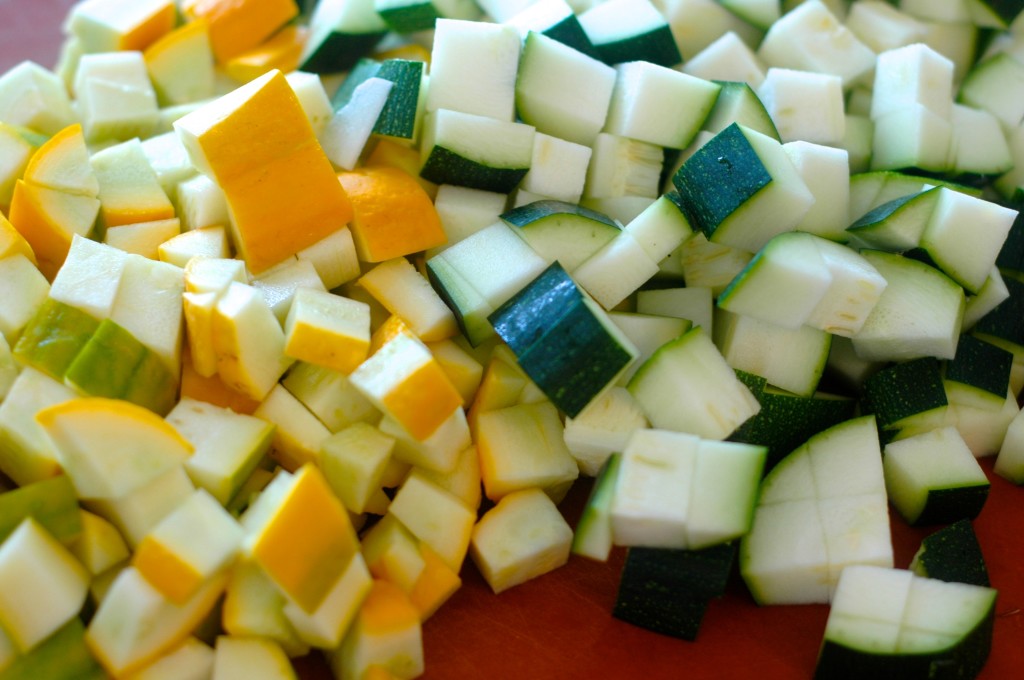 I made this soup last summer, and really loved it.  I made a huge pot of it (see above re: ALL THE ZUCCHINI), and had the foresight to freeze a few portions for later.  Fast forward to this past March, when I unearthed the soup from the catacombs of my freezer and warmed it up for a quick lunch.  Holy moley.  Was that soup good.  I remember thinking, "This is the best thing I've eaten in months." The zucchini was sweet and almost melted into the broth, which was the perfect combination of sweet acidity of tomatoes and deep earthiness of parmesan.  It tasted like heaven.  I immediately heated up another bowl and gobbled it down, with a hunger than can only strike in the vegetable-deprived days of late March. But then that was it. It was all gone.  I cursed myself for not making another batch and freezing it back in September.  But really, nothing to be done.  I would have to wait until the zucchinis were back.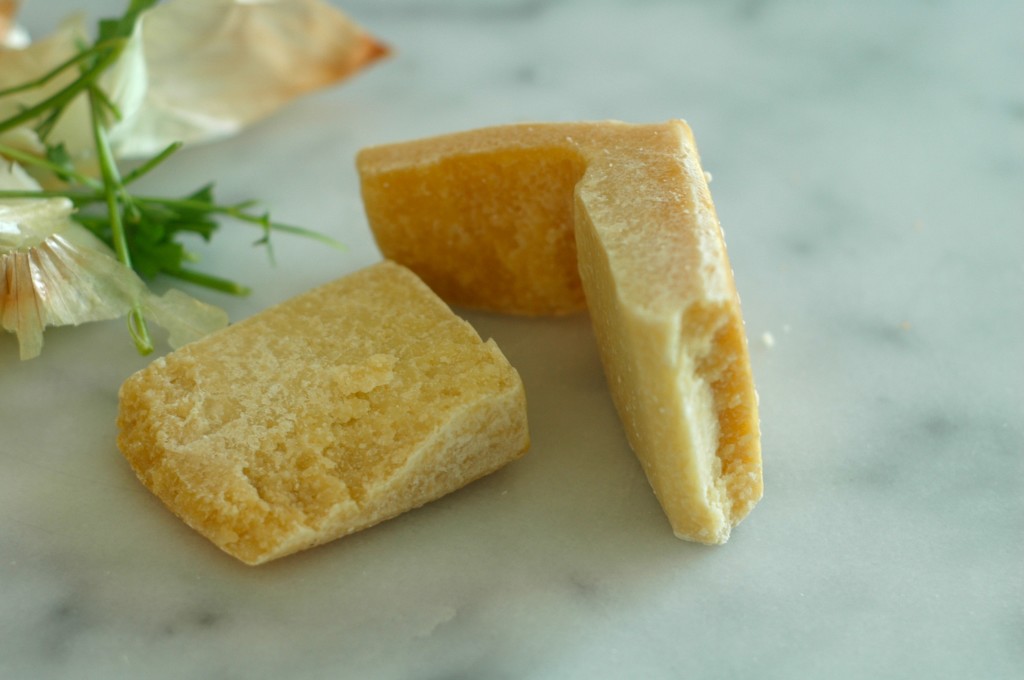 Well, friends, they are back, in their characteristic multitude.  [Side note: Have you ever heard a 2 year old excitedly squeal,  "Zucchini!"?  It's terrifyingly adorable.] I have been waiting months to make this soup.  It was so worth the wait.  It's everything I remembered it being- the epitome of summer flavors.  I'm thanking my lucky stars that this recipe and I crossed paths last summer.
And so maybe it comes down to where I found this recipe.  It was shared by Molly at one of my favorite blogs, Remedial Eating.  I can't say enough good things about it.  Do you have anything that you look forward to without really realizing it?  Like, say, when your favorite magazine comes in the mail or the perfect song comes on the radio?  You know- something that makes you smile just with the anticipation of enjoying it? That's how I feel when I get an e-mail with a new post from Molly's blog.  Sometimes, I don't read it right away, but leave it until I really need to enjoy something.  I hoard my future enjoyment.  Her writing is lyrical, but also down-to-earth and funny.  Her recipes are always wonderful and inspiring, but they are somehow not the entire point- it's how she gets there.  Anyhow, I don't usually gush about other blogs here, but I feel like I have to give credit where credit is due, for the soup, and also for a whole lot of inspiration and reading pleasure.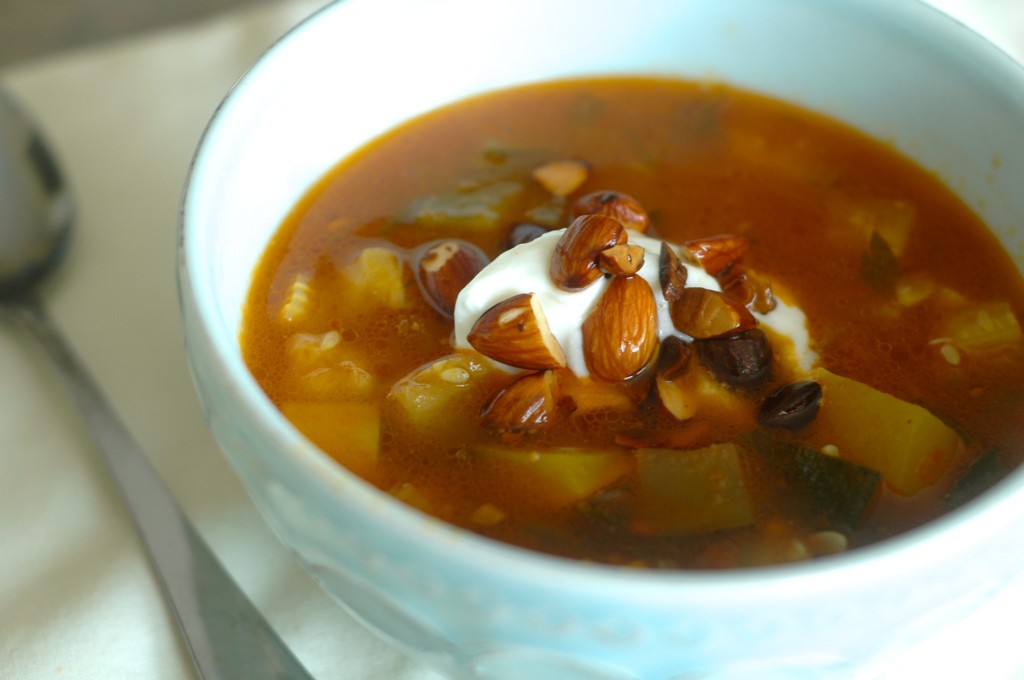 from remedial eating
In the original recipe, Molly suggests all kinds of yummy things to go into this soup at the end. So far, I've tried it with some shaved parmesan, and also with plain yogurt and fried almonds. Both were phenomenal, but this is also just as wonderful on its own, without accompaniment.
1/3 cup extra-virgin olive oil
1 large onion, chopped
4 garlic cloves, minced
1/2 cup fresh parsley, chopped
3 pounds zucchini, ends trimmed, cut into 1/2" dice
1-28 oz. can plum tomatoes, chopped
2 teaspoons salt, plus more to taste
plenty of freshly ground pepper
several large parmesan rinds
5 cups bean, vegetable or chicken broth
splash of vinegar, if desired
In a large pot, heat oil over medium heat until it shimmers. Add the chopped onion, and cook until translucent, stirring occasionally, 5 minutes. Add the garlic and parsley, stir, and cook another 2 minutes or so. Now turn up the heat to high and add the zucchini. Cook 1-2 minutes, stirring regularly. Add tomatoes, broth, parmesan rinds, and plenty of salt and pepper, give it a stir and let it come to a simmer. Reduce the heat to low, cover, and continue cooking, stirring occasionally, for 25-30 minutes, until zucchini are tender, but not falling apart. Adjust salt and pepper and add just a bit of vinegar to brighten it up, if you should so choose.
Top with any kinds of goodies you wish, or nothing at all.
http://butimhungry.com/2014/08/01/zucchini-soup/