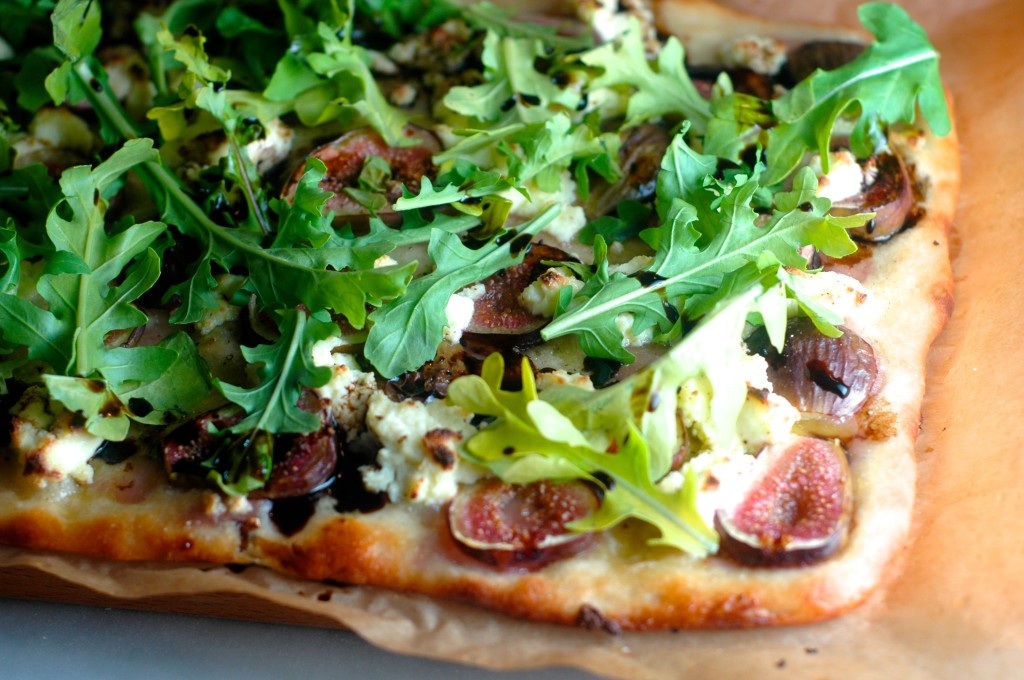 Since I just gave you guys my favorite recipe for easy pizza dough, I thought it only right to give you a little something special today to top it off.  I know this isn't your typical pizza recipe- but that's what I like about it.  Don't get me wrong; I will worship at the altar of cheesy, saucy goodness any old day.  But sometimes, I'm craving a little something different in the pizza department.
Here in the Midwest, there is a very short window of time when you can find figs, and even then, they're obviously shipped in from elsewhere.  I'm not complaining, since we have so many other good things to eat this time of year, but when I do get my hands on some figs… I want whatever I make with them to be worth it.  This is exactly that recipe this year.  In fact, worth it doesn't begin to describe it.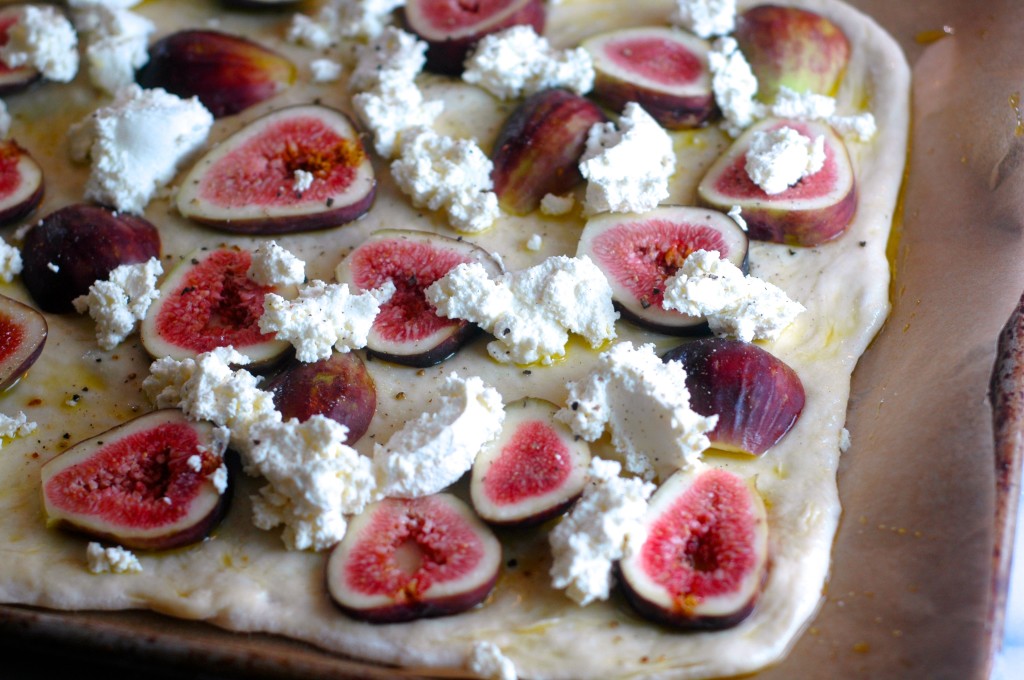 This version of pizza is just different to be interesting, while still having everything I crave in pizza.  The crust is, of course, my favorite crust, which doesn't hurt.  While the cheese takes the form of a creamy, flavorful ricotta in this version, it's so beautiful and browned that you don't miss it's stringy cousin, good old Mozzarella.  The slices of fig bake up so wonderfully, and get all jammy and sweet, almost creating a kind of sauce, without the drippiness, obviously. The drippiness is left to the balsamic vinegar, its sweet tang seeping into both the cheese and the fruit, and finally down into the crust once you've cut it.   There's no veg baked into the pizza, but instead it's topped with peppery arugula, perfect in every way.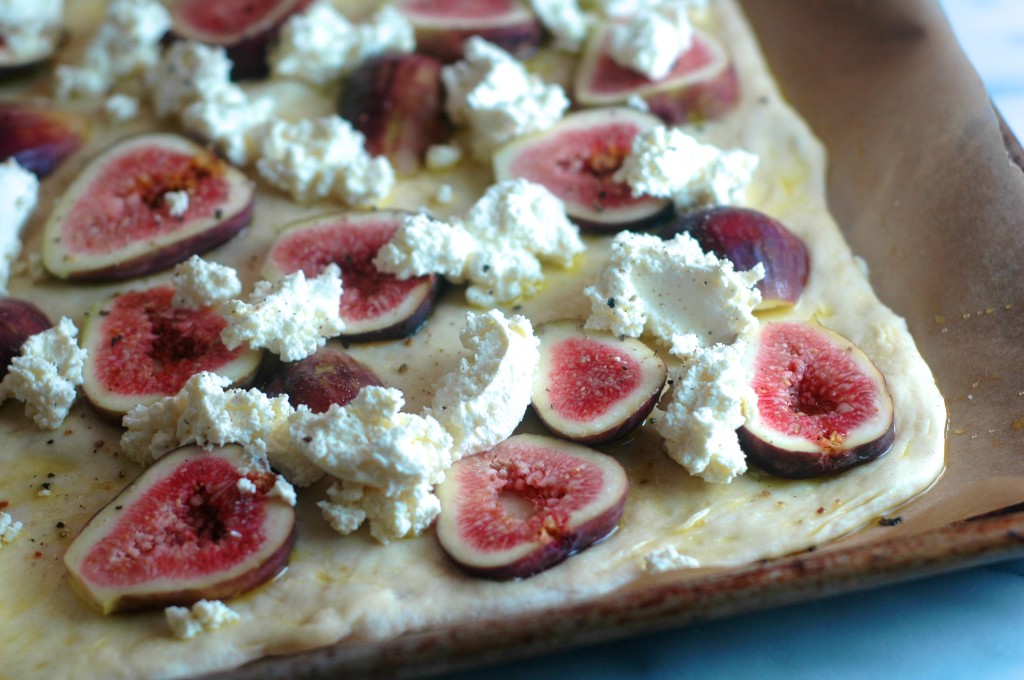 We ate this as dinner, all on it's own, and it was a perfect summer meal- light, fresh, and low maintenance.  This would also be a great one to make as an appetizer, cut into smaller little squares.  Elegant, but simple.  In fact, we enjoyed this so much that I'm considering using the last of my precious figs to make this again- and that's saying something.  Unless, by any chance, any of you have any fig recipes that I just have to try?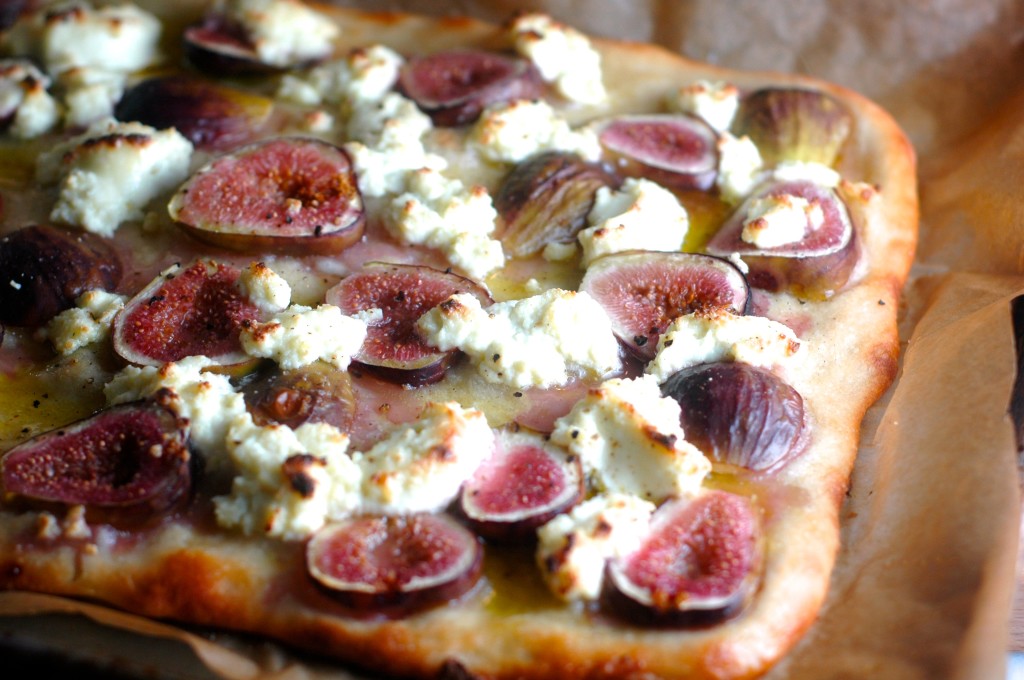 1 round of pizza dough
1 1/2 cups ricotta (homemade or otherwise)
1 lb fresh figs
3 tablespoons extravirgin olive oil
salt and pepper
1 cups arugula
2 tablespoons good-quality balsamic vinegar
Preheat oven to 500 degrees F.
On a well-floured board, roll out your pizza dough to a roughly 12x8 rectangle. Transfer dough to a sheet pan lined with parchment paper. Drizzle olive oil over the top of the dough, then brush it all over. Season up generously with salt and pepper. Arrange small dollops of ricotta and the sliced figs over the top of the dough.
Bake pizza for approximately 15 minutes, or until the edges are golden brown, the cheese has browned a bit and the figs look all shlumpy. Yes. Shlumpy. Remove from the oven.
Sprinkle the arugula over the top of the pizza, followed by a drizzle of balsamic vinegar. Serve immediately.
http://butimhungry.com/2014/08/27/fig-ricotta-and-arugula-pizza/