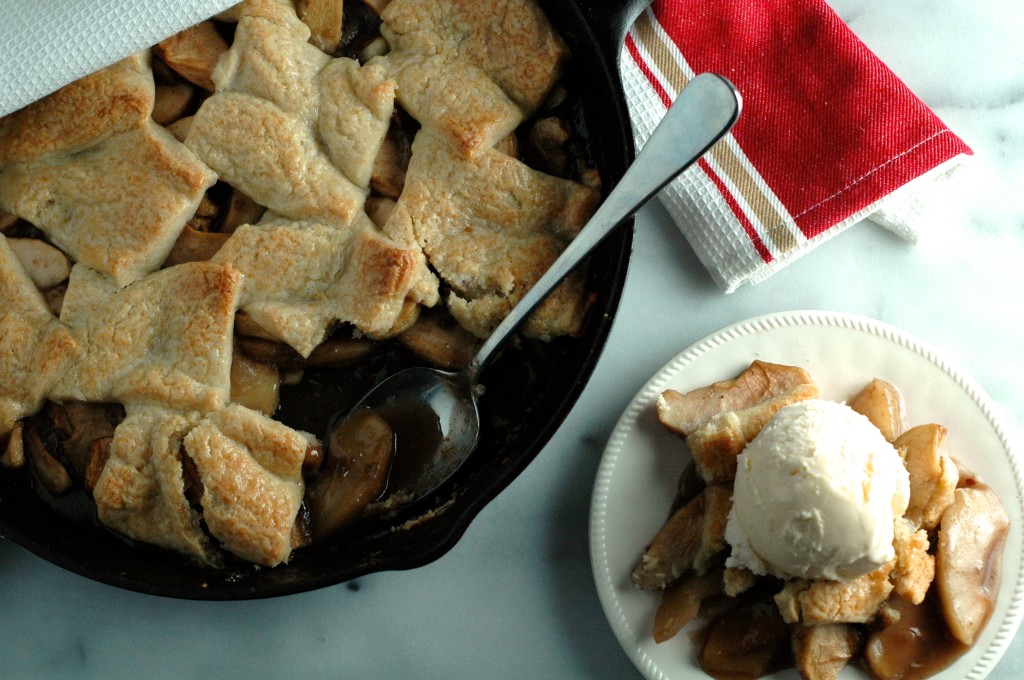 I try to not eat things like skillet apple pie all the time, I swear.  I really do start out with the best intentions.  I go to the store and buy dozens of apples (healthy snacks!), but in the end, they wind up covered in butter and brown sugar and baked under a tender, flaky crust.  Don't even ask what happens to the bananas.  The universe conspires to make me bake.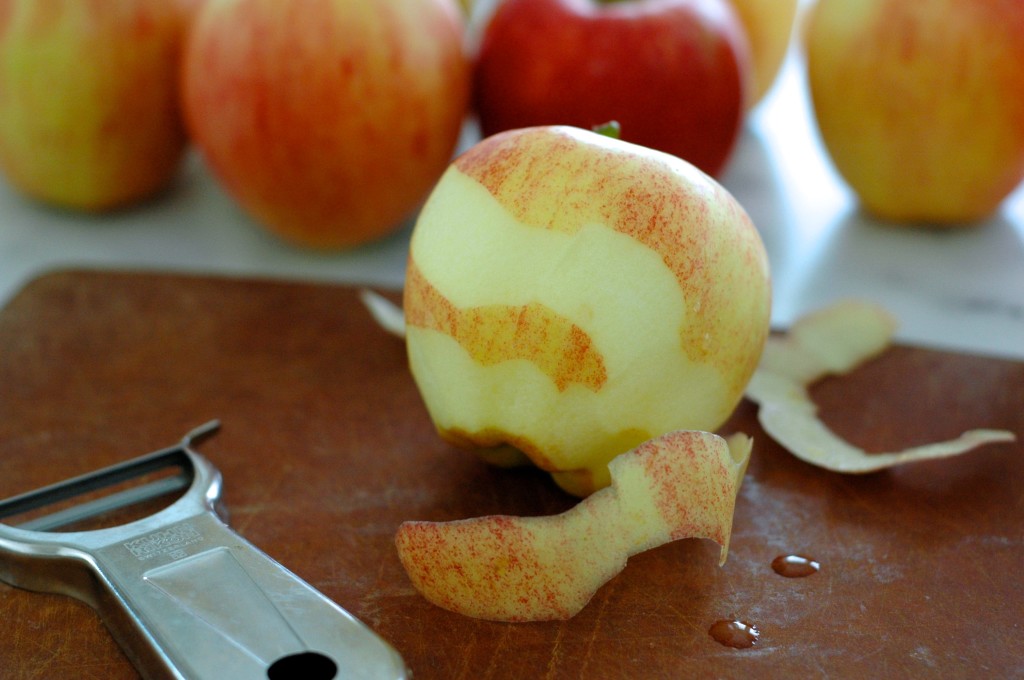 So what really happened is that I bought said apples, then for some reason thought that on top of the toaster oven was a good place to store them, and then, well… toasted them.  So I had all these apples that each had one small little roasted spot.  What was I supposed to do?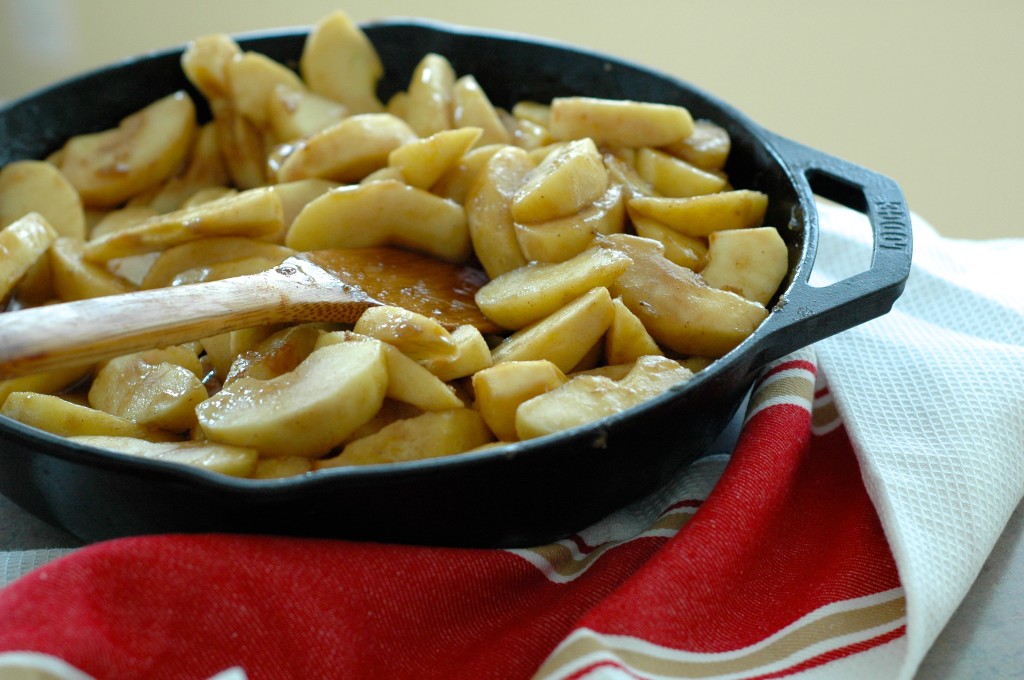 Make apple pandowdy.  Exactly.  This apple-pie-in-a-skillet had been staring at me from the cover of Sauveur since December, begging me to try it.  I'd resisted, successfully, until the universe made me do it.  And the rest is history.  Because now that I've mad an apple pandowdy, I think I could go my entire life without eating another apple pie.  Or at least making another apple pie; if you make one, I wouldn't turn it down. This takes all the best parts of an apple pie- the mounds of tender apples, the buttery spiced sauce, the flaky brown pastry- and takes out all the fussiness of rolling out pie crust, doing extra dishes, etc.  In a word, perfect.  With a scoop of ice cream?  Fuhgedaboutit.
And you know, my good intentions can wait until April or May, when there is at least the hint of being able to do anything other than huddle inside under blankets and watch the snow pile up.  Good intentions don't put pandowdy in your belly.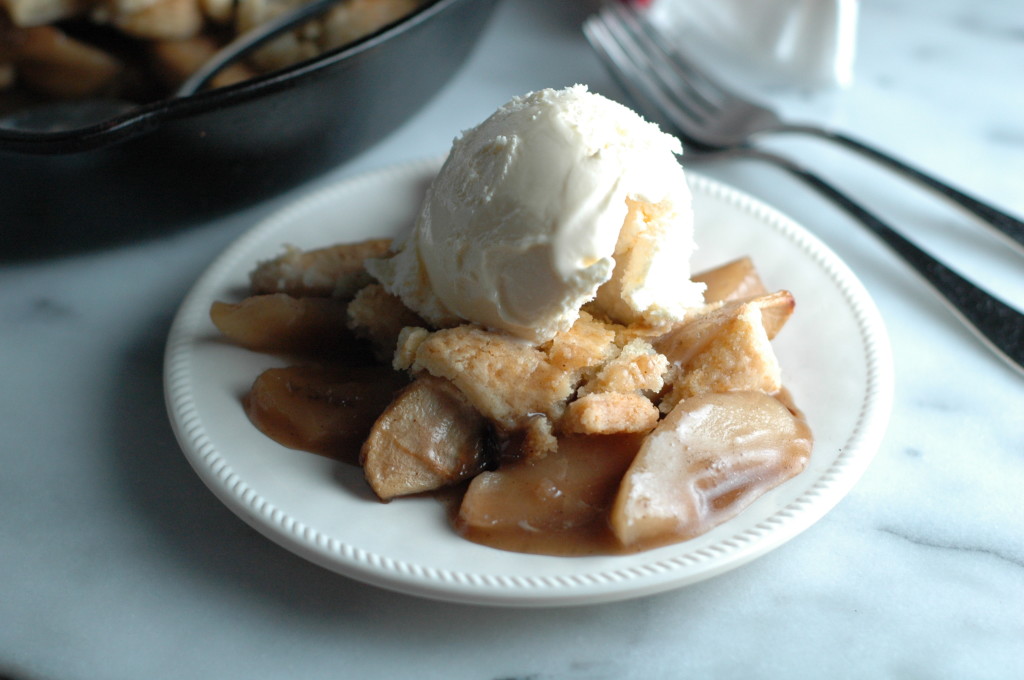 adapted from the December issue of Saveur
If you don't have a cast iron skillet (but...why?!), you cook the filling in a regular skillet, then transfer it to a pie dish or baking dish, top with the crust, and follow the rest of the recipe as written.
For the Crust:
1 cup flour
12 tablespoons butter (1 1/2 sticks)
1 tablespoon granulated sugar
1 tsp baking powder
1/2 teaspoon salt
3 tablespoons ice-cold water
For the filling:
4 tablespoons butter
1/2 cup brown sugar
1 teaspoon fresh lemon juice
1/4 cup orange juice
3 tablespoons cornstarch
1 teaspoon ground cinnamon
1/2 teaspoon ground cloves
10 sweet firm apples, such as Gala, cored, peeled and sliced into 1/2" wedges
2 tablespoons heavy cream
In a food processor, pulse the flour, 12 tablespoons cold butter, granulated sugar, baking powder and salt until it is the texture of small peas. Start the food processor again and stream in the water, blending only until a ball of dough forms. Shape it into a disk and refrigerate for about half an hour.
Preheat oven to 375 degrees F.
In a large cast iron skillet (12"), melt the 4 tablespoons of butter. Stir in the brown sugar, lemon and orange juice, cornstarch, cinnamon and cloves. Stir well and then add the sliced apples. Simmer over medium-high heat for about ten minutes, until the apples are almost tender. Remove from heat.
On a lightly floured surface, roll the chilled dough to 1/6" thick, in roughly the shape of a 9" square. Cut the dough into 9 pieces, each about 3". Arrange over the apple mixture in the skillet, then brush with the heavy cream.
Bake for 40-45 minutes, until the filling is bubbly and the crust is a golden brown. Serve warm, and preferably with ice cream.
http://butimhungry.com/2015/02/20/apple-pandowdy/