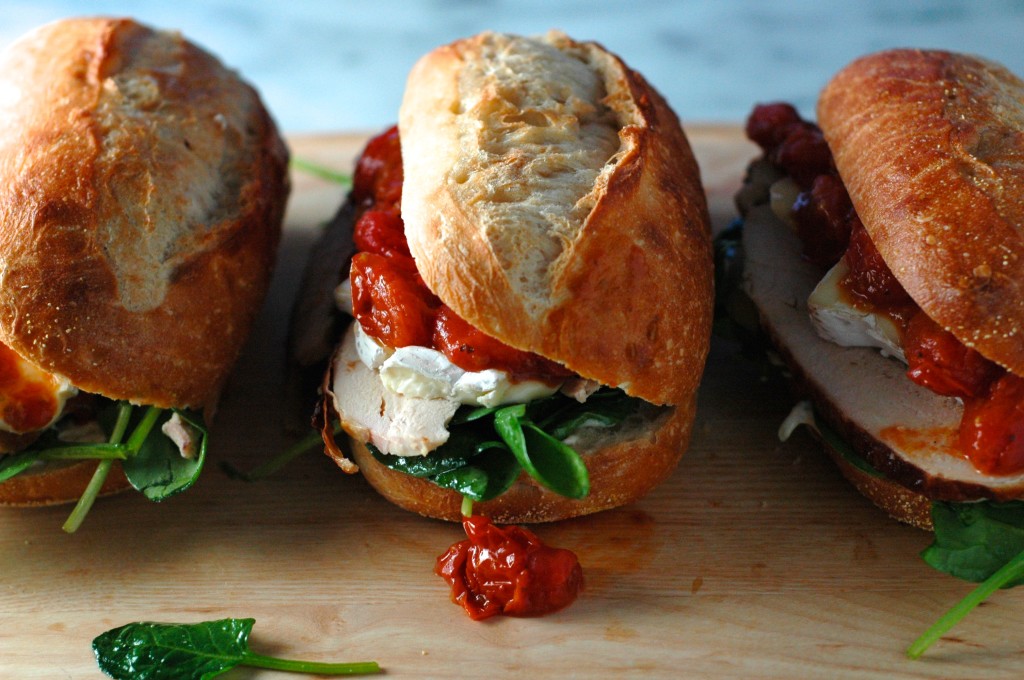 March is a weird month for food.  You're pretty  much over comfort food, but you still don't have many options in the way of fresh fruits and vegetables.  The tomatoes still look and taste like pink baseballs, lettuce is still of the pale and limp variety, and zucchinis taste pretty much like air.  There's just not that much we can do about it.
Unfortunately, I'm ready for picnics and beach days and dinners on the patio.  Or at least ready for food that reminds me of these glorious things.  This is where this sandwich comes in.  It's been one of our summer favorites for a long time.  It's perfect for all of the above.  It travels well, but it's also one of those sandwiches that has so much good stuff packed in to it that you don't need anything else.  I'm talking all the food groups guys.  Anyway, I was pining away for picnic food the other day when it popped into my head, and I realized, HEY, this is actually do-able in March.  Sure, the tomatoes aren't fresh from the garden, but when they're sautéed with olive oil and thyme, you can't tell at all.  Ditto with the spinach, but if we're being completely honest, I like the baby spinach that comes in plastic containers better for this than the hearty leaves that I get at the farmers' market.  So it's all good!  We can do this!  We can eat picnic food in March!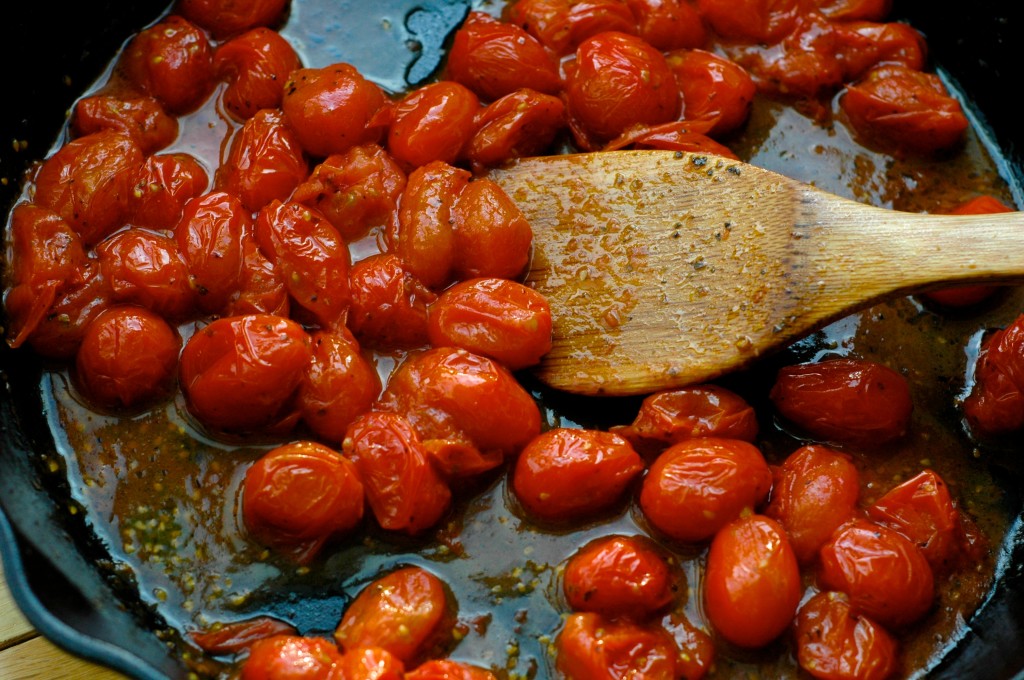 I don't know what particularly makes this sandwich so flippin' good.  The melted brie would be the obvious answer (because gooey cheese= life), but it's not just that.  It has something to do with how the warm, sweet tomatoes melt into the brie, creating a kind of sauce that drips down into the bread (oh, yeah, and the bread is coated with a garlic-dijon mayo, so there's that) and chicken.  The spinach isn't just there as a pretty face either, since it wilts just a bit, while still leaving a bit of a bite.  It's perfection, I'm telling you.  Admittedly, it does taste significantly better eaten on a picnic blanket or beach towel, but hey, sometimes you gotta do what you gotta do.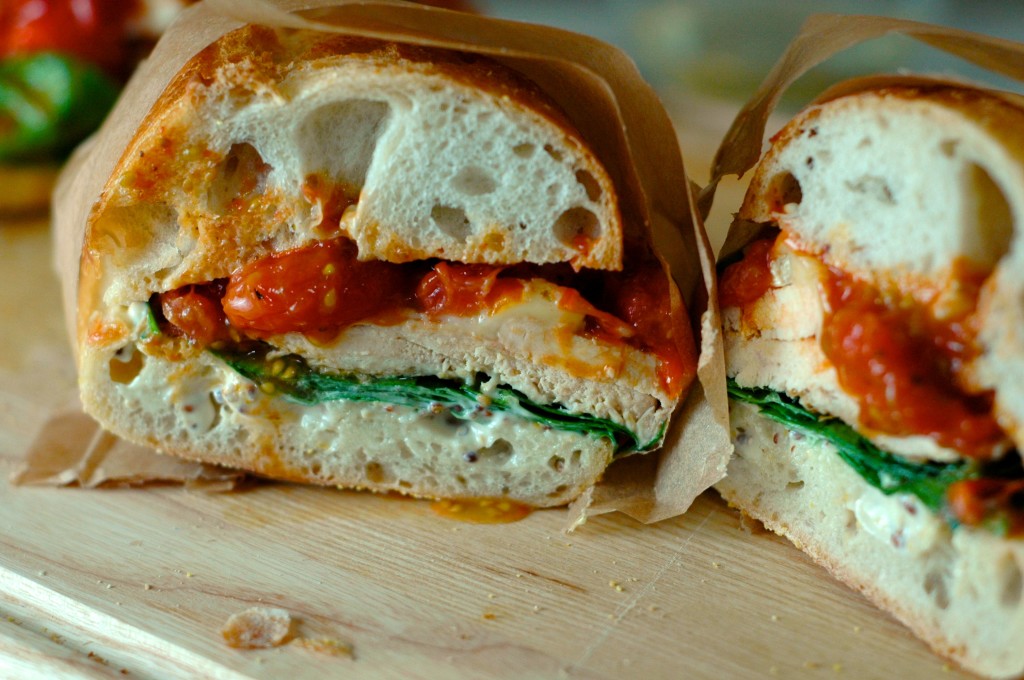 Chicken Sandwiches with Brie, Spinach, and Thyme-Roasted Tomatoes
I also love making these with leftover roasted pork loin. I thinly slice it and use it in the place of the chicken. Delicious!
For Tomatoes:
1 lb cherry tomatoes
2 tablespoons olive oil
1 teaspoon kosher salt
1/2 teaspoon dried thyme (or a few sprigs of fresh thyme)
pepper to taste
For Garlic-Dijon Mayo:
1/2 cup mayonnaise
1 tablespoon stone-ground Dijon mustard
1 garlic cloved, finely minced
To assemble:
2 cups baby spinach
1 tablespoon olive oil
salt and pepper
2-3 cups sliced roasted chicken breast (a rotisserie chicken or leftover roast chicken is perfect for this)
5 oz good, creamy brie, sliced into 1/4" slices
1 baguette, or several small "demi" baguettes
For the tomatoes:
In a heavy skillet, combine tomatoes, olive oil, salt, thyme, and pepper, tossing to coat. Heat the tomatoes over medium-high heat, tossing often, until the tomatoes have burst and the juices are just beginning to thicken up, about 4-5 minutes. Remove from heat, adjust seasoning, and set aside.
For mayo:
Mix mayo, mustard, and garlic in a small bowl. Set aside.
To assemble:
In a small bowl, combine spinach with olive oil and salt and pepper, to taste.
Cut the baguette in half, lengthwise and spread it open. Spread the mayo mixture on both the top and bottoms of the bread. Spread the spinach on the bottom half of the bread, followed by the roasted chicken, and then the brie.
If the tomatoes have cooled down too much at this point, re-warm them just a bit in the pan, then spoon the hot tomatoes, complete with juices, over the brie. Lightly press the top of the loaf back down, being careful not to squeeze everything out.
You can slice serve these right away, while the brie is melting and the tomatoes are hot, or if you're serving them later, you can wrap the sandwiches snugly in foil and keep them in the fridge for up to a day before slicing and serving.
http://butimhungry.com/2015/03/14/chicken-sandwiches-with-brie-spinach-and-thyme-roasted-tomatoes/