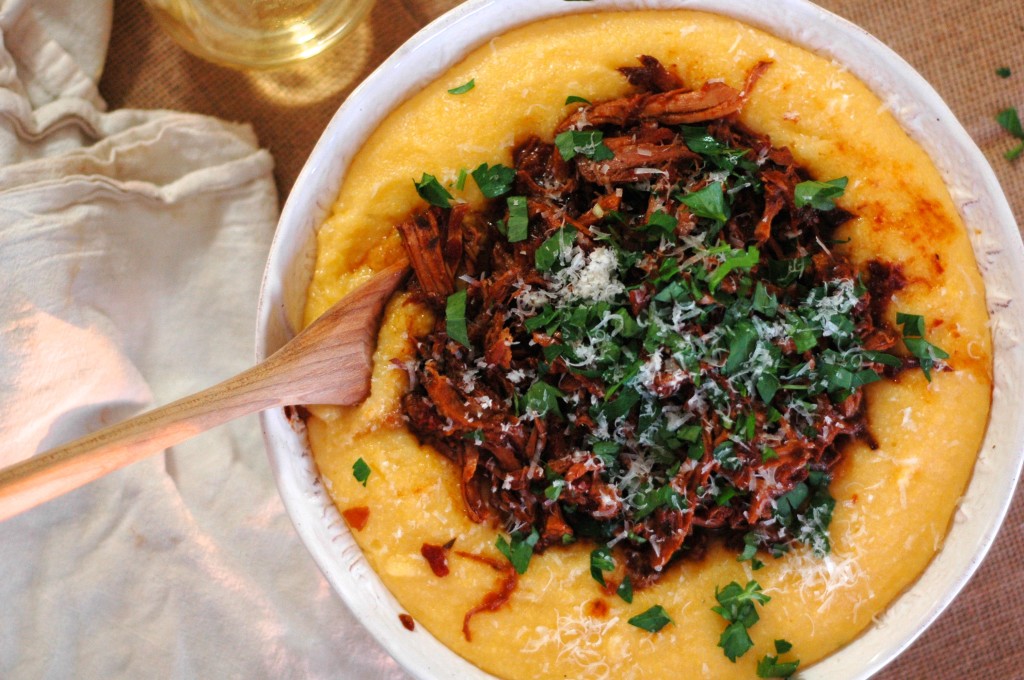 When someone says that a recipe is idiot-proof, it's usually for one of two reasons.  Either the recipe is so unbelievably simple that you can't screw it up OR while it does have several steps and ingredients, it's very forgiving of any shenanigans you throw at it.  This is definitely one of the latter.  This is one of those dishes that is super impressive and incredibly delicious, but most of all, it's really hard to mess up.  Believe me, I tried.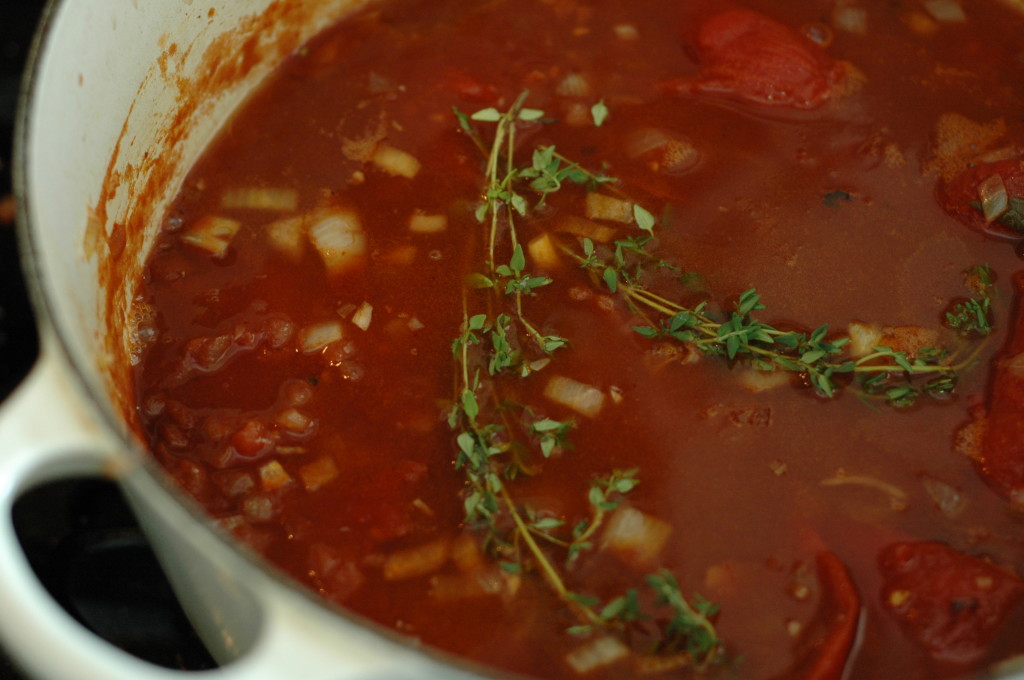 Ok, I didn't try. But lack of sleep due to children various reasons has caused my brain, which is usually good at kitchen multi-tasking, to be left in a state that these so-called idiot-proof recipes are made for.  In other words, I was out of it.  It started when I realized that I didn't have a pork shoulder in the freezer like I thought I did.  So I used a bone-in fresh ham roast.  Not ideal, but it's what I had and I figured I'd just cook it longer to get it tender and shreddable.  No problem.  Well, then I kind of charred the onions as opposed to caramelizing them. Ooops.  Ugh, forgot to buy the rosemary, too.  Dang.  I like rosemary.  Oh Lord, I remembered to buy polenta, but I bought the quick-cooking kind, which the recipes specifically says NOT to use.
By the time I got this all figured out, I got started a little bit later than I should have.  Which means that come dinner time, the meat still was definitely not tender. (Remember how I needed more time to get that ham roast edible?)  So I threw the whole pot of ragu in the fridge and decided to finish cooking it the next day.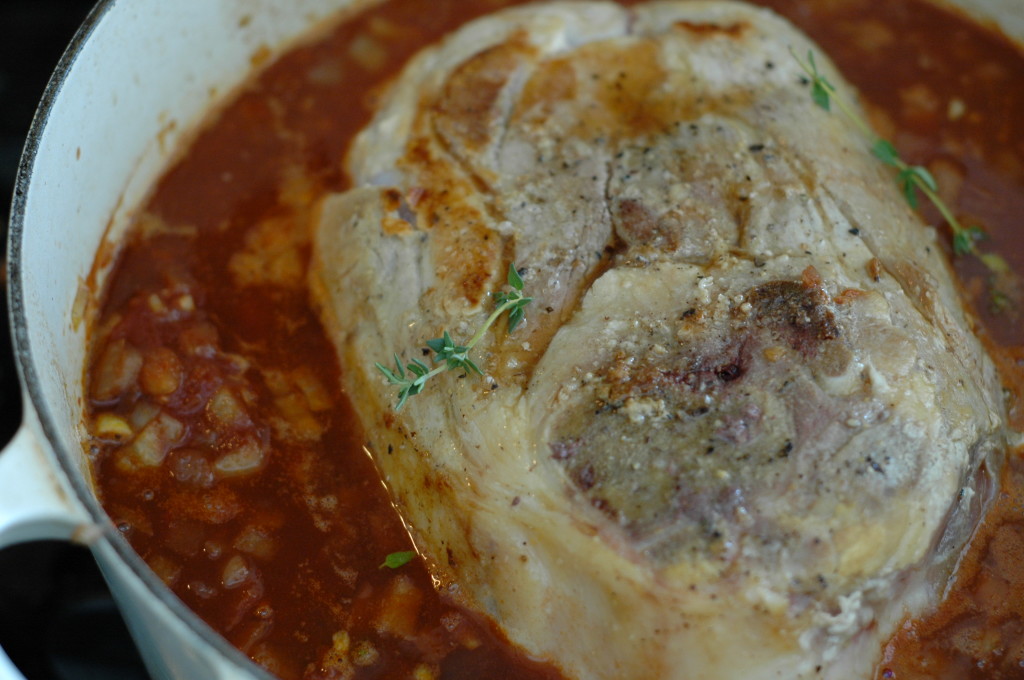 Needless to say, by the time I served this up for dinner the next day, I was less than confident about how this was going to turn out.  But any doubts I had vanished as I took the first bite.  You guys.  It was so good.  So. So. Good.  I mean, I suppose I should have figured out that even with minimal attention, slow-cooked pork in tomatoes, aromatics, wine and herbs would be a good thing.  And the polenta!  Um, why did they tell me not to use the quick-cooking kind?  It was amazing, creamy, rich, and the perfect counterpoint to the ragu. Also, the quick-cooking variety was much easier and quicker. Also, clearly idiot-proof, because I managed to not screw that part up.  So, whether you've got it together or you've got absolutely NOTHING together (like, ahem, me), this one is a winner.
Pork Ragu over Creamy Polenta
Ragu:
3 pounds skinless, boneless pork shoulder (Boston butt), cut into 3 pieces
Kosher salt and freshly ground black pepper
1 tablespoon vegetable oil
1 large onion, finely chopped
6 garlic cloves, finely chopped
2 tablespoons tomato paste
½ cup full-bodied red wine
1 28-ounce can whole peeled tomatoes
4 sprigs thyme
2 bay leaves
2 cups water
Polenta:
Kosher salt
1½ cups quick-cooking polenta
¼ cup unsalted butter
½ cup grated Parmesan (from about 2 ounces), plus more for serving
Freshly ground black pepper
½ cup chopped fresh parsley
Olive oil (for drizzling)
Season pork with salt and pepper. Heat oil in a large heavy pot over medium. Cook pork, turning often, until evenly browned, 10–12 minutes. Transfer to a platter. Add onion and garlic to pot and cook, stirring occasionally, until onion is starting to brown and caramelize, 10 minutes. Add tomato paste and cook, stirring occasionally, until slightly darkened in color, about 5 minutes.
Add wine and deglaze the pan, scraping up the brown bits and stirring. Then add the tomatoes, breaking them up with the back of your spoon, then add thyme and bay leaves. Stir in 2 cups of water. Add pork with any juices accumulated on the platter; season with salt and pepper.
Bring liquid to a boil, then reduce heat and simmer, partially covered, until pork is falling-apart tender, sauce is thickened (it will be thicker than a typical pasta sauce), 3- 3 1/2 hours. (The amount of time will largely depend on the cut of meat. Just allow yourself a little wiggle room in your time frame in case it takes longer.)
Using 2 forks, break up pork into pieces; taste and season with salt and pepper.
Bring 6 cups salted water to a boil in a large pot. Whisking constantly, gradually add polenta; reduce heat to medium-low. Cook, whisking often, until polenta is tender and creamy, 6-8 minutes (if polenta becomes too thick too soon, loosen mixture by adding more water and continue cooking). Add butter and ½ cup Parmesan to polenta and whisk until melted; season with salt and pepper.
Spoon polenta into bowls or onto a platter and top with pork. Scatter parsley and more Parmesan over top and drizzle with oil. Serve immediately.
http://butimhungry.com/2015/03/23/pork-ragu-over-creamy-polenta/