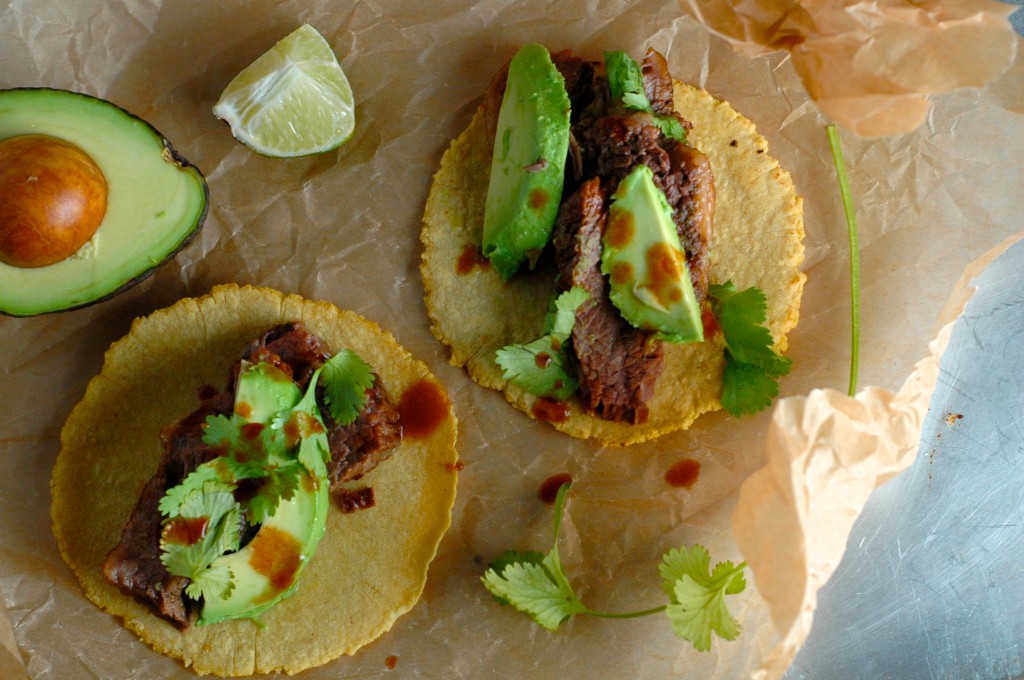 Ah, April.  Or, as I like to call it, the month where all I want is for it to be July already so I can eat corn on the cob and cheeseburgers straight from the grill.  In Chicago, we've seen an absolutely gorgeous April, with lots of sun and warm days.  But also a whole lot of rain and chill… not exactly worthy of pretending it's mid-summer.  So we bounce back and forth between soup and homemade bread weather and grilled meats and salad weather.  That's ok with me. But let's not forget that there is one food that transcends the seasons: TACOS.
Tacos are always in season, am I right?  Fish tacos, steak tacos, chicken tacos, whatever your pleasure, tacos are always a good idea.  And maybe it's because I can close my eyes and pretend I'm in sunny Mexico while I'm eating them, but they always put me in a good mood.  Instant summer.  And these beef brisket tacos are what I like to call THE BOMB.  Seriously amazing.  Because they're brisket.  And tacos.  Together.  (Just in case you didn't get that picture from the post title.)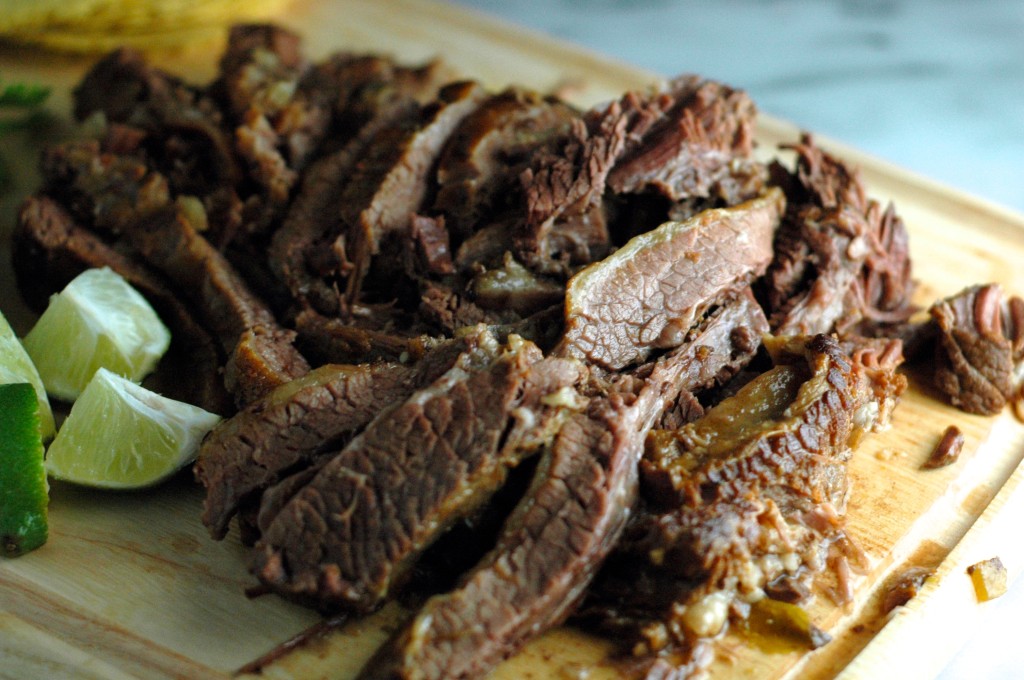 As if you need any other reason to make these, they are appallingly simple, with only a few pretty common ingredients.  I like to take advantage of how simple these are and use all my spare dinner prep time to make some tortillas from scratch (both corn and flour are good with these), but it's not entirely necessary.  The brisket itself is so tender that it almost falls apart, but not so much that you can't slice it if you wish.  It's not spicy, more tangy with just a hint of tickle at the back of your throat, just enough to make it perfect for tacos, not so much that a toddler would boycott it.  Also, you can be flexible with the toppings here, too.  Classic chopped onion and cilantro is pretty amazing, but a few slivers of avocado and a squeeze of lime is just as delish.  As are chihuahua cheese and hot sauce.  Or tomatoes and thinly sliced radishes.  So many options.  I like to make smallish tacos so I can try all the topping combos.  I'm sure you'll come up with your own favorites.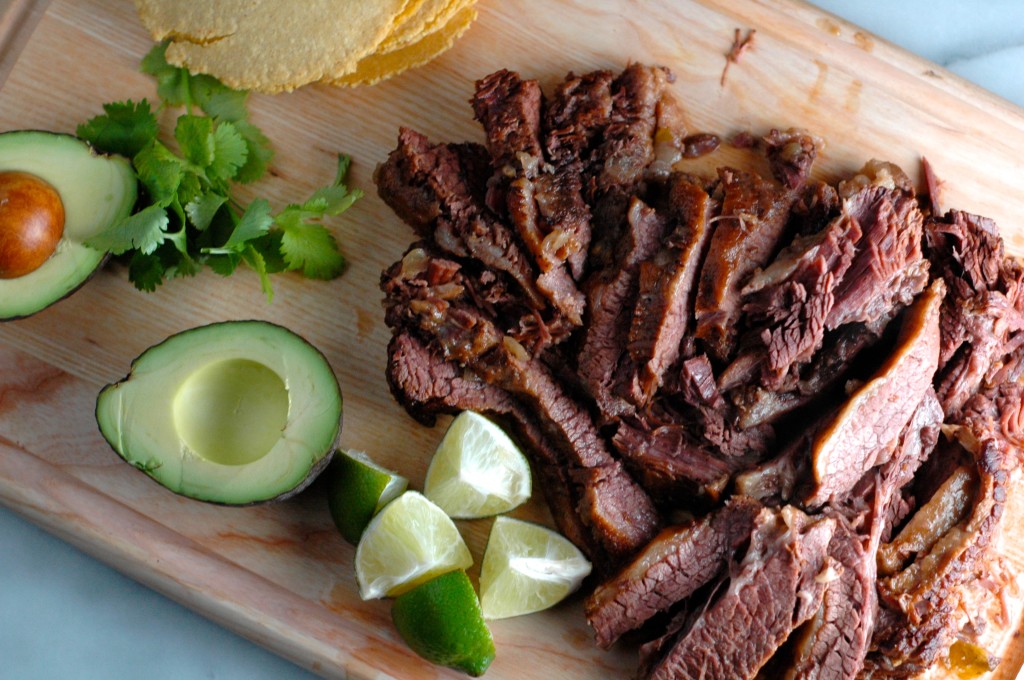 3 pounds brisket, from the flat cut
Salt
Black pepper
1 tablespoon vegetable oil
1 large yellow onion, chopped
8 cloves garlic
1/4 cup red wine vinegar
2 cups beef broth
1 teaspoon ground cumin
1 can chopped green chiles
2-3 sprigs of cilantro
1 bay leaf
To serve:
flour or corn tortillas
lime wedges, sliced avocado, chopped onion, cilantro, shredded cheese, etc.
Sprinkle the brisket with salt and black pepper. In a large ovenproof pot, such as a Dutch oven, heat up the oil on medium-low, and brown the brisket on both sides, about 5 minutes per side.
Remove the brisket from the pot and add the onions. While occasionally stirring, cook until they begin to brown. Add the garlic cloves and cook for another 2 minutes. Turn off the heat and add the red wine vinegar, scraping along the bottom to loosen all of the pan drippings.
Return to the pot the brisket, fat-side up. Pour in the beef broth and add the cumin, chiles,cilantro and bay leaf. Cover the pot and continue to cook over low heat, at barely a simmer, for about 6 hours. Cook the brisket for 6 hours or until it's fork tender. Remove from heat and let rest for 20-30 minutes.
After the brisket has rested, remove it from the pot, cut or scrape off the fat cap and slice the meat against the grain. (Or if you'd rather, you can shred it with two forks.) Serve with a little of the pan juices drizzled over the top, alongside tortillas, cilantro, avocados, and your other favorite taco toppings.
http://butimhungry.com/2015/04/17/beef-brisket-tacos/