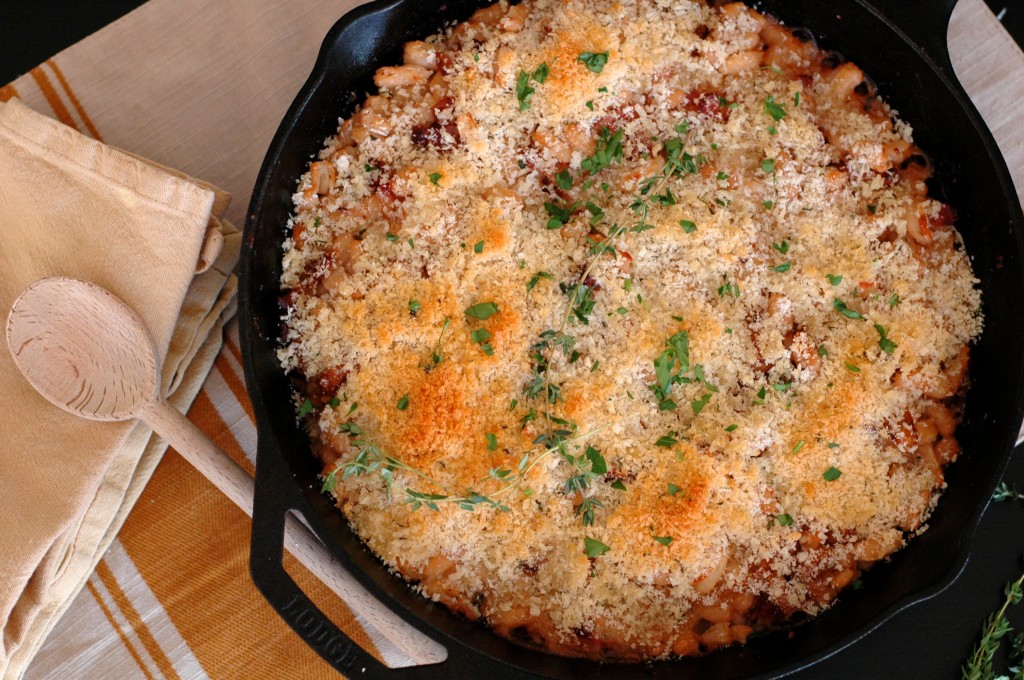 Oh, spring, you tricky little vixen.  You're hot, you're cold.  You're sunny, you're rainy.  If it weren't for the air being slightly, wondrously scented with the hint of rain, and the daffodils poking their heads through the grass, and the fuzz of green buds covering the trees, I would disown you all together.  Spring is maybe my favorite season, because even though I love virtually everything about summer, nothing can beat spring for how badly I want it.  How hopeful it makes me feel. Every beautiful spring day feels like a gift, you know?  You don't take a single one for granted.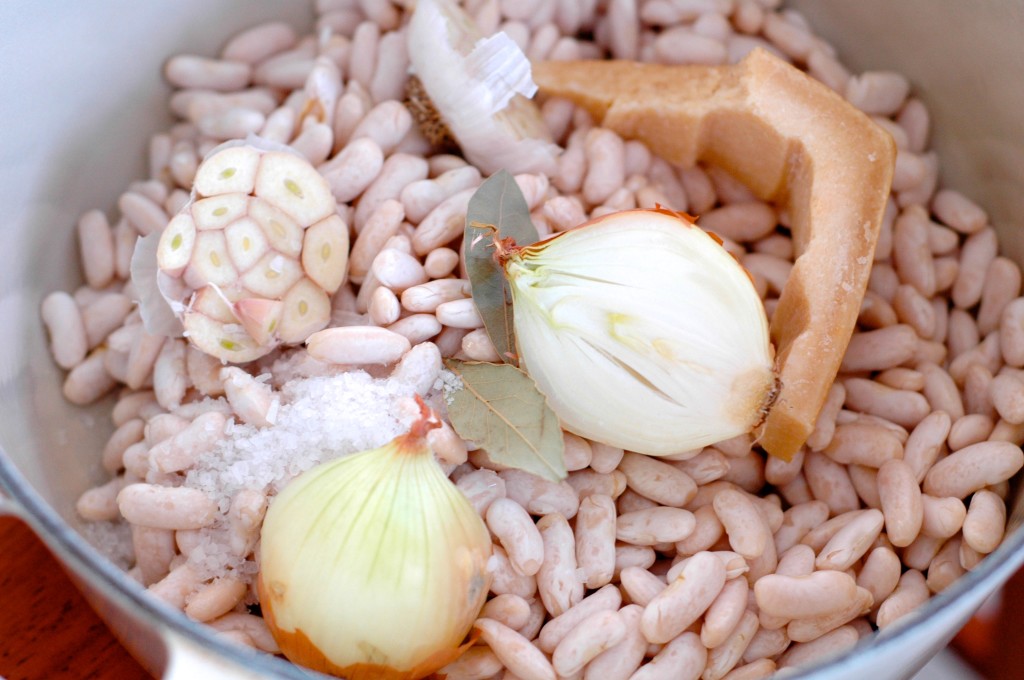 Especially on those spring days when it's rainy, cold, and that sunny 70 degree day (what?  yesterday?) feels as distant as anything.  But this year, I'm trying to embrace it all, and taking advantage of the last few chilly days to eat ALL the comfort foods.  These baked beans are going to be a new favorite for lots of reasons.  First reason: Bacon.  Duh. Second reason: I've never had a white bean dish in which the beans were so creamy, so flavorful, so… worth it.  Because sometimes when you're going through the trouble of soaking and cooking beans, you wonder, "Is this even worth it?"  With this one, the answer was a resounding yes.  They're amazing.  So good that I bet I'd love them just as much even if this didn't have any bacon in it.  (But then again, see the first reason.) The beans are creamy and rich, interspersed with chewy little nuggets of bacon and slips of caramelized onion.  Oh, then baked with a crispy breadcrumb topping.  So worth it.  Third reason: This was actually incredibly simple to pull together, and relatively healthy, all things considered, especially since it feels like the most indulgent comfort food while you're eating it.  So you don't have to feel any regret about the impending swimsuit season while eating it. (You know, in case you worry about stuff like that.)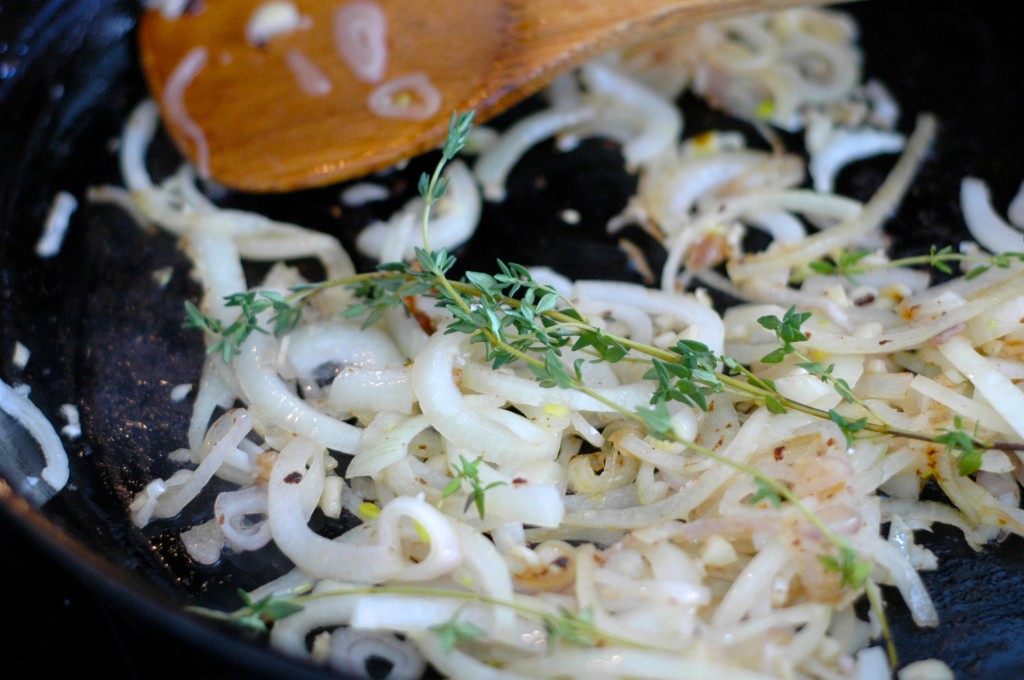 So take that, Spring.  None of your trickery here.  I'll take it all- the sunny, the rainy, the verdant green, the bacon-y, breadcrumbed goodness of it all.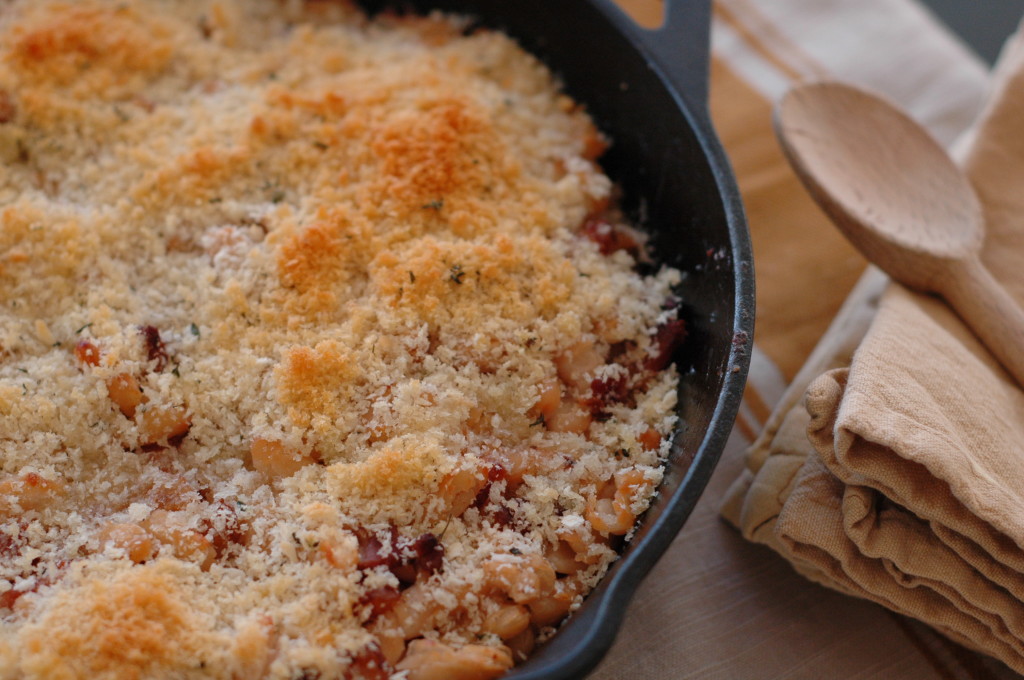 Baked White Beans with Bacon and Breadcrumbs
2 cups dried navy or cannellini beans, soaked overnight
2 medium onions, 1 halved, 1 thinly sliced
1 Parmesan rind (optional), plus ½ cup finely grated Parmesan
1 head garlic, halved crosswise, plus 4 cloves, finely chopped, divided
2 bay leaves
2 teaspoons kosher salt, plus more
8 ounces bacon, cut into 1/2" pieces
1 large shallot, thinly sliced
4 sprigs thyme plus 1 tablespoon leaves
Freshly ground black pepper
¼ cup dry white wine
1cup panko bread crumbs
2 tablespoons olive oil
Drain beans and place in a large heavy pot along with halved onion, Parmesan rind (if using), halved head of garlic, bay leaves, and 2 tsp. salt. Add water to cover by 2". Bring to a boil, reduce heat, and simmer until beans are tender, 1–1½ hours.
Meanwhile, cook bacon in a large skillet over medium heat, turning occasionally, until brown and most of fat has rendered, 8–10 minutes. Transfer to a plate with tongs or a slotted spoon.
Add thinly sliced onion, shallot, thyme sprigs, and garlic to pan drippings in skillet; season with salt and pepper. Cook, stirring occasionally, until onion is starting to caramelize and is very soft, 10–15 minutes. Add wine, bring to a simmer, and cook, stirring occasionally, until liquid is almost completely evaporated, about 4 minutes. Remove from heat and take out thyme sprigs.
Preheat oven to 400°. Drain beans, reserving cooking liquid. Transfer beans to a large bowl and mix in bacon, onion mixture, thyme leaves, grated Parmesan, and 1½–2 cups cooking liquid (this will be most of it; mixture should be consistency of stew); season with salt and pepper. Transfer beans to a shallow 1½-qt. baking dish (I found my large cast iron skillet to be perfect for this.)
Mix breadcrumbs and oil in a medium bowl; season with salt and pepper. Scatter over beans; bake in preheated oven until liquid is thickened and bubbling and crumbs are golden brown, 45–55 minutes. Let cool slightly before serving.
http://butimhungry.com/2015/04/24/baked-white-beans-with-bacon-and-breadcrumbs/