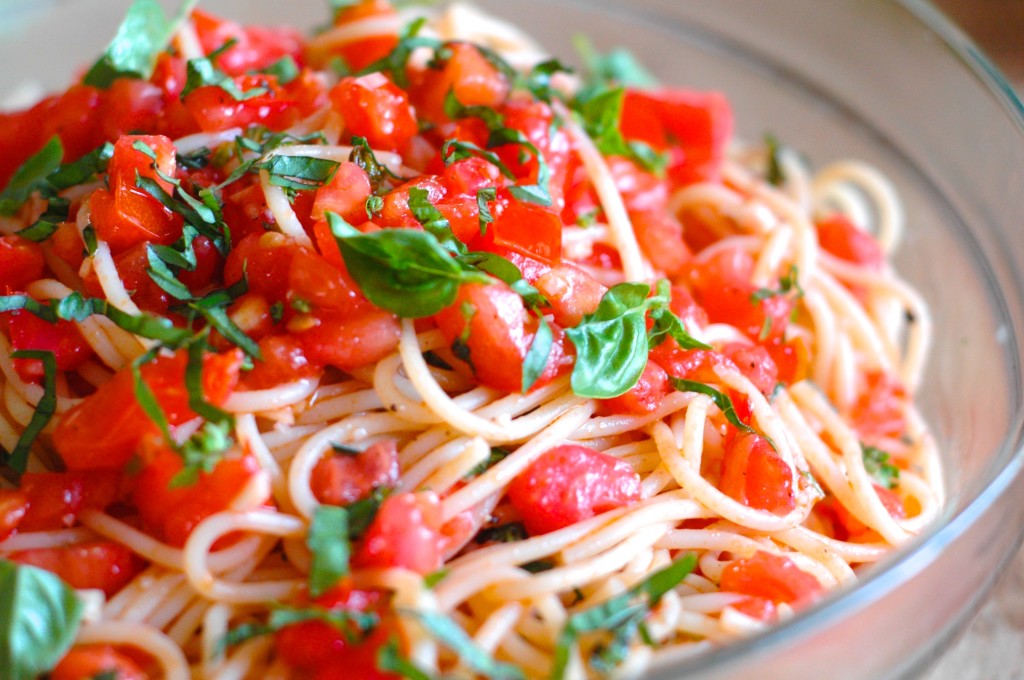 If you were to judge dinners around here by my instagram feed, or say, by the contents of my fridge at first glance, you might reasonably come to the conclusion that I feed my family nothing but berries and stone fruit.  And while I admit that a huge portion of our diet in the summer consists of just that (blackberries, and nectarines, and blueberries, oh my!), I do make dinner.  Every night.  (They insist on being fed every night, the nerve of them!) Summer dinners just tend to be a bit lazier more causal then their cooler-season counterparts.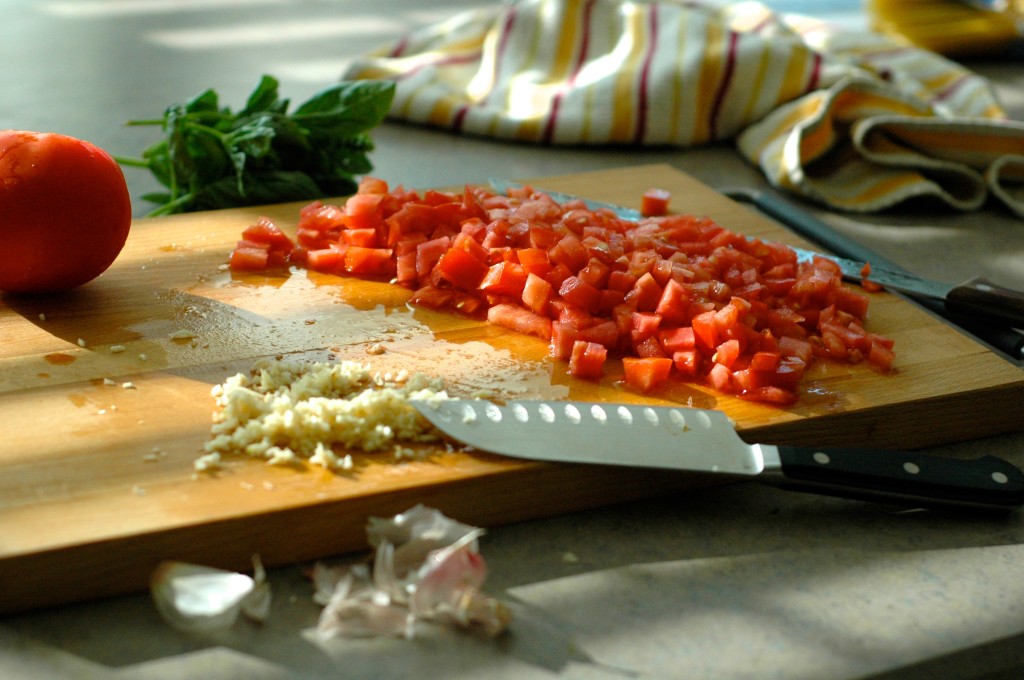 This summer spaghetti is the perfect example of my kind of summer food- bursting with seasonal flavors (tomatoes! basil!), ready in a few minutes (Oh crap! Dinner!), and filling enough for bellies that have been playing hard in the summer sun all day.  The key is the no-cook sauce, because the tomatoes keep their amazingly fresh, raw flavor, while breaking down just a bit in the hot pasta to coat every strand.  A bit of garlic for a spicy bite, and then loads and loads of pungent, licorice-y basil.  Salt. Pepper. Peppery olive oil.  That's it.  It's so simple you think it can't be as good as it is. But then it is. You don't even need a sprinkle of parm on the top, the flavors are that big and beautiful.  As if that wasn't enough, if there happen to be any leftovers, it's pretty flippin good cold the next morning, too.  Breakfast of champions and all that.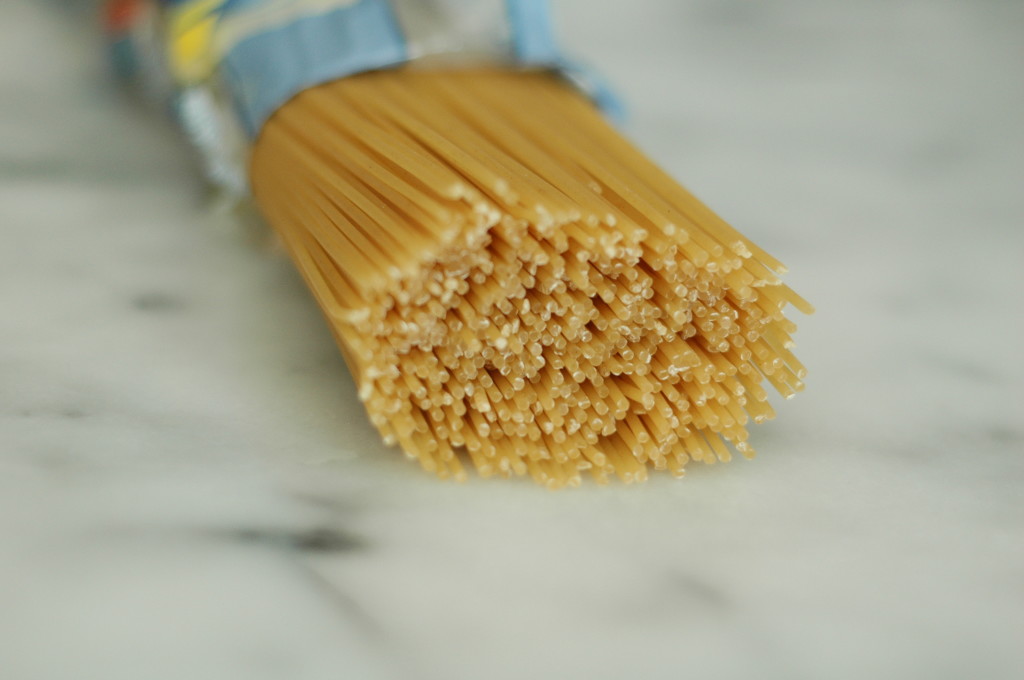 Every time I make this, I wonder to myself why I bother making any other pasta.  And until the tomatoes run out at some point in September, I don't think I will.  Aside from piles and piles of fresh berries, I can't think of anything I'd rather be eating this summer.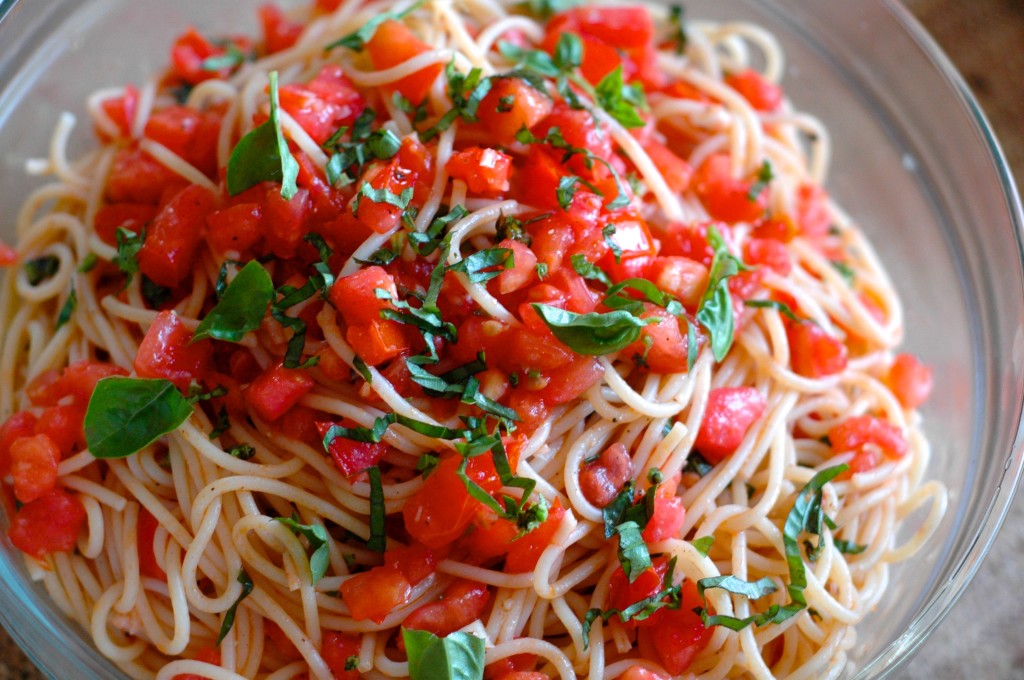 1 lb thin spaghetti
1/3 cup olive oil
2 large tomatoes, diced
3 cloves garlic, minced
several sprigs of basil, chopped
salt and pepper, to taste
Cook the pasta in a large pot of boiling water, according to package instructions. Drain and return to pot. Add the olive oil, tomatoes, garlic, and basil to the pot, stirring to incorporate everything. Season well with salt and pepper (you need to season aggressively to bring out the flavor in those tomatoes!) When everything is combined, serve.
http://butimhungry.com/2015/07/23/summer-spaghetti/