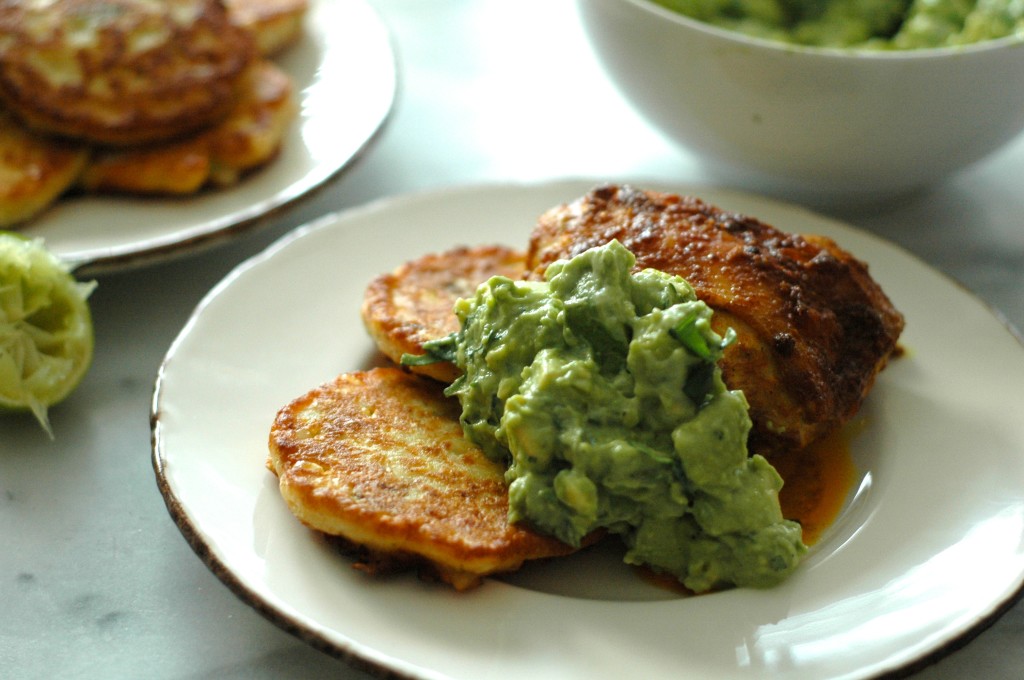 This may be incredibly shocking to you, but I don't often serve my family cohesive, prettily plated meals.  I know, crazy!
All sarcasm aside, the way it usually works is I'll pick something that sounds really great from a cookbook, blog, or something that I come up with to use up a special ingredient in my fridge, then I'll just kind of "fill in the gaps" of the meal with stuff that kind of goes.  There's usually a salad involved.  Maybe some crispy roasted potatoes. Then I plop everything (in the dishes I used to cook them) on the dining room table and we all say grace, help ourselves, and dig in.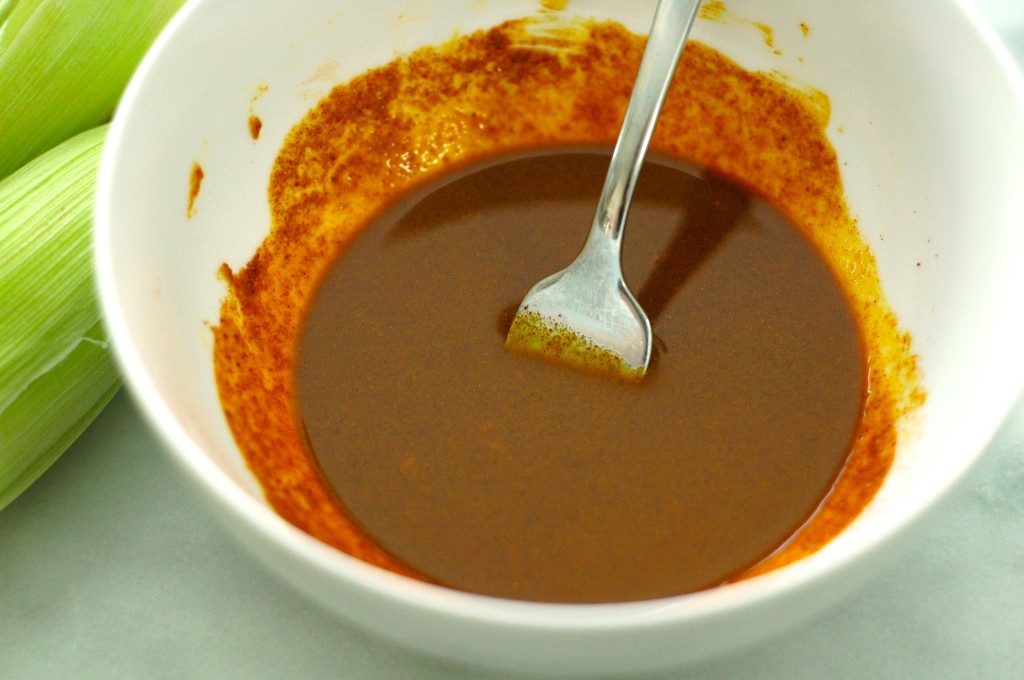 It works.  But you do miss out on the restaurant-quality thoughtfulness that goes into the mingling of flavors, textures, and colors when you serve a meal this way.  Now, no one in my family has complained about this yet, but sometimes I like the idea of making a dish in which everything complements each other and is there for a reason.
Another thing: you may have noticed lately a steady decline in the number of chicken recipes that I've been posting here.  Because, you know… chicken can be boring.  For a while there, I was kind of over it.  I so rarely saw a recipe for chicken that made me think, "I want to eat that!"  And that's really saying something because there are millions and millions of chicken recipes out there.  But the other day while I was being sucked down an amazon-suggested-product rabbit hole that involved carting no less than 12(!!!) cookbooks, I came across A Bird in the Hand, and was intrigued.  On a whim, I dumped the rest of my cart and bought this one cookbook.  A serious gamble to buy a book of exclusively chicken-centric recipes, seeing as my relationship with chicken has been strained (at best) lately.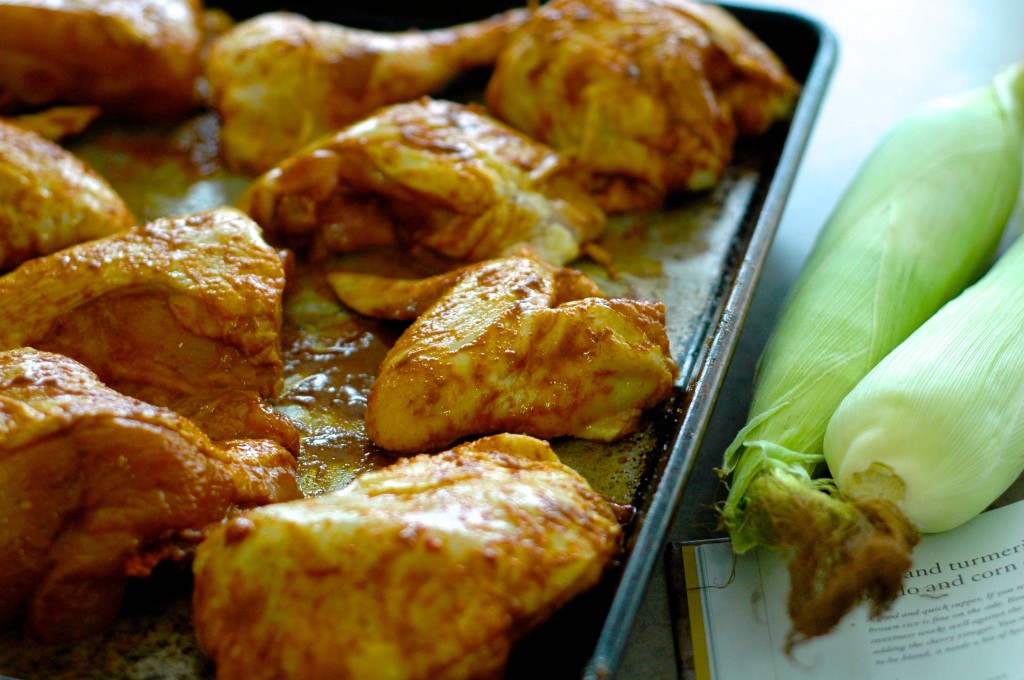 It was a gamble that paid off in a big way.  First off, the book is gorgeous, with nice, big full-page pictures.  I know that makes me sound shallow, but can we all admit we really like photos in our cookbooks?  No shame!  So I do this thing when I get a new cookbook where I sit with a pile of post its and mark all of the pages that have a recipe that I feel like I have to try right away.  I only got to page 19 before I stopped marking pages altogether because I realized I would be marking every page.  They were all so lovely, yet accessible.  Needless to say, I'm pretty happy with my impulse purchase.  Remember how after I got Jerusalem, I considered renaming the blog, "Stuff I make out of Jerusalem"?  Maybe this year it'll be, "Stuff I make out of A Bird in the Hand".
So I made the chicken, the corncakes, the avocado smash, all of it.  We loved it.  The chicken was so flavorful, bright with spices, crispy-skinned, and tender inside.  Not spicy at all, although you could definitely punch it up with some chilis if you're so inclined.  The corn cakes are light, fresh, and full of pops of raw sweet corn.  The avocado smash is basically a tart, vinegar-laced guacamole, with ribbons of cream running through it, which I'm definitely into.  In case you hadn't guessed that by hanging around here.
And the amazing part of this experiment with making a cohesive dish is that it didn't take any more work than my usual way of going about things. So while this could be an amazing dinner party meal, it's also pretty sweet for a weeknight dinner.  And it made my husband say, "Ooooh, fancy!", which makes it all worth it, right?
Cumin and Turmeric Roast Chicken with Smashed Avocado and Corn Cakes
adapted from A Bird in the Hand
I feel it my moral obligation to warn you: Turmeric stains. Fingers, counters, clothes. Beware.
FOR THE CORN CAKES:
1/3 cup cornmeal
1/2 cup all-purpose flour
3 eggs, lightly beaten
1/2 cup buttermilk
3 tablespoons unsalted butter, melted
2 green onions, chopped
2 ears of sweetcorn, cut from the cob
salt and pepper
vegetable oil of choice for frying
FOR THE CHICKEN
1 tablespoon turmeric
1 tablespoon smoked paprika
2 teaspoons ground cumin
1 teaspoons dry English mustard
4 tablespoons olive oil
1 1/2 teaspoons light brown sugar
1 3-4 lb chicken, cut up (cut each great into two pieces)
FOR THE AVOCADO
2 avocados
2 tablespoons white wine vinegar
juice of 1 lime
1/4 cup heavy cream
3 tablespoons chopped cilantro
To make the batter for the corn cakes, put all ingredients except the corn kernels, green onions, and vegetable oil in a bowl and stir until combined. Then stir in the corn and green onions. Set aside until you're ready to cook them. (You can do this a good bit ahead of time.)
Preheat the oven to 375 degrees F. For the chicken, mix the spices, olive oil, brown sugar together in a small bowl to form a thin paste. Season the chicken generously with salt and pepper, then rub with the spice paste. Put the chicken in a roasting pan, or better yet, a sheet pan. Roast for 40-50 minutes, or until juices in the thickest piece of chicken run clear when you pierce it with the tip of a knife.
Meanwhile, halve the avocados, remove the pits, and scoop out the flesh into a bowl. Break it up into chunks with a fork, but don't mash it up completely. Gently stir in the other ingredients (don't forget the salt and pepper!), leaving it not-quite completely blended in.
Just before the chicken is done (or while it's resting under some foil ready to eat), make the corn cakes. Heat some oil in a large skillet. When the oil is shimmering, spoon approx. 1/4 cup dollops of the batter into the pan. One each cake has turned golden on the bottom, flip it and cook the other side until it's golden as well. You may have to do this in two batches.
Serve the chicken up with several corn cakes and a big scoop of smashed avocado.
http://butimhungry.com/2015/08/17/cumin-and-turmeric-roast-chicken-with-smashed-avocado-and-corn-cakes/