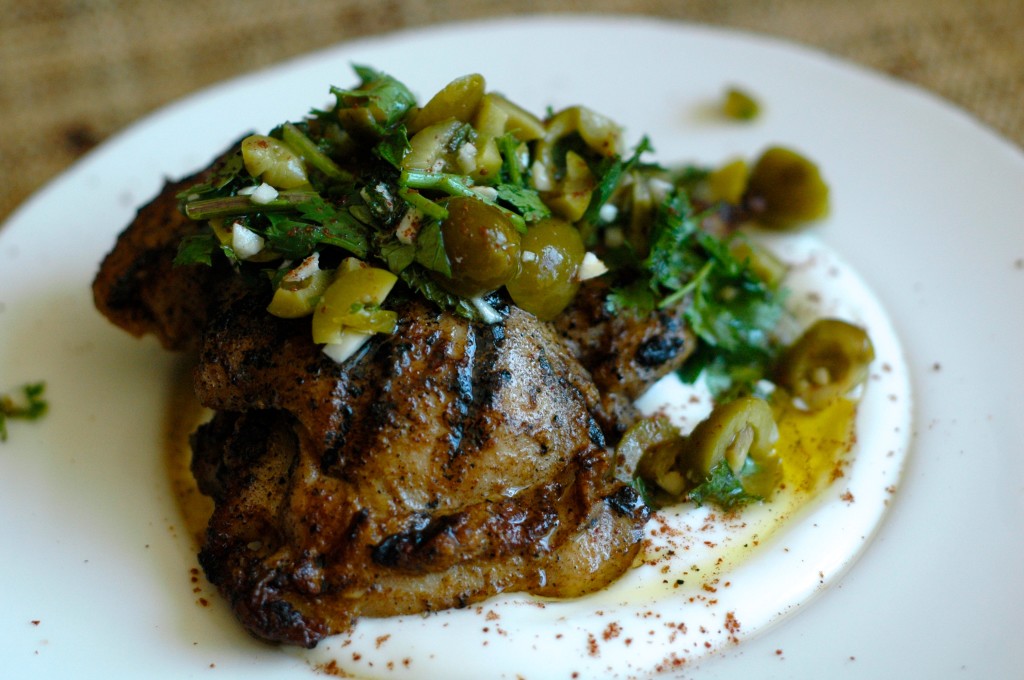 For any of you who follow me on Instagram, it's pretty obvious that when I fall for a new cookbook, I fall hard.  So you really shouldn't be surprised that I'm writing about another recipe from A Bird in the Hand.  If anything, you should be surprised that I haven't been posting about one of Diana Henry's chicken recipes once or twice a week for the past month.  I'm pretty enamored of chicken right now.  And that's kind of  a big deal, isn't it?  When was the last time you got excited about chicken?
There's so much to love about this chicken- chicken thighs (my fave) are deeply, richly spiced, then grilled to perfection.  The very reason that I love chicken thighs so much is that it's basically impossible to dry them out, even on the high heat of a grill.  The hot, spice-infused chicken is topped with a relish that's briny, tangy, bright, herbal, and basically everything a good relish should be.  The juices from the hot chicken and cool relish dribble down into dollops of whole-milk yogurt, melding to make a creamy sauce that you might just wind up licking off your plate. It's the perfect late summer meal- something for the grill, while the sun is still up at dinner time, but it still fills your belly up when you come inside with slightly chilly, rosy cheeks.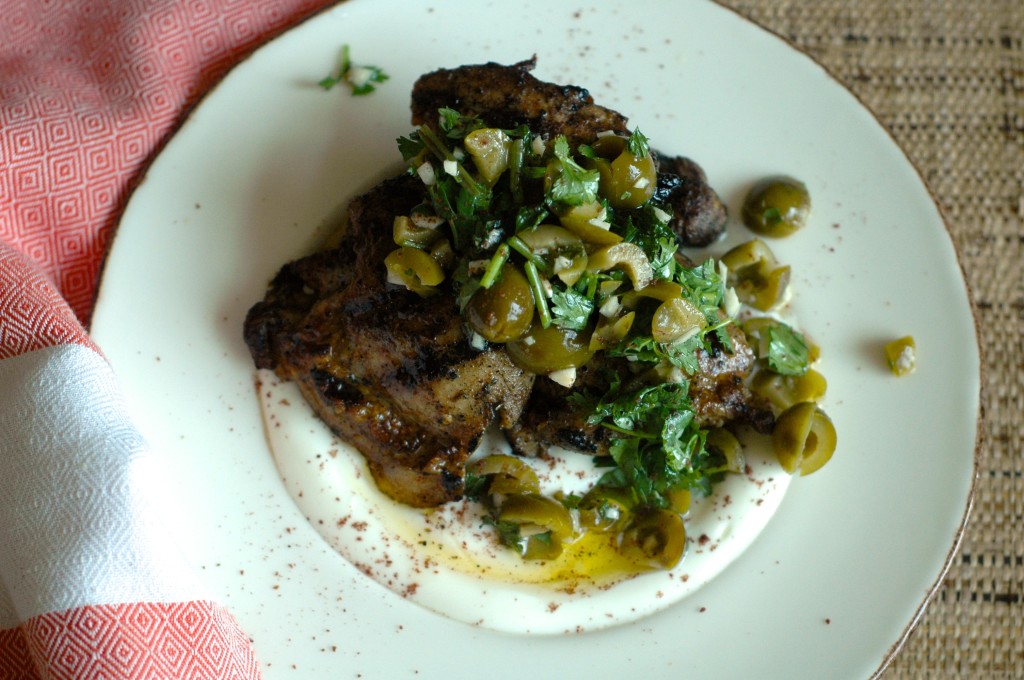 Turkish-Spiced Chicken with Green Olive Relish
Chicken:
6 tablespoons olive oil
1/2 teaspoon cinnamon
1/2 teaspoon ground cayenne
1 teaspoon ground cumin
2 garlic cloves, pressed or grated
salt and pepper
6-8 boneless, skinless chicken thighs
Relish:
2 garlic cloves, pressed or grated
salt
1/3 cup coarsely chopped cilantro
8 sprigs of mint, coarsely chopped
1/3 cup pitted green olives, coarsely chopped
6 tablespoons olive oil
2 tablespoons white wine vinegar
juice of half a lemon
For the chicken combine the olive oil, cinnamon, cayenne, cumin, garlic, and salt and pepper in a small bowl. Place chicken in a dish, then pour marinade over it, and flip it a few times so that all of the chicken is coated in the marinade. Cover the dish with plastic wrap and let marinate in the fridge for a few hours, or overnight.
Just before you cook the chicken, make the relish. Simply toss all the relish ingredients together in a bowl, mashing them up a bit together with the back of a fork. Taste and adjust seasonings and add more salt and pepper and lemon juice if needed.
To cook the chicken, begin by heating either an outdoor grill, or if you're cooking inside, a grill pan. When the grill (or pan) is nice and hot, put the chicken on, cooking it about 3-4 minutes on each side, or until you have nice grill marks and the chicken is cooked through.
Serve the chicken nice and hot, with yogurt and olive relish on the side. Alternatively, you can plate this up, with the dollops of yogurt on the bottom, then the chicken with the relish piled on top. You can also serve this with a few extra lemon wedges.
http://butimhungry.com/2015/09/15/turkish-spiced-chicken-with-green-olive-relish/